'It's fine, you can afford it' – Kapil Dev on Virat Kohli taking paternity leave from Australia tour
Kohli won't be a part of the Brisbane, Sydney and Melbourne Test.
Updated - Nov 22, 2020 8:56 am
1.1K Views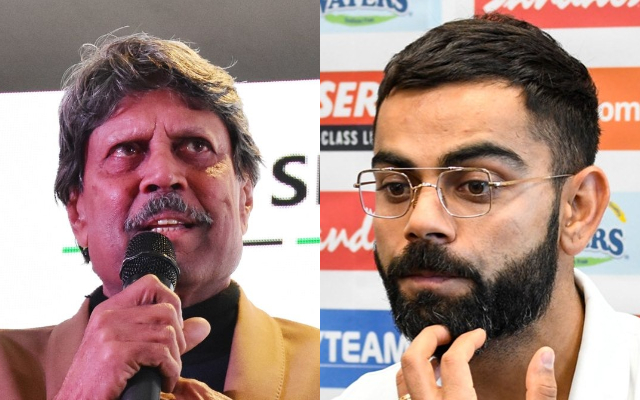 Former Indian cricketer Kapil Dev has backed current captain Virat Kohli after the latter took paternity leave from the tour of Australia to be with wife Anushka Sharma, who's due to give birth to their first child in the month of January. The 32-year-old will be a part of the T20I and ODI series, but he will be leaving Australia after the opening Test, scheduled to start on December 17.
Earlier, the Board of Control for Cricket in India (BCCI) granted him the leave, meaning that the national team won't be having his services in the Melbourne, Sydney and Brisbane Test. A number of experts, including Harbhajan Singh, Sunil Gavaskar, Aussie Test skipper Tim Paine, etc, have opined on how Kohli's absence can leave a lot to be desired for Team India.
"Don't think we could afford to go and come back. That's for sure. Sunil Gavaskar didn't see his son for many months. It was a different thing. Look, things change. If I talk about Kohli, when his father died, he came back playing cricket the next day. Today he is taking a leave for his baby. It's fine, you can afford it," Kapil was quoted as saying on a video conference at HTLS 2020.
I'm happy for Virat Kohli, says Kapil
Kapil, who's also the 1983 World Cup-winning Indian captain, lauded Virat for taking the leave and attending the birth of his newborn.
"You can buy a plane and go back and come back again in three days. I feel happy and proud that today sportsmen have reached a level where they can do this. I'm happy for Virat. He's coming back to see his family. I understand you have passion but the biggest passion is that he's having a baby," he added.
The Delhi-born Kohli is currently in Sydney where Team India are quarantining and training ahead of the international fixtures. The players reached the New South Wales capital city on November 13 after the conclusion of the 2020 Indian Premier League (IPL), which ended on November 10.
The tour gets underway with the opening ODI on November 27 at the Sydney Cricket Ground. It will be followed by the T20I series after which the Tests will take place.