It's so nice to have a mentor like Rahul Dravid: Quinton de Kock
Updated - May 7, 2016 12:23 pm
52 Views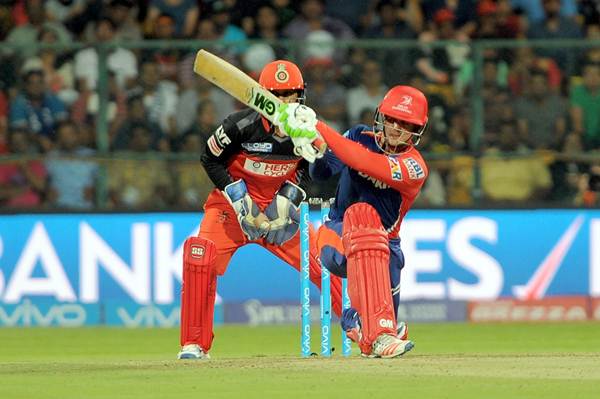 Follow us on Telegram
Delhi Daredevils has had a dream season so far. After underperforming in the past season, the DD side, with 5 wins in 8 games, are sitting in the top half of the season. The team which comprises mostly youngsters has emerged as a formidable side.
Opener Quinton de Kock, one of the key players for DD, has heaped praise on his team mentor Rahul Dravid, saying that the confidence and advice given by the former India batting legend has helped the side's youngsters go out and express themselves on the cricket pitch.
The former India skipper Dravid was included in the side as a mentor to improve fortunes. He alongside head coach Paddy Upton and skipper Zaheer Khan, have turned the fortunes of the team head over heels.
"It has been nice to have Rahul around in the team, especially with a young team here. He has guided us a lot and helped us along the way. It is so nice to have a mentor like that. It gives us the confidence to go out and play freely," de Kock told IANS in an interview.
"He (Dravid) hasn't given me tips, as he knows that I play enough cricket on my own too, how to deal with bat and the like. So he hasn't given me much, but I am sure he has given the other youngsters some sort of support and guided them, I don't know how but yes he has I think," he added.
The 23-year-old Proteas opener has been in good form with the willow, both for his country and for his franchise lately. Being the first batsman to hit a ton in the ongoing ninth edition of IPL, the Johannesburg-born Quinton de Kock credited his consistent run to luck.
"I have not worked on much. Just the matter of me being a bit luckier, that's what it comes down to eventually. Yes, I had a great time last year here and it feels nice to kick into some form and score runs again. There is no magic formula into it, just being lucky I guess," he said.
Despite being rated as one of the top young batsmen in the modern era besides India's Virat Kohli, England's Joe Root and New Zealand's Kane Williamson, de Kock stressed that he does not play the game to keep pace with and challenge the others, but it is his hunger for runs that drives him to score more in every outing.
"I play this game not to keep up with them. I am sure they will also agree that they don't play to keep up with each other. We just play and try and score as many runs as possible and do well for the team. I don't want to keep up with them in any way," said the fourth player to score three successive One-Day Internationals (ODI) centuries.
When asked about the future of Test cricket after the advent of T20, the left-handed batsman said, "I think Test cricket is going to be around for a while. I think people making assumptions… non-cricketing people and people who used to play cricket a long time ago, make these assumptions. Maybe they don't know what's really going on inside the cricket world. I prefer longer formats than what the other guys prefer. As South Africans are known to like, enjoy the longer format, as we dominate quite well in it."
Commenting on South Africa's poor run in International Cricket Council (ICC) events over the years, Quinton de Kock — the second player to score four ODI centuries before his 21st birthday — expressed disappointment, saying that losing key moments of the game made it tough for his country to win a World title.
"I think SA lacks luck, I guess, when it comes to ICC and World events. We never get lucky breaks or anything. The thing which I have watched playing for a couple of ICC events is that we lost those key moments in the game which hasn't been good for us," he said.
The star opener singled out Sri Lanka's veteran pacer Lasith Malinga as the bowler who was the toughest he faced.
"There are a whole lot of different bowlers; Malinga was the bowler who used to be the best I faced or the hardest bowler to face at that time. I have faced a lot of them around the world and tough to comment now," de Kock concluded.
Follow us on Google News