I've learned from the lows: James Muirhead
Updated - Jun 29, 2016 10:15 am
38 Views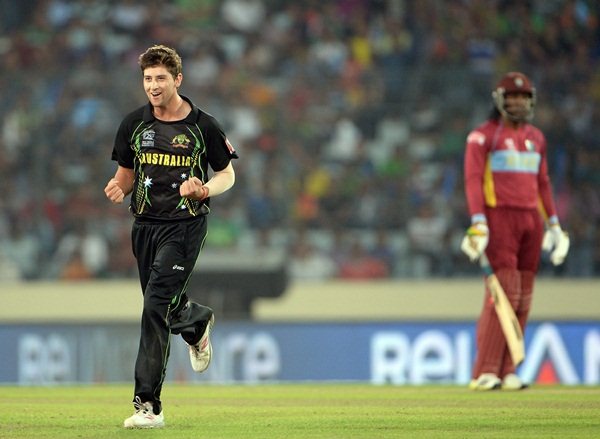 Follow us on Google News
James Muirhead made it into the Australia T20 side after having played only two first-class matches and four T20 games. And, by the end of 2013/14 season, he had sort of become Australia's first choice leg spinner. James Muirhead, Australia's young leg-spinner, has had a roller-coaster ride so far. The 22-year-old, who is hopeful of making a comeback to the national side, insists that he is "not in a rush" to press his case.
"I've had a taste of the highest level, I know what it feels like now. Right now I'm playing club cricket in England but slowly I'm working my way back. I'm not in a rush – it might take me another three or four years, maybe even longer," Muirhead told cricket.com.au on Tuesday (June 28).
It was a smooth cricketing journey for Muirhead until he hurt his wrist during the 2014-15 domestic season. The leg-spinner played through the niggle and hoped for things to fall in place. But as it turned out, the bowler, who was known for the revolutions on the ball, accuracy and bounce, seemed to have lost his tricks.
"Robby Quinney said to me, 'Jimmy, you've had these highs and lows at the age of 21, 22. You're lucky you're having them now and not at 29, 30'," the Victorian bowler opened up about a conversation with his skipper Rob Quiney.
Currently, Muirhead is playing club cricket in England after being roped in by Greenfield CC for the 2016 season, and he feels confident about returning to top-level cricket.
"I've learned from these lows that I've had and pushed through it. That's the way I've looked at this last 12 to 24 months. I know I'll get back there. I've always been a positive person and I've always had that inner self-belief. The people who have succeeded in professional sport have always had that confidence. I thrive on that and when I'm going well, I feel like I'm unstoppable," he said.
Muirhead revealed that he is working closely with Brad Hogg, the former Australia chinaman bowler, as he aims to improve his cricket. The Victorian went in detail to explain why Hogg is his go-to man.
"I purely and solely work with Brad Hogg at the moment. He's the person I talk to whenever I need some help. We stay in touch quite regularly. He's someone that I trust with anything to do with my career, on-field or off-field, he's the guy I talk to. I've had a lot of coaches over the years and I'm not saying they're bad, but Hoggy's the man.
"Without me even asking he gives me a phone-call, just checking in. That has got a lot of respect from me and now I've got that trust (in him). Hopefully, I'll have a long career working with him. He doesn't tell you a lot about technique. He knows how I think and he knows exactly what I need to do to perform well and he's done it before. He's played in World Cups for Australia and played in all formats for Australia, which is something I want to do," Muirhead explained.
Meanwhile, Hogg himself heaped praise on the youngster and even compared him to legendary Australian leg-spinner, Shane Warne.
"He's a fantastic talent. I just think he needs to get his mind right and switch on. He's got as many revs on it as Shane Warne had on it. He's got a great wrist, it's just a matter of him getting the confidence and getting back into the longer form of the game and getting the ball (to land) on a penny," the 45-year-old said.
Follow us on Telegram