'Jadeja doesn't know English' – A Twitter user leaks his DM conversation with Sanjay Manjrekar
Jadeja and Manjrekar's heated banter goes back to 2019 during the World Cup in England and Wales.
Updated - Jun 9, 2021 8:08 am
118.3K Views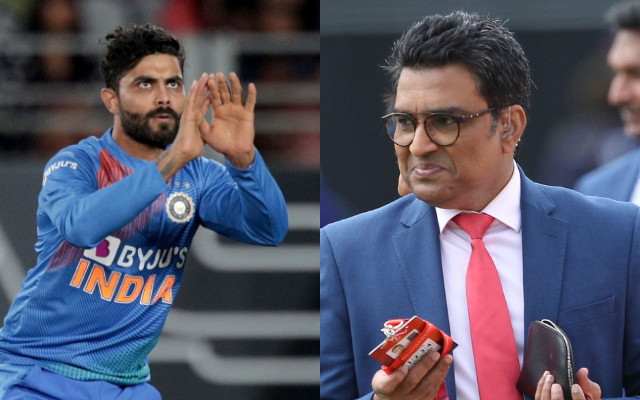 Follow us on Telegram
Back in 2019, former Indian cricketer Sanjay Manjrekar and current all-rounder Ravindra Jadeja were involved in a heated altercation. During the 2019 World Cup, after India's 31-run loss to England in Birmingham, then batting coach Sanjay Bangar said that Jadeja would be a part of the game against Bangladesh. The potential move didn't please Manjrekar by any means.
The veteran called Jadeja a "bits and pieces" cricketer. The comment didn't go down well with Jadeja, who hit back at Manjrekar. In the semi-final, albeit the Men in Blue lost to New Zealand, Jadeja sparkled with a half-century.
Sanjay Manjrekar in another mini-controversy
In the meantime, Manjrekar seems to have gotten tangled in another controversy as one of the Twitter users leaked his personal chats. In one of them, Manjrekar stated that Jadeja doesn't understand English.
One of his messages read, "Sad state you are in. Expecting me to worship players like you do… by the way I am not a fan. I am an analyst. And Jadeja doesn't know English so he did not know the actual meaning of bits and pieces. And surely somebody spelt verbal diarrhoea for him."
I didn't want to share this personal chat in public, even though it's full to shit. But couldn't help, coz ppl need to know this side of this man. @imjadeja would be proud of what he did to prove you wrong. @BCCI is this the kind of man you would want in your com panel in future? pic.twitter.com/AUjX301Foz

— soorya narayanan (@soorya_214) June 7, 2021
In 2019, Manjrekar said that Jadeja doesn't fulfil the criteria for being a proper player in the one day format. In Test cricket, the veteran called him a 'pure bowler'.
"I am not a big fan of bits and pieces players which Jadeja is at this point of his career in 50-over cricket. In Test matches, he is a pure bowler. But in 50-over cricket, I would rather have a batsman and a spinner," Manjrekar, earlier, said.
After the stern words, Jadeja drew a comparison between Manjrekar and himself, putting forth their records. He also termed Manjrekar's words "verbal diarrhoea".
"Still I have played twice the number of matches you have played and I am still playing. Learn to respect people who have achieved. I have heard enough of your verbal diarrhoea," Jadeja's reply read.
Still i have played twice the number of matches you have played and i m still playing. Learn to respect ppl who have achieved.i have heard enough of your verbal diarrhoea.@sanjaymanjrekar

— Ravindrasinh jadeja (@imjadeja) July 3, 2019
Two years later, Jadeja is an integral member of the national team across formats. He is now gearing up to play in the final of the World Test Championship against New Zealand from June 18 in Southampton.
Follow us on Google News