James Anderson and Stuart Broad: The fast bowling pair that has no equal
On July 8th 2020, these two icons will once again come together as England takes on the West Indies in the three-match Test series.
Updated - Jul 9, 2020 10:34 am
597 Views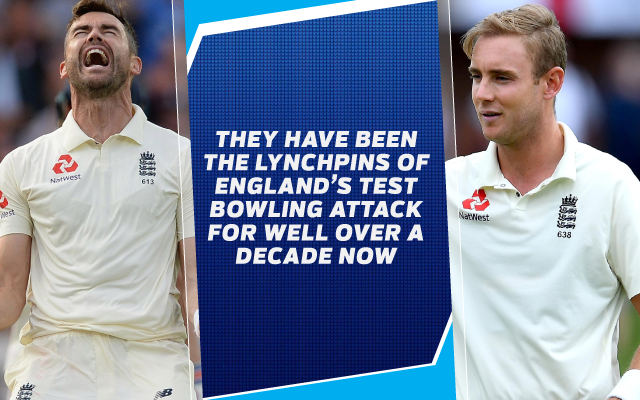 They are absolutely lethal as a pair. One is a man who relies more on swing. He is a master at controlling the swing, and his impeccable line and length coupled with his excellent control has made him a match winner for England. Another is fiery and surprises the batsman with the extra bounce that he generates.
James Anderson and Stuart Broad have been the lynchpins of England's Test bowling attack for well over a decade now. These two bowling gladiators have a staggering 1069 Test wickets between them, the most for any fast bowling pair in history.
Lethal in Home Conditions
In Tests played in England alone, Anderson and Broad have combined to pick up a colossal tally of 673 wickets at home, again the most by a fast bowling pair in history. Taking advantage of the seaming conditions in England, these two pacers have rattled opposition batsmen with surgical brilliance.
England have lost just 2 out of the 20 Test series that they played at home between 2010 and 2019, and it would not be an exaggeration to say that they owe a huge part of this to the guile and magic of Broad and Anderson.
In  fact, Anderson holds the record for being the only pacer to pick up more than 100 Test wickets at a single venue. At the iconic Lord's cricket Ground, he has picked up a whopping 103 wickets at a miserly average of 23.89. He has also picked up 6 five-wicket hauls at the venue, immortalising himself as one of the greatest pacers for his country.
As far as Broad is concerned, he is not far behind as well. Broad has picked up 94 wickets at the Mecca of Cricket, the second most for a pacer at a single venue.
Wreaking havoc together
And needless to say, there have been several occasions when these two behemoths have absolutely destroyed the opposition together. In fact, when New Zealand toured England in 2013, James Anderson and Broad picked up a whopping 15 wickets between them, to leave the Kiwi batsmen at sea.
While Anderson was the chief destroyer in the first innings by picking up 5 wickets, Broad dismantled New Zealand in their second essay, picking up a seven-wicket haul. Together in the Test, they picked up 15 wickets, to enable England to thrash the opposition by 170 runs.
Another occasion when they were absolutely unplayable was during the Lord's Test against India in 2018. The famed Indian batting line-up, consisting of Cheteshwar Pujara, Virat Kohli and Ajinkya Rahane came an absolute cropper against the menacing duo. The two pace bowling legends picked up 14 wickets between them as the Indian batsmen failed to score even 200 runs in both the innings.
The Ashes- The Pinnacle for an England cricketer
The Ashes is considered the holy grail in Test cricket. An England cricketer can immortalize himself with a good performance in cricket's oldest and most anticipated rivalry. As far as the Ashes is concerned, both Broad and Anderson have risen to the occasion. They have a combined tally of 222 wickets, the second most for a bowling pair, behind the pair of Glenn McGrath and Shane Warne.
Together, the two have picked up a combined 12 five-wicket hauls in Ashes Tests alone, again the second most for a bowling pair behind Warne and Mcgrath. Broad's career best figures of 8/15 came in the Ashes, where he ran through the Australian batting line-up, reducing them to irrelevance. His spell allowed England to wallop the Aussies by an innings and 78 runs.
Also, Anderson's lethal 6/47 is another spell that will be remembered for posterity. In a spell where surgical precision was combined with masterly over the swinging ball, he made the Aussies hop around and enabled his side to thrash the opposition by 8 wickets.
They Are not done Yet
On July 8th 2020, these two icons will once again come together as England takes on the West Indies in the three-match Test series. And needless to say, the fate of the series will depend upon how the Caribbean batsmen handle the legendary pace bowling combo of Anderson and Broad.
These two pace twins certainly have some more challenges ahead of them, they will still bamboozle some more batsmen in the future, and will provide cricket aficionados with memories that will last for posterity. They are a pair that has no equal and most importantly, a pair that is not done yet.
Note: All Stats are updated till the 7th of July 2020
Follow us on Google News