James Taylor advises England against sledging Virat Kohli
Updated - Dec 7, 2016 11:35 am
46 Views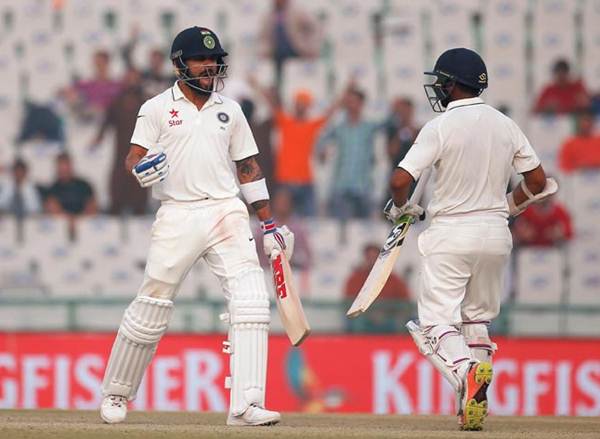 After a brief break, a breather of sorts for England it's time for action. Having spent a few days in Dubai with their family the English team would now want to stage a comeback in the series. In the current scenario team India has secured an unassailable 2-0 lead in the series look good to make it 4-0 as well. Ahead of the fourth Test former England batsman James Taylor has advised the visitors against attempts of sledging Indian skipper Virat Kohli.
Allrounder Ben Stokes had a go at Kohli during the Mohali Test but that while having no effect on the batsman earned him an official reprimand. "I am all in favour of Ben Stokes getting stuck into the opposition but I would advise him to leave Virat Kohli alone. Stokes has already been reprimanded for his verbal clash with Kohli in the Third Test and now knows that a couple more incidents like these could mean a Test ban." Taylor wrote in his column for EveningStandards.
He admitted that Stokes is an aggressive player and tends to cross the line when in flow but Kohli is certainly not someone you would want to mess with. Over the years he has toughened himself mentally and such challenges only motivate him to perform better. "You can't take away this streak from Stokes, though. Nobody condones swearing at opponents but Stokes is at his best when he is aggressive and feisty.  Not only does that attitude get him going and get him into the contest, it brings others with him, too. However, you have to pick your opponents — and Kohli is not the kind of player you want to sledge."
"It is simply not worth getting involved with some players. Going back a few years, I'm told Brian Lara was one batsman who would perform even better if you riled him. There were a number of players on the county circuit during my playing days who fell into that category, though not many were in Lara's class." Taylor said.
The Indian Test skipper has amassed 405 runs after 3 Tests in the series and that speaks volumes of the form he is in. "Kohli is one of the world's best and his numbers in this series — 405 runs at an average of 101 — suggest Stokes and England would be well advised to keep quiet when he is at the crease. If he tries to start an argument, just leave him be."
Taylor also mentioned that with a lead in their favor the home team will come hard at England who will once again enter the game with a new opening combination. "With India 2-0 up with two matches to play, it will be a huge task for England to square the series, especially after they were outplayed in the Third Test. To make matters worse, Haseeb Hameed is out of the series with a broken hand, meaning Keaton Jennings will line up as Alastair Cook's 11th opening partner since Andrew Strauss retired in 2012."