Jason Gillespie has a suggestion to the ball-shining problem amid Coronavirus fears
He is not sure, however, if the players will be allowed to use their sweat to shine the ball.
Updated - Apr 21, 2020 5:42 pm
135 Views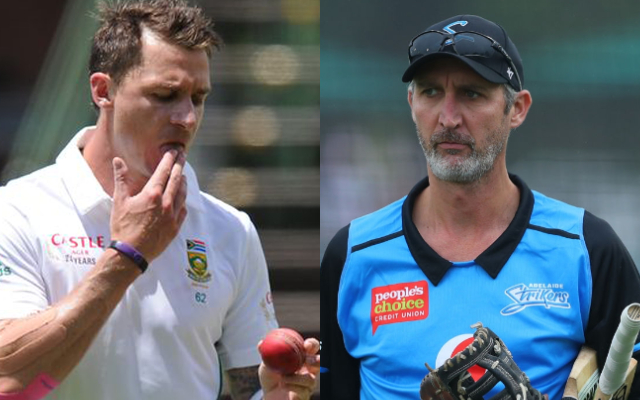 Follow us on Google News
The Coronavirus pandemic has not only stopped all the cricketing action, it has put a serious question mark on the usage of saliva to shine the ball upon resumption. The point is likely to be discussed in the upcoming ICC meeting as well. But shining the ball is a crucial aspect of the game especially in the Test matches which the fielding sides to swing the ball.
And if shining the ball is prohibited, then a huge advantage is taken away from the bowlers and it will also make the game more batsmen dominated. Moreover, according to the rules, the players can use only sweat and saliva to shine the ball and aren't allowed use mints or any other source. In that case, they are accused of tampering with the condition of the cherry and punished.
But with the Coronavirus spreading due to the respiratory droplets, the customary method shining of the ball is likely to witness the modification. Former Australia pacer Jason Gillespie came up with a suggestion for the same while speaking to ABC Grandstand. He felt that the doubts about shining the ball are genuine in the wake of COVID-19 outbreak and the umpires could play an important role in it.
According to him, the players could be allowed to shine the ball only in front of the umpires at the end of every over once the normalcy resumes. "I don't think it's a quirky question. It's an actual genuine thing to be considered. I don't think anything is off the table. It could be a point where at the end of each over, the umpires allow the players to shine the ball in front of them but you can only do it then," he said.
Jason Gillespie unsure if sweat can be used to shine the ball
However, Jason Gillespie is unsure whether the players can use their sweat to shine the ball if not saliva. But he felt that the discussion regarding it will definitely take place before the sport resumes in the next few months. " don't know. Is it just sweat? Can you only use sweat? I don't have an answer to that, but it certainly will be a conversation that will be had. If you think about it, it is pretty gross," the 45-year-old further added.
Follow us on Telegram