Jermaine Blackwood and Jason Holder's camaraderie becomes a butt of jokes after Southampton victory
Holder and Brathwaite played a key role in West Indies' victory in the opening Test.
Updated - Jul 14, 2020 12:45 pm
1K Views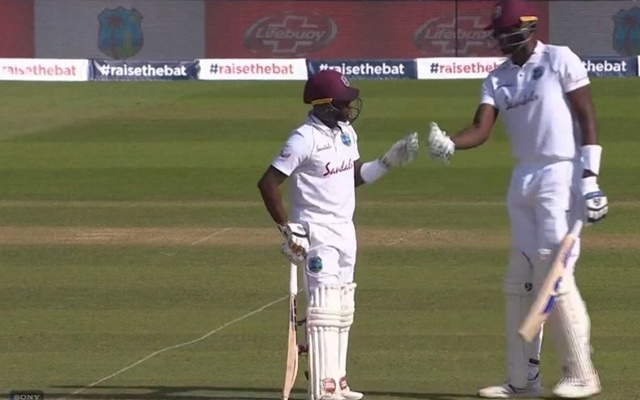 Follow us on Telegram
Test cricket made a grand return amidst the COVID-19 pandemic after the West Indies rolled over England in the thrilling opening Test. At the Rose Bowl in Southampton, both teams had their moments, but it was the Caribbean team, who won by four wickets and had the last laugh. Jason Holder and Jermaine Blackwood played crucial roles in their team's triumph.
Though Shannon Gabriel was adjudged as the Player of the Match for picking nine wickets, Blackwood and skipper Holder's contributions can't be undermined by any means. On the back of their performances, , the visiting team took a crucial 1-0 lead with the second Test, starting July 16 at the Old Trafford in Manchester. In the first innings, Holder got six wickets.
Blackwood and Jason Holder giving their best shot
The spell helped the West Indies bowl the Brits out for 204. In the second innings, He accounted for Ben Stokes' priceless wicket. With the bat, Holder didn't start well as he managed only five in the first innings. But in the second, he churned out 14 runs off 36 balls, seeing his team through to victory. For the sixth wicket with Blackwood, he put on 21 runs in 47 balls.
As far as Blackwood is concerned, he played a horrendous shot off Dominic Bess to get out in the first innings. He tried to loft the off-spinner over the off-side only to be caught by James Anderson at mid-off. However, in the second, he made amends, though he fell five runs short of his century.
He came to bat after the West Indies lost quite a few wickets. But instead of letting the pressure get to him, he got 95 runs off 154 balls with the help of 12 glorious boundaries. In the end, Stokes nipped him out, but by then, the target for the visiting team was already down to 11 runs.
In the meantime, Blackwood has become a meme material on the social media. A picture of him, batting with Holder has been doing the rounds. In the picture, the netizens noticed the difference in height between the Caribbean skipper and Blackwood. Subsequently, the people poked fun at them.
Here are some of the memes:
My income with my expenses. #ENGvWI pic.twitter.com/EEKtYZp4tC

— Sagar (@sagarcasm) July 12, 2020
Tere bina dil mera laage kahin na
Tere bina jaan meri jaaye kahin na pic.twitter.com/3a2nHjHxyo

— Socially distanced Ishant (@e__shant) July 14, 2020
Sachin Tendulkar and his records pic.twitter.com/LLtVs0pvBm

— Raj (@damsharas) July 12, 2020
My marks in College (Left)
My marks in School (Right)#ENGvWI pic.twitter.com/WOP7qGvtBG

— kedar (@kedar_mandawale) July 12, 2020
Close enough #ENGvWI pic.twitter.com/rwhKauwt4Y

— Pihu (@PritiMhatre6) July 12, 2020
#ENGvWI
Amit Ji with Jaya Bachchan pic.twitter.com/XqYOdZaizl

— 💤💤 (@iamjitusrivas) July 12, 2020
Close enough 😂😅 #ENGvWI pic.twitter.com/u3fCI4rnhV

— meme_wala07 (@Devil80005317) July 12, 2020
मेरे पैर और मेरी चादर #ENGvsWI pic.twitter.com/kFBdjaHaS6

— MastAadmi TAF (@EkMastAadmi) July 12, 2020
My in-hand salary vs CTC pic.twitter.com/InSvMrwuCa

— Anonymous Singh (@Cyber_Hokage) July 13, 2020
T series Remix and the original song. pic.twitter.com/Nq8DwVAFgm

— Prabal (@iamprabalism) July 12, 2020
My preparation along with my syllabus #ENGvWI pic.twitter.com/VZklelPySy

— lord_macaulay_asli_wale🇮🇳 (@V1vekSingh) July 12, 2020
Iphone 11 pro and iphone 11 pro max. pic.twitter.com/aDNg9VhQNb

— Prabal (@iamprabalism) July 12, 2020
Tere bina dil mera laage kahin na
Tere bina jaan meri jaaye kahin na pic.twitter.com/3a2nHjHxyo

— Socially distanced Ishant (@e__shant) July 14, 2020
Follow us on Google News