Jimmy Neesham shaves his head for a great cause
"I play cricket. I'm also shaving my head to support children with cancer," Neesham wrote on his Instagram profile.
Updated - Nov 19, 2017 3:19 pm
1.3K Views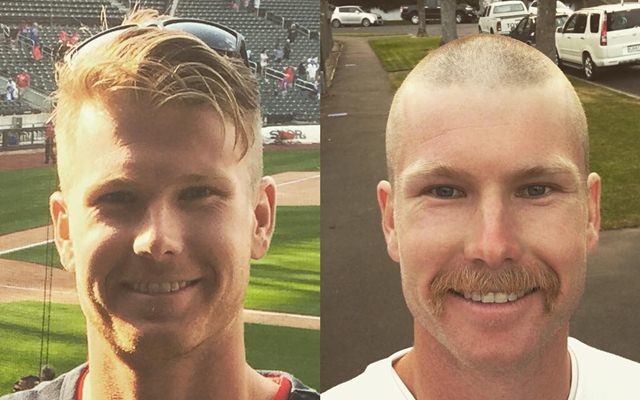 Follow us on Telegram
New Zealand all-rounder Jimmy Neesham might have fallen off the selectors' radar but he is certainly trying to make the best use of his public appeal and give back to the society. Neesham posted a picture on his Instagram account with a shaved head and announced that he is more than happy to do his bit to support camp quality.
His bio on the social media app reads- "I play cricket. I'm also shaving my head to support children with cancer." He shared a picture with his before and after image and wrote- "From boy next door to cell next door ??? . More than happy to do my bit to support camp quality. Over $3,000 raised already!"
He is supporting the cause which will help children suffering from cancer in New Zealand to go to camps and enjoy the small yet significant joy of camping. Neesham started a fundraiser for the same on camp4campquality and has thus far raised over $3,400.
The description on the website reads- "I've created this page because I want to do my bit to make sure every child living with cancer in New Zealand gets to have the cool experience of going to camp, and have some fun at the same time.
An organization Camp Quality conducts special summer camps for children who are battling against cancer in most regions of New Zealand. It is managed by passionate individuals who want to make a difference in the lives of the children and thus James Neesham wants to encourage it further.
"Camp Quality New Zealand runs really special week-long summer camps for children (5-16 years) living with cancer in 5 regions throughout the country. They also organise weekend winter camps, family days and other activities throughout the year. Their camps are all run by passionate volunteer teams including medical staff, and each camper has their own 24/7 fully trained Companion during camp. This year I have decided to put my name forward to be a companion, and make a difference to a special child's life," it further stated.
"It costs Camp Quality $3,000 per year for each child to come to camp and so I'm doing my bit to help.
I have teamed up with five of the lads from the Otago Volts… Hamish Rutherford, Mark Craig, Jimmy Neesham, Brad Wilson, and Christi Viljoen. We will be shaving our heads at the top of Baldwin Street in early November for the cause.
Every donation counts, so please help us get behind this awesome charity!" it states.
Here is Neesham's post
Follow us on Google News