Jofra Archer has a hilarious caption for Krishnappa Gowtham's celebratory picture
Another Royals teammate Sanju Samson also joined the conversation as he had a good laugh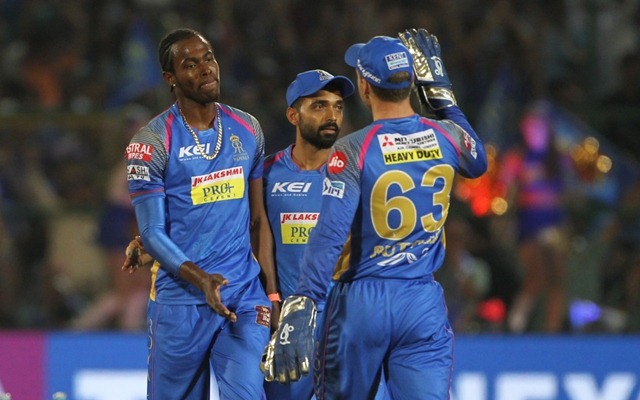 Follow us on Telegram
The Rajasthan Royals had a good campaign in the IPL this year. While they failed to proceed to the playoffs, the Rajasthan unit displayed some sensational performances. The likes of Jos Buttler, Sanju Samson, Jofra Archer and Krishnappa Gowtham put up an exhilarating display throughout the tournament.
Probably the greatest thing about the Indian Premier League is the mixing and integration of different international cultures. Over the years, we have seen various cricketers from two different countries represent the same team. This has led to a developing bond between a number of sportspersons.
Archer comes up with a hilarious caption
Krishnappa Gowtham posted a picture from his Rajasthan Royals stint in the IPL on Saturday. In order to interact with his followers, the 30-year-old asked them to caption the picture where he could be seen breaking into celebration after a wicket. There were some hilarious one-liners put forward by the fans. Some of them included 'When you're the reason for Rajasthan Royals' success.' or 'When you clear the exam in spite of studying one day before'.
However, the best caption belonged to his RR teammate Jofra Archer. He posted a comment, "When you left food in the fridge and you return home and it's still there". Another Royals teammate Sanju Samson also joined the conversation as he had a good laugh. Gowtham acknowledged the same but felt it could be better.
Born in Barbados, the 23-year-old took the IPL by storm this year with his fantastic bowling. The right arm pacer has been a force to reckon with in different leagues across the cricketing world. Representing the Sussex team in County Cricket, he aspires to play Test cricket for England one day. However, for that, he will gain eligibility only by 2022 and it will be interesting to see if ECB will straight away draft him in the playing XI.

Follow us on Google News