John Mooney and Kumar Sangakkara wear helmets with additional protection
Updated - Mar 8, 2015 4:48 pm
64 Views
John Mooney and Kumar Sangakkara wear helmets with additional protection: Some of the fans and viewers may have noticed something odd about the helmets worn by Irish batsman John Mooney in their match against Zimbabwe and the one worn by Kumar Sangakkara in today's match against Australia.
The different element is that both their helmets had an extra grill and a flap for protection to the back and side of the neck for the batsmen. In view of the injury to Phil Hughes and his death last year before the India Test series, after being struck with a bouncer on the back of his neck; batsmen all around the world are working with the helmet manufacturers to provide better protection to them in case they get hit anywhere near the head or the neck region.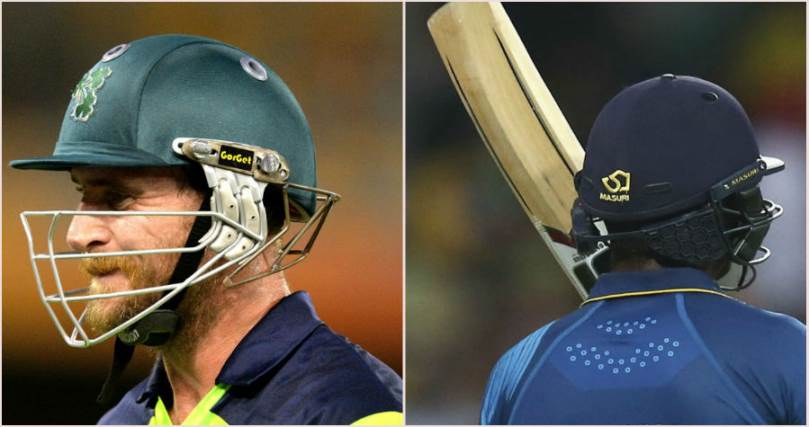 Follow us on Telegram
Irish Fast bowler John Mooney designed an attachment, which he calls a "gorget", to protect the neck at the back and side of the head. "It's a very simple idea and it's designed to attach to existing helmets," Mooney told the Irish Independent.
"It's something myself and my father-in-law were working on. He's an architect and pretty useful with his hands too and we set about designing an extra grille to fix at the back of the helmet. Safety is something I was very aware of before what happened to Phil." said Mooney.
Currently only Mooney is allowed to wear the 'gorget' as it requires a safety certification, but when it gets the clearance, Mooney looks forward to market his invention so that fellow cricketers and youngsters can take advantage of more protection for themselves.
Kumar Sangakkara was also spotted wearing a helmet with modified back panels protecting the back and side of his neck during the match against Australia. The helmet manufacturer Masuri, whose helmet Phil Hughes was wearing when he was hit, has brought many modifications to their newest version. It has an extra grill in the front to stop the ball entering the gap between the grill and the cap. Now it seems that they have added a protection band at the back of the neck too as visible in the image of the helmet worn by Sangakkara.
Here is the Video:

Follow us on Google News