Josh Hazlewood and Mitchell Starc on track to recover for World Cup 2019
Both of them haven't played any form of cricket for quite a while now.
Updated - Mar 28, 2019 2:12 pm
5.5K Views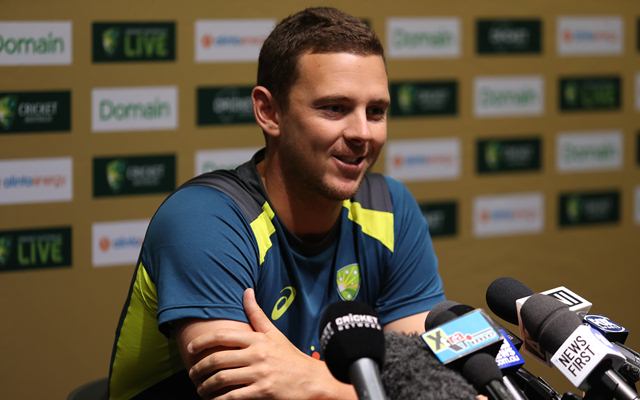 Australia won a mere two ODIs in 2018. However, they've turned things around beautifully as they build momentum leading up to the World Cup. They came back from behind to win the five-match ODI series in India and now, have registered another series win against Pakistan in the UAE where they have won the first three games of the five-match ODI series. Australia have been playing without their first-choice players.
The likes of Steve Smith and David Warner were banned for a year while fast bowlers Mitchell Starc and Josh Hazlewood were injured. In fact, the two premier pacers have hardly turned out to play white-ball cricket for Australia in the last couple of years. The focus has largely been on Test cricket and that has been given priority as Australia have tended to rest their premier fast bowlers during the limited-overs series', trying to keep them fresh for the longest format.
Hazlewood confident of being before the World Cup
Most of the talk in recent times has been around the all-important World Cup. Josh Hazlewood who has been out of action since January earlier this year believes he'll be fit by the time the World Cup warm-up games start. The lanky New South Wales pacer was ruled out of the Sri Lanka Tests and the India tour due to a back injury.
Australia will most likely play New Zealand in a few warm-up games before boarding the flight to the UK. Hazlewood revealed that he won't be fit by that time but should be fit before the World Cup starts. "I don't think I'll be fit for those but the one-day warm-up games in England I think I'll be right," Hazlewood was quoted saying.
He also said that his fellow paceman Mitchell Starc is on road to recovery. "He (Starc) looks fine, he started bowling as well this week," Hazlewood added. Starc and Hazlewood have combined to play just 13 ODIs since the end of the Champions Trophy in 2017.
Here is SRH's squad for IPL 2019