Journalist Rajdeep Sardesai gets mocked on Live TV by Sunil Gavaskar
Sardesai has suffered such humiliation on television in past too.
Updated - Dec 15, 2021 7:06 pm
2.7K Views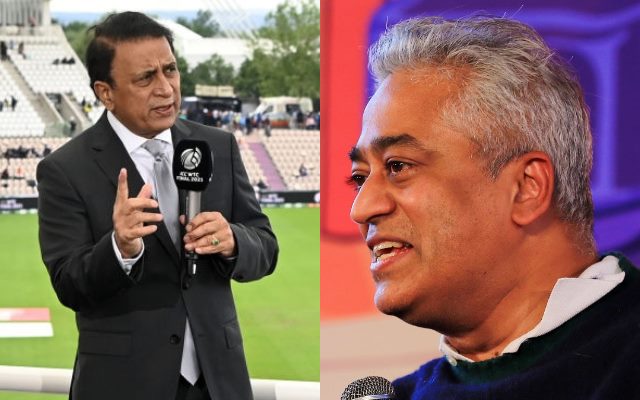 Follow us on Telegram
Journalist Rajdeep Sardesai has faced humiliation on live Television once again and this time around, it came from the former legendary skipper Sunil Gavaskar. Gavaskar was one of the panelists on a discussion over the rift between Virat Kohli and Rohit Sharma and he stated that he won't be worried if Sardesai wouldn't agree with him.
The former legend also added that he wouldn't lose his sleep if Sardesai wouldn't agree with him. While moving towards the end of the debate, the former cricketer was asked what he would suggest to Jay Shah and Sourav Ganguly on the rift matter.
Gavaskar suggested both Shah and Ganguly should ignore the matter as there is no substance to it. When Sardesai wasn't seen on the same page with him, the 72-year-old said, "Rajdeep if you don't agree with me, it doesn't matter. I won't lose sleep over it," while speaking on India Today's TV channel. Humiliated Sardesai only laughed and kicked aside the topic.
Adding background to the topic, there were reports that India's Test skipper Virat Kohli won't be available for the SA ODI series because Rohit Sharma is the new ODI captain and he was not fine with it. However, Kohli opened up in a press conference earlier in the day and brushed off any rift between him and Rohit. He also stated that he is tired of saying this repeatedly that there isn't any issue between them. He also gave his assurance for SA ODIs scheduled after three Tests.
Here is a glimpse of the debate featuring Sunil Gavaskar
Sunny Gavaskar did to Sardardkasai @sardesairajdeep what Mukesh Ambani did to him few years back. Told him none takes him seriously pic.twitter.com/0ASYLdsyI8

— iMac_too (@iMac_too) December 14, 2021
I'm tired of saying these things for over 2.5 years: Virat Kohli
"There is no problem between me and Rohit Sharma. I'm tired of saying these things for over 2.5 years. Whatever, I'll do will never be to take the team downwards. There is no issue between Rohit and me," said Kohli.
"I was and I am available for selection all this time. You shouldn't be asking me these questions, you should ask those who are writing these stories and sources, they're not credible – I was always keen to play ODIs," he added further.
Follow us on Google News