Justice Vikramjit Sen lifts off 4-match ban from Gautam Gambhir
Gambhir was banned for 4-matches as a result of confrontation with his state team coach KP Bhaskar.
Updated - Jun 17, 2017 11:29 pm
6.3K Views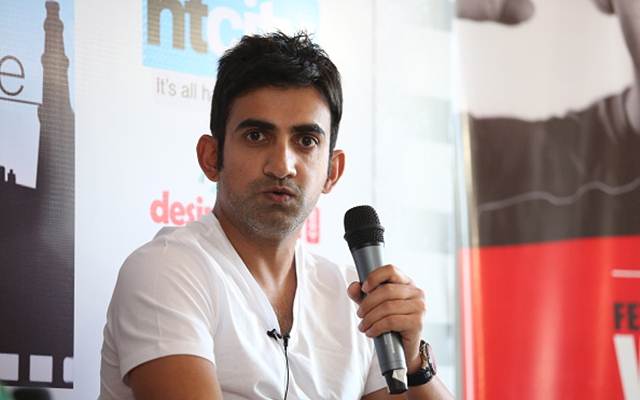 Kolkata Knight Riders' skipper Gautam Gambhir had an ugly spat with his domestic side Delhi's coach KP Bhaskar earlier this year. As a punishment, the veteran Indian opener was handed a 4-match ban for his arrogant behaviour. After this, an enquiry committee was constituted by Delhi and Districts Cricket Association administrator Justice Vikramjit Sen, comprising chairman Madan Lal, Rajendra R Rathore and advocate Soni Singh.
The committee has decided to suspend the ban for a time period of two years that will end on 30th March 2019. They have also termed Gautam's behaviour as inappropriate and serious. Reports suggested that the player verbally abused his coach after Delhi's elimination from the Vijay Hazare Trophy earlier this year in Bhubaneswar.
Gambhir denied the allegations and accused Bhaskar of playing with careers of young players like Nitish Rana, Pawan Negi and Unmukt Chand. However, the committee will withdraw its suspension if the Delhi lad repeats the same kind of unruly behaviour within the stipulated time.
Justice Sen's statement
In his statement, Justice Vikramjit Sen wrote:
"Having learnt of an incident, which occurred when the team from DDCA was in Orissa, in which an altercation between Gautam Gambhir and Bhasker Pillai had transpired, and pursuant to a complaint received from Pillai, I met both persons on 10th March 2017. The matter could not be amicably and satisfactorily resolved. The Committee Members agree that considering the above facts and circumstances that have come to light, Mr. Gambhir's actions towards Mr Pillai with premeditated intent to humiliate the coach were highly inappropriate and of serious nature. It is recommended that such inappropriate behaviour requires to be penalised not only in a proportionate manner, but in a manner that has a deterrent effect so that it is not repeated and such issues are taken seriously by all team members.
The Committee members feel the necessity of deterrent effect of penalties on account of such seriously inappropriate behaviour to inculcate discipline within the team and in the interest of the game of cricket. Having such considerations and findings as above in mind, the Committee Members recommend that Mr. Gautam Gambhir should not be allowed to play in 4 (four) First Class matches of the Delhi team at the start of the next season, i.e. 2017-18 on account of his deliberate and pre-meditated inappropriate behavior.
It is evident from the above that the actions/conduct of Mr. Gambhir on 6th March 2017 against the coach and the confrontation were pre-meditated as he called for the meeting after the match at lunchtime on a day when he was not even playing the match and he had remained in the hotel, since about lunchtime. It is further evident that Mr. Gambhir intended to use some very sharp/inappropriate language and admittedly the arguments between the coach and Mr. Gambhir were expected to be so 'heated' that he thought it prudent to save some of the younger players from witnessing it and therefore sent them outside the dressing room before starting the confrontation.
The Committee also recommends, in view of the significant grievances raised by Mr. Gambhir during the hearing, which seem to have been given vent to in an inappropriate manner on account of lack of a proper grievance redressal system for the team members, that a grievance redressal system within the team is urgently required. It is also recommended that disciplinary action rules and mechanism of imposing penalty are required to be formulated to inculcate discipline in the team members and for predictability and deterrence, where players know that an act of indiscipline would have serious repercussions and are therefore deterred from committing them.
The position of a coach among the team members is of high respect and dignity. It is a serious disgrace to a coach to be humiliated in front of team members by one of the team members even though if it is a senior player. The actions of Mr. Gambhir, however well intended, cannot be said to be in the interest of the team, or its performance or the game as it was done on the very last day of the season and therefore could not have been any corrective effect. The actions of Mr. Gambhir were not in the spirit of the game."