Justin Langer gives his verdict on the Paine-Kohli confrontation
There were quite a few banters during the second Test in Perth and the biggest between Kohli and Paine.
Updated - Dec 19, 2018 4:27 pm
174 Views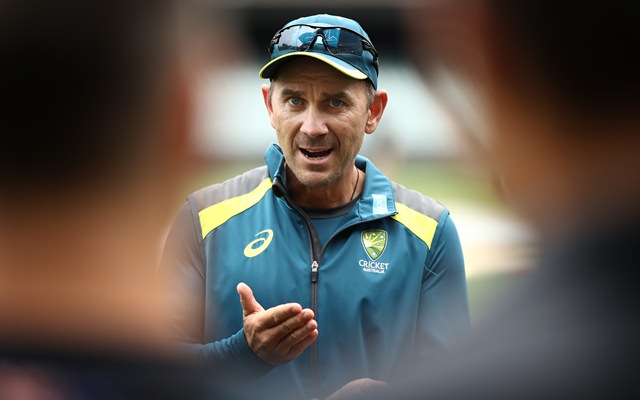 Follow us on Google News
When India and Australia clash, controversies can never be ruled out. The first Test in Adelaide between the two sides was played in good terms, however, the second Test witnessed some verbal exchanges and face-offs. But Australia's coach Justin Langer loved the banter between the two captains and brushed aside any of it being abusive.
Virat Kohli and Tim Paine had some war of words between which at one point was on the verge of escalating to physical contact. Paine also had a go at Murali Vijay about his captain being a bloke one could not like. While the confrontation may have started as a humorous one, we could witness some crossing-the-line moments in the upcoming matches.
Langer addressed that and said he had no complaints about the on-field confrontation and that the banter was completely humorous. He also admitted that it is a part and parcel of the game and when two gigantic sides are clashing against each other, some on-field confrontations are healthy for the match.
"I thought it was brilliant. As the two captains, they are trying to stamp the authority on the game and I don't think there was any abuse or any real aggression to it," the Aussie coach told Fox Sports.
"In fact there was a bit of humour and there's been a lot of talk about banter. There's got to be some in a Test match. It's a great part of the game and there was a bit of humour in it, a bit of Aussie humour as well," he further added.
Physical contact would be silly
The former left-hander, when asked about the point at which Paine and Kohli would get physical said that physical contact would be the silliest thing to happen in today's era. Langer maintained that it was all part of the theatrics and that crossing the line by physically getting in contact wouldn't happen in this environment.
"I think the days of Dennis Lillee and Javed Miandad are gone. I think Andrew Symonds did it to a spectator once and it was one of the best shirt fonts you've ever seen in your life, but I can't ever imagine that in our environment we're now in with so many cameras," Langer stated.
[interaction id="5c162a0c08b5341855788419″]
Follow us on Telegram