Justin Langer reckons that Johnson would be picked first if he makes a comeback
Updated - Jan 30, 2017 3:41 pm
57 Views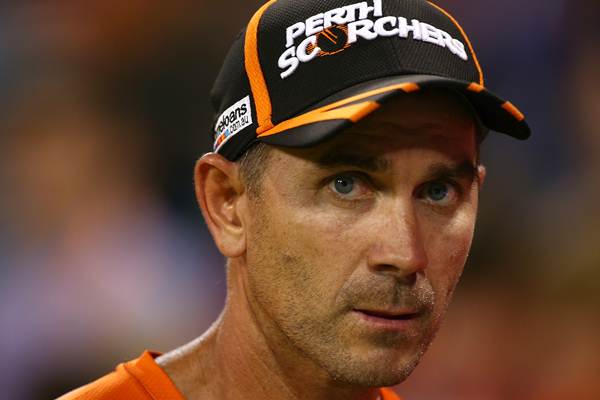 Follow us on Google News
After the Perth Scorchers' successful run in the recently concluded Big Bash League, the name Justin Langer is starting to be taken in a much more serious tone when it comes to coaching the Australian cricket team. However, another name that is doing the rounds to make a comeback is Mitchell Johnson.
Ever since Johnson retired from international cricket, the 35-year old has simply become better and better. Especially in the semifinal, it was Johnson who simply decimated the opening order of the opposition team to ensure that the Scorchers were through to the final. Justin Langer went on to add that he was indeed warming to the idea in the grand scheme of things.
"I think he's a bit warming to the idea. But I haven't got a definitive yes or no from him," Langer said. "That might be the persuasion of (interim chairman of selectors) Trevor Hohns if they decide that's the way they'd like to go."
Langer went on to add that there was indeed no doubt that he was good enough to play for Australia at the moment. "There's no doubt he's good enough to play — he'd be your first picked the way he's playing at the moment," Langer said. "It's important in T20 cricket to have a left-armer up front, that's one thing I do know.
"It's been a really big part of our success at the Scorchers to have at least one left-armer who can swing the ball early. If it's not Mitchell Johnson we'll certainly be looking for someone."
Langer then went ahead and advised Trevor Hohns on doing the same. "You can look at the bigger picture approach, or look to win this series and start to bump up (the rankings)," he said. "If you do that you've got to pick the best squad possible. Ultimately I've said for 20 years, the Australian cricket team should pick the best possible team for every single game.
"If you do that it usually has a good flow-on effect. It's been successful in Australian cricket for a long time, and there's no reason why it shouldn't be this time as well."
Follow us on Telegram