Kamran Khan & Rahil Shaikh back as net bowlers
Updated - Apr 20, 2016 9:24 am
170 Views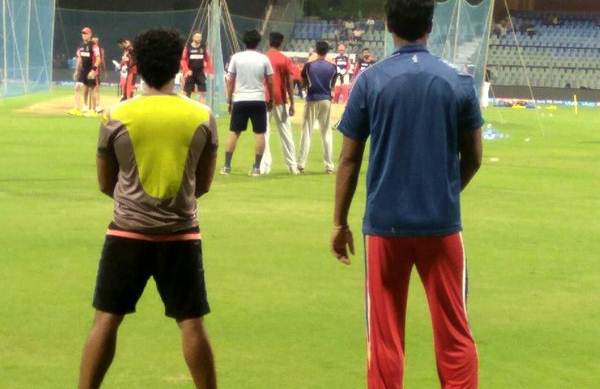 Pacers Kamran Khan and Rahil Shaikh were seen back in action, though only in the nets during the Royal Challengers Bangalore net session in Mumbai.
Kamran Khan had made the news way back in 2009 when he turned up for the Rajasthan Royals in the IPL. Kamran Khan, with his sheer precision and hostile action, had impressed the then skipper of the Royals, Shane Warne. He later went on to play for Pune Warriors as well till 2011.
Rahil Shaikh, on the other hand, had impressed batting legend Sachin Tendulkar as a net bowler. He made his debut for the Mumbai Indians franchise in the IPL 2009. However, the game remained to be his only match for the Mumbai Indians.
The bowlers have come a long way since then, being dropped from the squads. Yesterday, Kamran and Rahil were called to bowl in the nets for Royal Challengers Bangalore, but most of the time, they were collecting balls hit to the fence and only got to bowl a bit as the team was winding up their practice session.
However, the pacers were excited at the prospect of making the comeback on the field. RCB bowling coach Allan Donald was amazed to see Kamran on the field. He had coached the young bowler during his stint with the Pune Warriors."Allan was shocked to see me here. He thought I was playing state-level cricket. He certainly did not expect me here," quoted Kamran.
"It isn't a great feeling to come here today. I am trying to hide from people. I was a bit reluctant to come here, but then I thought it would be another chance to impress the coaches and senior players," he added.
Rahi was quick to cite that maintaining the position in the side is a tougher task than getting into the side. "To keep your place in the IPL is a bigger challenge than just getting a chance," said Rahil.
Read Also – Bombay High Court allows May 1 IPL match in Pune