Kapil Dev suggests India should assign No.4 spot according to need of the hour
Asked to name his favourite all-rounder, Kapil somewhat surprisingly took the name of MS Dhoni.
Updated - Apr 3, 2019 9:17 am
5.4K Views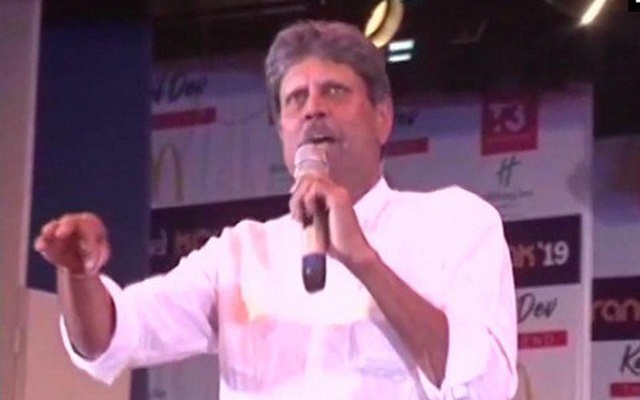 Follow us on Telegram
As the IPL enters its second week grabbing everyone's attention, the Indian cricketing fraternity still has one eye very much on the upcoming World Cup in England. Thus, a conundrum in the Indian team that remains continues to attract much debate and opinions, is of course, regarding the pivotal No.4 spot. India's World-Cup winning former captain, Kapil Dev, has put in his thoughts in the issue.
Speaking at a promotional event for Britannia, Kapil dismissed all the hullabaloo regarding the No. 4 spot, considering it a redundant argument with there being no need for a batting order set in stone. "There's a lot of talk about that No. 4 slot. But you have to look at the situation. The need of the hour is what matters. Don't affix numbers to players. You can send anybody anywhere, they're all good enough", he said.
Dev added, "Don't get confused. Play like a team. Don't try to say, 'That's his number'. The number depends on the situation of the match". He also spoke about Rishabh Pant, who fellow ex-cricketer Kris Srikkanth had praised highly at the same event. Kapil, however, refrained from doing so, saying Pant still has a lot to prove. "Dhoni has set the standard very high. Yes, Pant has the ability but he has a long way to go," said Dev.
Kapil Dev rates Ben Stokes as the current best all-rounder
Asked to name his favourite all-rounder, Kapil somewhat surprisingly took the name of MS Dhoni. "Are only bowling allrounders, and fast bowling allrounders considered allrounders? I would consider wicketkeepers also. For me Dhoni comes up very high," said Kapil. "R. Ashwin in Test cricket is a fabulous allrounder. Ravindra Jadeja can bat but he doesn't know he can bat. You don't know your own strength sometimes. If he puts his head to it he can become a very good all-rounder.
Kapil Dev picked Ben Stokes as the best all-rounder currently, across all countries. "I would say Ben Stokes stands above everyone else as an allrounder. There are many who look like allrounders only in T20 cricket but I rate Stokes very highly", said the captain of the 1983 World-cup winning squad, who with over 9000 runs and 600 wickets on the international scene, is considered one of the best all-rounders of all time.
[interaction id="5ca3792d4869a8898fd1f038″]
Follow us on Google News