Karn Sharma talks about the difference in approach between Chennai Super Kings and Mumbai Indians
Sharma played an IPL final both with MI and CSK in 2017 and 2018 respectively.
Updated - Jul 10, 2020 4:13 pm
663 Views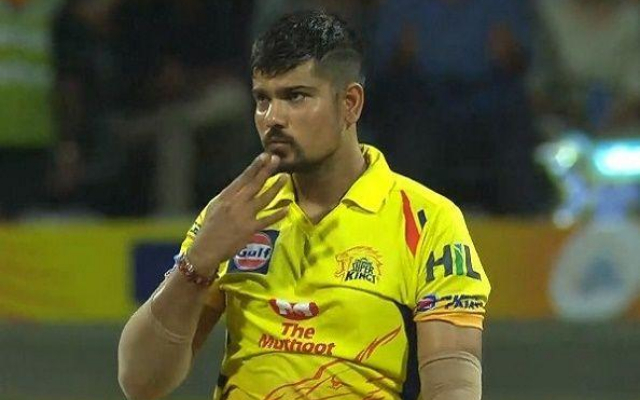 Follow us on Google News
Karn Sharma, the veteran Indian leg-spinner, has put forth the difference in approach between the Mumbai Indians (MI) and the Chennai Super Kings (CSK). Sharma is currently with the Super Kings for the last two seasons despite not playing a whole number of matches. Prior to that, he was with the Mumbai franchise and also played the final of the 2017 IPL final against the Rising Pune Supergiant.
About MI, he said that the team has a 'win-at-all-cost' attitude. He said that during the 2017 IPL final, Mahela Jayawardena, their head coach, used strong words to motivate them after they managed only 129 runs in their 20 overs. About the Super Kings, the 32-year-old said that the atmosphere is a relaxed one and players only need to put in their full efforts.
In CSK, the environment is very relaxed, says Karn Sharma
"In Mumbai Indians (MI) you have to win anyhow. Everything is planned perfectly and there are a lot of team meetings and stuff. However, in Chennai Super Kings (CSK) the environment is very relaxed. Once you enter in the ground you have to give your 100 percent. Afterwards, you are free to do whatever you want," Sharma told Dr Yash Kashikar on Say Yash To Sports show.
Sharma also talked about how MS Dhoni and CSK head coach Stephen Fleming had to a chat to the team before the 2018 IPL final against the Sunrisers Hyderabad at Wankhede Stadium.
"In fact, I still remember in 2018 before the finals there was hardly a 5-10 seconds team meeting. Even Mahi bhai (MS Dhoni) did not say anything. Only Stephen Fleming said go and enjoy the evening. So, when you have experienced players in the side who are 30+, everybody is aware of what they have to do. There is no need to tell them anything," he added.
Sharma bowled only three overs in that game and picked up the critical wicket of opposition captain Kane Williamson, who was looking well-settled on 47 off 36 balls with five fours and a couple of sixes. In CSK, he has mostly warmed the benches due to the presence of Imran Tahir and Ravindra Jadeja as the specialist spinners.
Follow us on Telegram