Khaled Mahmud, Manager of Bangladesh Cricket Team Returns after a Resignation Drama
Updated - Jun 8, 2015 9:19 pm
166 Views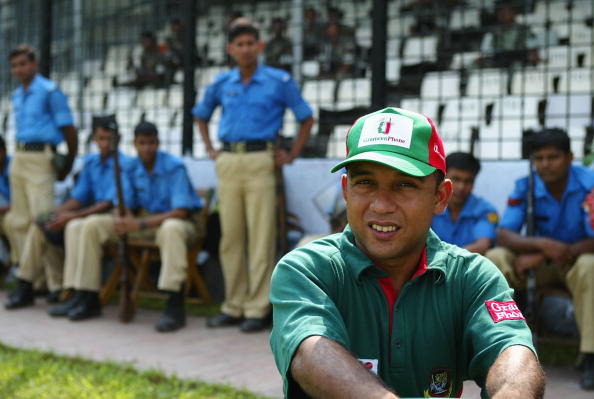 Khaled Mahmud, Manager of Bangladesh Cricket Team Returns after a Resignation Drama: Prior to the start of the series between India and Bangladesh, there has been quite some drama and dilemma in the Bangladesh Cricket Board. Just a day ago, the manager of BCB, Khaled Mahmud had sent his resignation from the post of the manager of the BCB citing 'family reasons' as the cause for doing the same.
This twist came up yesterday, when the manager, Khaled Mahmud once again returned to the office after causing a day long drama about his resignation from the post of the team manager. In a brief press conference held for the same on Monday, Mahmud told the media that he had a meeting with the leading authorities of the Bangladesh Cricket Board (BCB) and after some discussion it was decided that Mahmud would continue providing his services as manager till India's tour to Bangladesh.
India has landed in Bangladesh for a one test matchseries against the hosts which will be starting from the 10th June and it will be followed by three One Dayers in an ODI series which starts from 18th June.
Even after agreeing to continue with his services till the India series, the Manager urged BCB authorities to appoint a permanent manager for the post of the Manger for Bangladesh Cricket.
A reputed media source in Bangladesh, Mahmud was quoted saying, "I decided to move away from the job for family reasons. But, I changed my mind after having talks with the board."
It was also reported on Sunday that, the former Bangladeshi cricketer, Mahmud sent his resignation to the Chief Executive of the Bangladesh Cricket Board, Nizamuddin Chowdhury and he stated that his resigning from the post was due to 'family reasons'.
Later on Sunday, BCB also confirmed officially of the receipt of the letter from Mahmud.
When being asked about the respective issue, the Chief of the Bangladesh Cricket Board's operation committee Niamur Rahman declined to comment on the particular matter and said that the board will discuss about the issue with Mahmud before making a decision for the same.
Reportedly, Khaled Mahmud receives a salary of 3.15 Lakh Taka (Rs. 2,59,145) per month and it is perhaps the highest for a Bangladeshi manager.