Khaleel Ahmed rips D'Arcy Short apart with a stunning delivery
The 20-year-old put up a much better account of himself in the contest and regained confidence.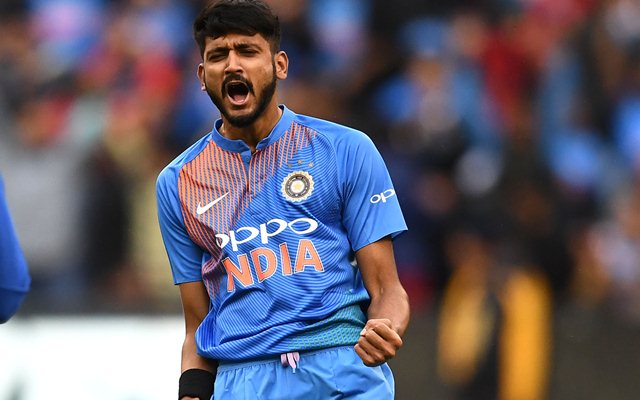 After a thrilling encounter at The Gabba, the second game at the iconic Melbourne Cricket Ground was expected to be an even better display by both the teams. The match was unfortunately abandoned due to rain but not before Indian bowlers made a mark and pushed Australia on the backfoot. One of the bowlers who managed to redeem themselves after what happened at the Gabba was Khaleel Ahmed.
Unlike the previous game where the Indian bowlers were taken to the cleaners, there was much better execution this time around. Skipper Virat Kohli introduced the left-arm speedster Khaleel with the new ball to partner Bhuvneshwar Kumar. The move worked wonders as both the pacers managed to take a couple of wickets each and create pressure.
Khaleel produced a peach
After taking a wicket on his first delivery, Khaleel was taken apart by the Aussie batsmen in the previous encounter especially by Chris Lynn. However, the Indian captain continued to persist and the 20-year-old managed to restore the faith of the team management with a brilliant bowling effort.
Khaleel first accounted for the wicket of Lynn who had ripped him through in the first match. He followed it up by dismissing the opener D'Arcy Short who was out bowled in the next over. He was bowling left-arm over the wicket to Short a left-hander, the ball was short of good length and the batsman got a bit too greedy and wanted to hit it hard on the on-side.
It didn't rise as high as Short expected and thus took the bottom edge of his blade instead. He played it onto the stumps and the bowler was thrilled with the outcome. Khaleel sprint in celebration and prompted the crowd to cheer for them. The Australian opener who was just starting to look dangerous was dismissed for 14 and Team India was on top having reduced Australia to 35/3.
Here's the video of the dismissal:
— Mr Gentleman (@183_264) November 23, 2018