KL Rahul remembers how RCB captain Virat Kohli had received him in team in 2016
"I thought it would just me signing the papers with some manager."
Updated - Mar 21, 2019 10:13 am
11.7K Views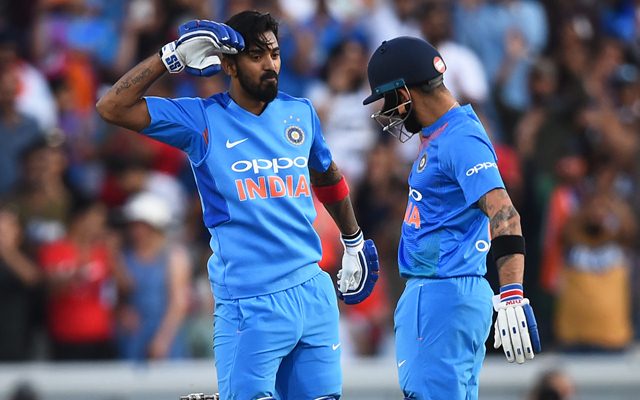 Follow us on Telegram
KL Rahul, who originates from Bengaluru, plays for Kings XI Punjab (KXIP) in the Indian Premier League (IPL). Last season, he went to the Punjab-based franchise and had a magnificent run with the bat, scoring over 650 runs at a strike rate of 158-plus. Though the Kings did not last the distance, Rahul honoured the heavy investment they made behind him to change his base from his home franchise Royal Challengers Bangalore (RCB).
The Kings started their campaign last year with a bang but lost the way towards the latter part and failed to make the playoffs. Ravi Ashwin's side will eye to make amends this time and for that, Rahul's bat has to speak loud again. The batsman though has had a poor run in international cricket over the last several months and even faced a suspension over a TV controversy, yet the KXIP will be banking heavily on him.
It was Rahul's good show with the bat in RCB which had moved the Kings to hire him. In the 2016 season when the RCB reached the finals to lose to Sunrisers Hyderabad, Rahul scored 397 runs in 14 matches at an average of 44.11. Rahul, however, missed the 2017 edition owing to a shoulder injury.
The talented batsman later revealed how he was received by the franchise after he walked into it from the Sunrisers. Aged 24 then, Rahul had thought that it would just be a paper-signing occasion when he joined the RCB but what had happened when he actually reached the spot was pleasantly surprising.
"The day when I went to sign my RCB contract papers is my next great memory. I thought it would just me signing the papers with some manager," Rahul was quoted as saying by Red Bull.
"But I remember I walked into the room and there was a full team meeting with the directors; Virat Kohli was also sitting there. I walked into the room like I was the coolest person there but suddenly I saw everyone and thought, 'What have I walked into?'. The contract is about 20-30 pages so it took me a while to go through it."
'We are going to have a blast'
It was then when the captain, Virat Kohli, walked up to Rahul and putting an arm around his shoulder, said: "Welcome to the team. We are going to have a blast."
Rahul, who had made his IPL debut playing for RCB in 2013, said it was a big moment for him and he remembered getting along with big names like Chris Gayle, AB de Villiers and Zaheer Khan in the franchise.
[interaction id="5c865edb18d43d2529bc1c74″]
Follow us on Google News