Know your players: An insight into the United Arab Emirates World Cup 2015 squad
Updated - Feb 25, 2015 5:09 pm
43 Views
Know your players: An insight into the United Arab Emirates World Cup 2015 squad: Season and off-season are the terms of past in this era of, international cricket. Cricketers have now become professionals from being just sports persons. If you have seen the cricket of the 80s & 90s you would recall having no matches for around two or three months every year. But what we see today is international cricket plus domestic T20 leagues which operate in the empty slots and cricket around every hour in the year.
So literally there is no off season observed now and apart from being professional cricket players, they also have jobs for themselves in PSUs and organizations which have their own cricket teams. Endorsements, campaigns, commercial involvements keep players busy whenever they are not playing cricket. But that is the case with major teams like India while other associate team players still live in the age when they have to take jobs when not playing cricket.
Unlike their counterparts who are super stars, celebs we have a team of ordinary men, who not only play cricket but also have taken full-time jobs to take care of their financial needs. This is the team from United Arab Emirates (UAE), which has come back to the international cricket forum after a huge gap of 19 years.
It last appeared in the ICC Cricket World Cup 1996 and is back into action in 2015. Quite a gap this and many things have changed all this while. The team which is fielded today is a mixture of all foreign nationals but one. Others mostly hail from India, Pakistan or Sri Lanka.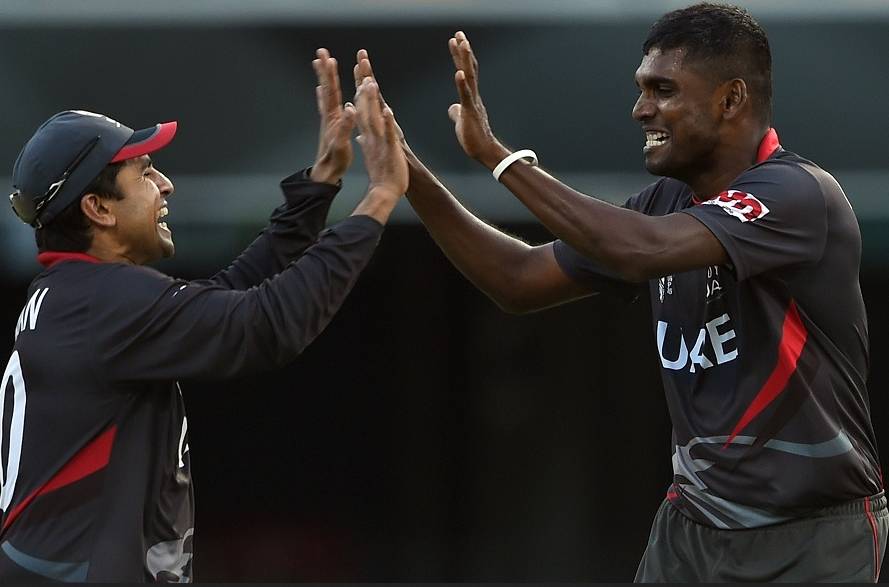 Follow us on Telegram
Here are the players who from the UAE team in the ICC Cricket World Cup 2015 and their profession:
Mohammad Tauqir (Captain) – Banker
Amjad Javed – Marketing Executive
Fahad Alhashim – Police Officer
Kamran Shazad – Salesman
Nasir Aziz – Salesman
Rohan Mustafa – Salesman
Shaiman Anwar – Office Executive
Amjad Ali – Banker
Manjula Guruge – Office Executive
Khurram Khan (vice-captain) – Flight attendant
Mohammad Naveed – Banker
Swapnil Patil – Office Executive
Saqlain Haider – Banker
Andri Berenger – Cricketer
Krishna Chandran – Cricketer
So even if you are an Indian cricket team fan or for that matter an Irish fan, do not excite yourself with the victory or thoughts of it. As these 15 have really fought it hard and tough to make themselves eligible to fight at the highest level in cricket.
In the world where money (T20 Leagues) is what drives cricketers this bunch of 15 international cricketers show us the real passion, intention and grace with which the game of cricket should be played. Before a rash share of joke on the way they perform do spare a though on the conditions under which they have staged this remarkable achievement and embarked themselves as World Cup playing cricketers.
Taking nothing away from the professional ones, there is massive respect for the UAE team and its cricket. They have no excuses to give, no complains to make, all they want is the world of cricket to recognize them as competitive cricketers.
Follow us on Google News