Krunal Pandya has an important brotherly advice for Hardik
Krunal is a part of the Indian team for the Windies and Australia T20I series.
Updated - Nov 2, 2018 7:23 pm
154 Views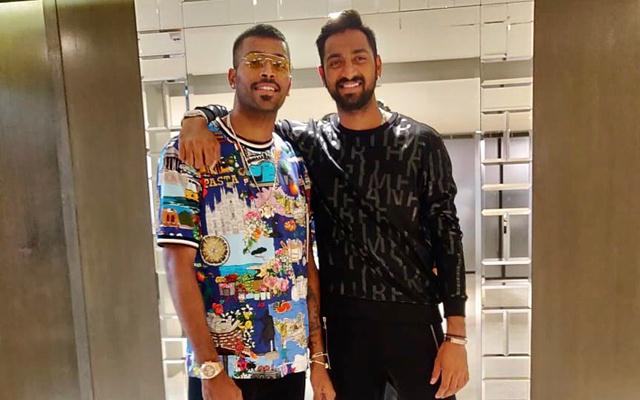 Follow us on Telegram
Pandyas are set to become the latest addition to the list of brothers who represented the national team together. Krunal Pandya, the elder of the two was picked in the Indian T20I team for the series against Windies at home and for the tour of Australia as well. Hardik, on the other hand, is out nursing an injury and will still need some time to recover and make a comeback.
Krunal said things haven't changed for Hardik, he was this guy with coloured hair even when he was 10 years old. He doesn't see any change in his younger brother even after he played the IPL and now that he is an Indian cricketer. He also emphasized that in this world it was extremely important for one to maintain their identity.
"Hardik has been like this since childhood. There is nothing new that has happened to him after playing for India or for Mumbai Indians. I still remember my mother used to shout at him," Krunal was quoted as saying on HT. "He coloured his hair at the age of 10. So what Hardik is now is exactly what he was a child. Nothing has changed,"
"It's important to be yourself. Whatever he does, wears or colours his hair, that is all after once he is finished with cricket. That's his personal life, his personal space. What I know is no one will come between him and cricket, whether it's his fashion or his family," he added.
The all-rounder also thinks for someone to perform at their best it is important that they don't alter their character. Maintaining that is of supreme importance and directly reflects on the field as well. Krunal also said they are from two different departments and there's no scope for comparison or competition.
"I have never told Hardik to change himself. If you want to do well, you have to be yourself. Then only can you give a 100%. That's what he is doing. As long as it is not affecting his cricket and not harming anyone, then I think we should leave him at it," he added.
No competition between the two
"He is a fast bowling all-rounder. I'm a spin bowling all-rounder. These are two completely separate departments," the 27-year-old said.
Krunal also shared an insight into the time when he got the national selection news. Hardik who is recovering from a back injury he sustained during the Asia Cup was also at home and the news arrived pretty late in the night. The younger brother was excited and relived on hearing that his sibling has been selected.
"Hardik was going to bed because he had to get up early. I got the (selection) news late, around 10:30 pm, and he said 'Now I'm not feeling sleepy because I'm so excited you are part of the Indian team again. So, that's the bond we have. We have never seen each other as competitor," Krunal said.
Follow us on Google News