Kuldeep Yadav disappoints in IPL 2020: Is it the end of road for him in colours?
Kuldeep said he made a lot of planning for IPL 2020. But has he given it adequate thinking?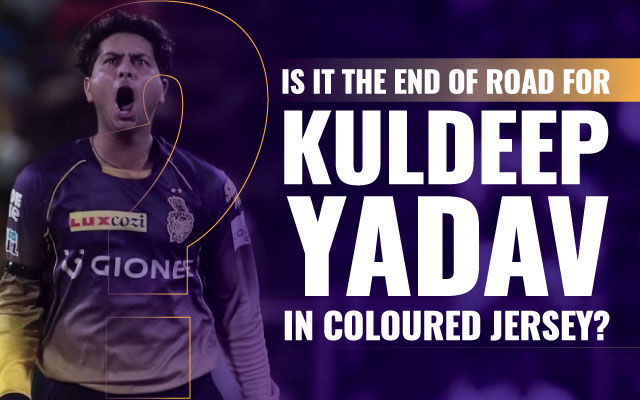 It is not often that cricket is greeted by Chinaman bowlers. Kuldeep Yadav is the current prominent representative of the art which is made famous by bowlers who are few and far between. The Uttar Pradesh-born bowler was being seen as the next big thing in India's glorious spin department after the likes of Anil Kumble and Harbhajan Singh.
He started off well meeting the expectations as well and is among the two Indian bowlers who have taken fifers in all three formats of the game. But the 25-year-old is now witnessing a prolonged slump in his career, making a number of experts and several followers feel anxious over his promise as a long-race horse. The man is yet to turn 26 and there are enough words that he is finished!
The left-arm wrist-spinner had a disastrous run in the Indian Premier League (IPL) last year by ending up with only four wickets from nine outings for the Kolkata Knight Riders (KKR) who bought him for INR 5.8 crores in the 2018 auction.
In one of the games, he was so brutally assaulted by Royal Challengers Bangalore's Moeen Ali at the Eden Gardens (he gave away 27 runs in one over) that he was left in tears. Kuldeep's average and economy rate were so devastating (more than 71 and eight, respectively) that the Knights were forced to drop him towards the business end of the competition.
The bowler still got the backing of senior spinner Harbhajan to make it to the World Cup squad but he could not produce anything special at the big stage in England either, pocketing only six wickets in seven matches. His topmost moment came in the game against arch-rivals Pakistan in Manchester against whom he took two vital wickets — of Babar Azam and Fakhar Zaman — after the duo looked threatening.
In the next nine games, Kuldeep took 11 wickets with the best figures of 3 for 52 against the West Indies in Visakhapatnam. In his last ODI in February, New Zealand batsmen attacked Kuldeep in Hamilton relentlessly as he conceded 84 runs in 10 overs and took two wickets.
In the T20Is, Kuldeep had no special luck since his disappointing IPL in 2019 though it was better than the show in ODIs. After his best show in the format — 5 for 24 against England in Manchester in July 2018 — Kuldeep played in 9 matches (one was abandoned) in which he claimed 15 scalps with the best show of 3 for 13 against the Caribbeans in Kolkata in November 2018.
However, Kuldeep could get to play only three T20I games in 2019 and so far in 2020 in all in which he has taken six wickets. He got frequently dropped for T20I games even at home as players like Krunal Pandya, Rahul Chahar and Washington Sundar came up through the ranks.
It would have been interesting to see if Kuldeep would have made the Indian squad for the T20 World Cup in Australia around this time of the year but for the coronavirus pandemic which saw it getting scrapped.
But Kuldeep's fortune has not turned around much in IPL 2020 which is being played around the same time. In three games that he has featured in so far, the spinner has managed just one wicket (even that could have been missed had Rajasthan's No.10 Jaydev Unadkat's shot hit the ground-top cam more decisively) at an even worse average of 74 and was dropped in the game against batting-heavy Delhi Capitals last weekend to be replaced by a batsman in Rahul Tripathi.
He did not feature in the game against Chennai Super Kings on Wednesday, October 7, either. If Lady Luck refuses to shower praise on Kuldeep in this year's IPL as well, his international future in limited-overs cricket will certainly look more uncertain.
Hussey said ahead of IPL 2020 that Kuldeep is at 'top of his game'
However, the pre-season scenario was not like what it has turned out to be so far. KKR mentor David Hussey, who has also played for the same franchise in the past, predicted ahead of the delayed tournament that Kuldeep is at the "top of his game" and will be a consistent performer in the 2020 edition which is being played in the UAE.
"I personally believe after the last eight-nine days of training camp, he's at the top of his game. He's fielding well, he is running well, he's covering the ground very well. And he's bowling has a nice rhythm, and with lots of revolutions on the ball," the 43-year-old Australian was quoted as saying.
"Kuldeep is a very confident player. He knows what he can and can't do with the ball, he spins the ball both ways. He reads the game exceptionally well. I don't think he will have any confidence issues throughout the tournament and I do say that without putting too much pressure on him. I think he would be a very good consistent performer for the Kolkata Knight Riders," the former batsman added.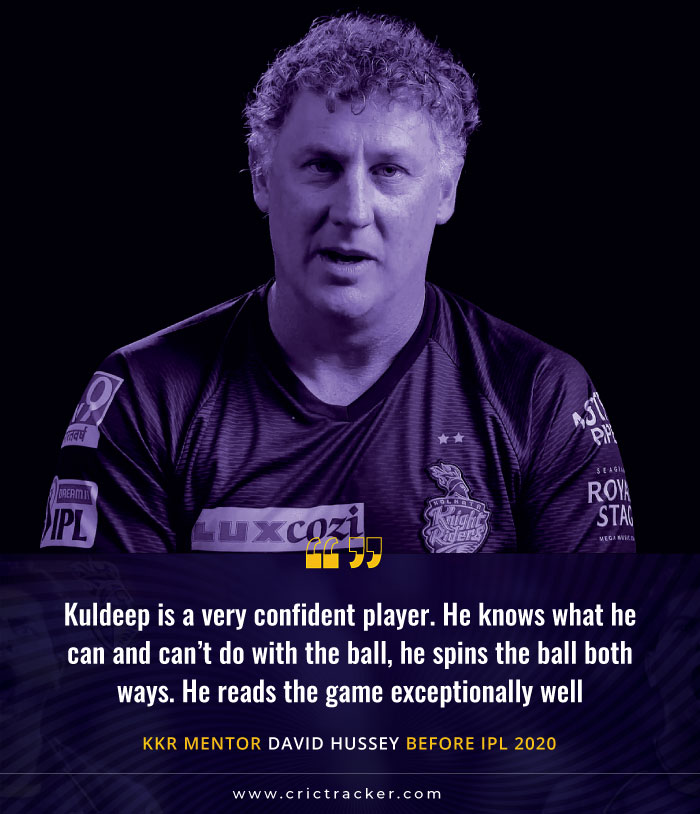 Knights captain Dinesh Karthik had said earlier that Kuldeep was dropped because of his poor form and the team wanted to give him a break so that he comes back afresh. That freshness is yet to be seen this year and the KKR has sent the bowler back into a "break" again.
Kuldeep said he has made better plans for the 2020 edition
Kuldeep himself also had an explanation over his poor show in the IPL last year. In April this year, he said he was "lacking in the basics" in the 2019 edition because he was playing too many games ahead of the high-demanding T20 tournament.
It is true that India were in the middle of a hectic international schedule, taking on Australia in away and home series and New Zealand on their turf in 50-over games. Kuldeep said he hadn't planned for the 2019 season and didn't give much time to training either but corrected the course this time and was "100 per cent sure of success" in IPL 2020.
"I was fully prepared for this IPL 2020 and I had planned a lot. I was 100 per cent sure that this IPL would be a success," Kuldeep was quoted as saying in Kolkata Knight Riders website.
He said he hadn't bowled bad in the tournament last year but since he didn't manage to take enough wickets, he was seen to be a failure. He also backed his economy which was not too worse than the one he recorded in his best years — 2017 (8.1) and 2018 (8.29). He conceded that his confidence had dropped and he was lacking in his basics.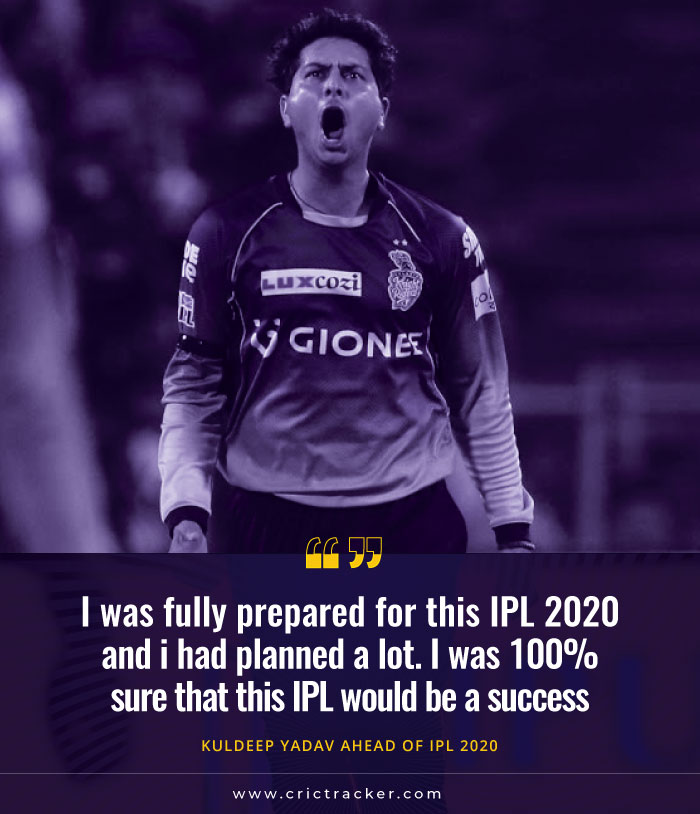 On another occasion earlier this year, Kuldeep said his planning was in place for this year's IPL and he had all the time to do it. On the sidelines of an award function in New Delhi, he said that the domestic tournament is very important to make a comeback to the Indian team.
But despite all the planning and time (this year, Kuldeep had months before playing his first game in the IPL), the outcome has not been too different in the first three games. What has hit Kuldeep, who is the country's only bowler to take two ODI hat-tricks, and can he overcome it?
Management itself not showing confidence in Kuldeep?
No matter what Hussey and Karthik say about Kuldeep making a grand return, patterns, in reality, suggest that even the management might not have the best of confidence over Kuldeep's form.
Hussey, for instance, has said the KKR's spin department will be led by the veteran Sunil Narine, who also chips in as the Knights' pinch-hitting opener with Shubman Gill. "He will be one of the bowlers' captain, DK will throw the ball to whenever the opposition has the momentum. I'm sure Sunil Narine will win more often than not, those close battles."
Hussey said about the Caribbean spinner who is also not in any great form this year (two wickets in four games)but yet has got to play in all games so far. Last year, he took 10 wickets in 12 games at an average of 34.70. Given Kuldeep has more international wickets than Narine, shouldn't the management have put him ahead of Narine? But it chose to put Narine ahead, given his long contribution to KKR's success over the years.
KKR's deep pace attack has reduced Kuldeep's importance
One reason why the KKR management is okay with putting comparatively lesser emphasis on Kuldeep this season is the squad's lively pace battery. With the likes of Pat Cummins and the two youngsters in Shivam Mavi and Kamlesh Nagarkoti leading the attack, the team management is more focused on the quick bowlers to do the job for them.
The KKR will be depending heavily on their fast bowlers even on slower UAE wickets and one would not be surprised if the Chinaman bowler is seen less in their playing XI this season.
Batsmen are targeting Kuldeep more
Like any great bowler in the history of the game, Kuldeep needs to learn from the fact that when a bowler does well, the opponent does extra homework to decode him and one of the ways to derail him is by attacking him. Kuldeep initially had the mystery factor in his bowling but over time, batsmen too have evolved and that has reduced the lead he enjoyed over them till a point of time.
By attacking him more, the batsmen not only aim to ruin his statistics but also his confidence so that he finds it more difficult to return to form. That has precisely happened with the bowler in his latest IPL games over two seasons.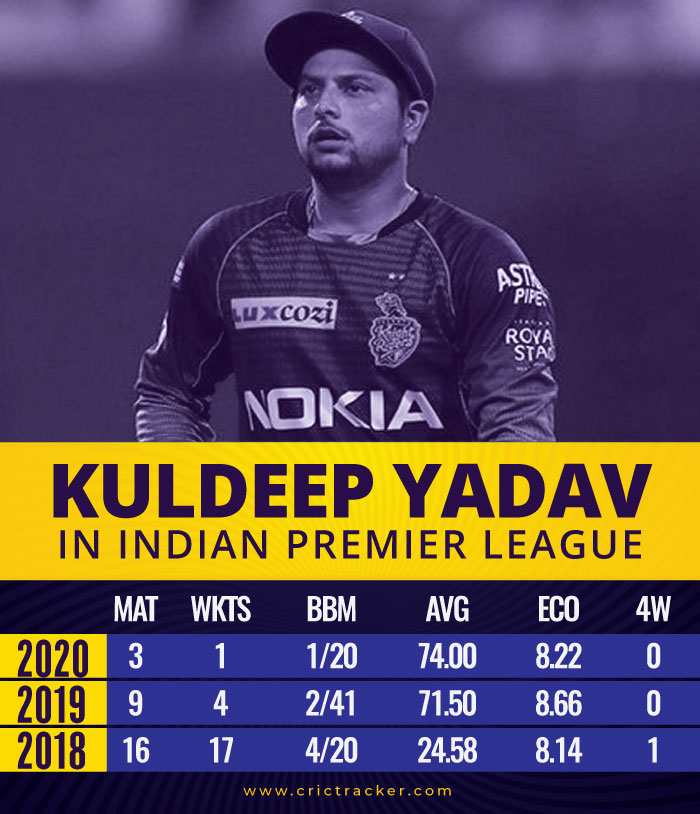 Kuldeep seems to lack a way to deceive in-form batsmen
Kuldeep Yadav seems to be lacking some deceptive weapons under his belt that can help him prevail over in-form batsmen at crucial moments of the game. He has produced such moments, like against Pakistan in the 2019 World Cup, but it has not been consistent enough. He seems to lack a deceptive flipper or subtle variations in pace to fox the attacking batsmen.
The reason for Kuldeep's success has been his ability to spin the ball squarely both ways and his persistence. But he needs to keep in mind that a bowler like Anil Kumble could scale great heights in international cricket even without spinning the ball much, which means the latter put in more thinking into his bowling to get his wickets.
Kuldeep said he made a lot of planning for IPL 2020. But has he given it adequate thinking?