Kuldeep Yadav and Yuzvendra Chahal reveal the spark of their working relationship
The duo has revealed the support they receive from the likes of Virat Kohli and MS Dhoni
Updated - Jun 19, 2018 12:48 pm
424 Views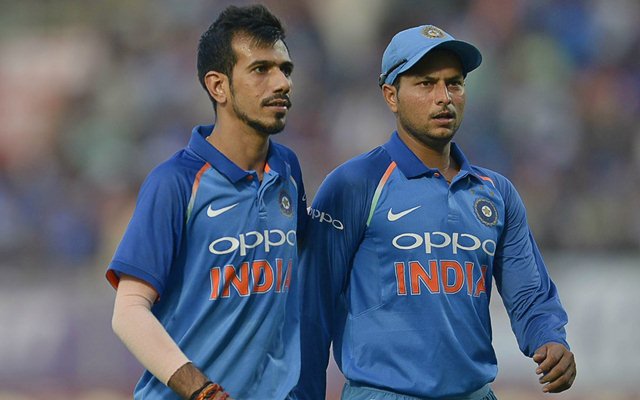 At the moment, the Indian spin duo has been taken up by the pair of Yuzvendra Chahal and Kuldeep Yadav, both of whom performed exceedingly well in South Africa. The manner in which they ensured collapses in tandem and bowled the wrong'uns in a manner befitting the side is indeed incredible to witness. However, the duo also added that they do indeed have a fantastic working relationship.
Yuzvendra Chahal began talking about the recent form of the Indians stating that they have won matches against some of the best sides in the world in recent times. He also added that this does not really pose a threat for his first tour of England.
"We have played teams like Sri Lanka and Australia in past one year and won matches throughout the season. It will be my first tour to England, so it's very important for me as the 2019 World Cup will also be played there. The team going to England this time is certainly the best one," Chahal said.
Southpaw Kuldeep Yadav echoed the similar agreement between the two. He was quoted as saying, "As a youngster, you want to do well in every series. England is a very strong team. They are playing good cricket in ODIs and T20Is. It is an opportunity for youngsters like us to do well against them at their home."
IPL camaraderie
The duo went on to add that the IPL has indeed helped them a lot when it comes to bowling especially in the shortest format of the game. Chahal went on to add, "As far as the spin department is concerned, I and Kuldeep are there along with Sundar. Thanks to the IPL, we have a good bench strength now; if one player is not available for a match, we have his replacement."
Kuldeep also agreed with his spin twin stating that "IPL is the toughest league and if you wish to survive in that standard then you will always have to remain on the top. IPL provides a youngster a platform to hone his skills and plays alongside the best of the world cricketers."
'Dhoni and Kohli are really supportive'
Speaking about the success they have had in recent times, Chahal agreed that most of their success can indeed be attributed to Dhoni and Virat Kohli. He also added that the 36-year old former skipper does indeed help them out behind the stumps. "MS Dhoni does 50 percent of our work from behind the stumps. When we come to bowl, he gives us all the important inputs related to the wicket and weak areas of a batsman."
"Both Kohli and Dhoni back spinners in the team. Even when we concede 10-15 runs in an over, they don't put pressure on us. Wickets are more important for them, so they keep their faith in us,' Kuldeep added.
[interaction id="5b27a9df42cbb745671a7b23″]
Stay updated on 'today's cricket news' with CricTracker.com.