Kuldeep Yadav's challenge will begin when batsmen start to read him better, says Ravi Ashwin
"If you are successful, people will say it's right. If you are not successful, people will have an opinion," says Ashwin.
Updated - Oct 24, 2018 12:06 pm
2K Views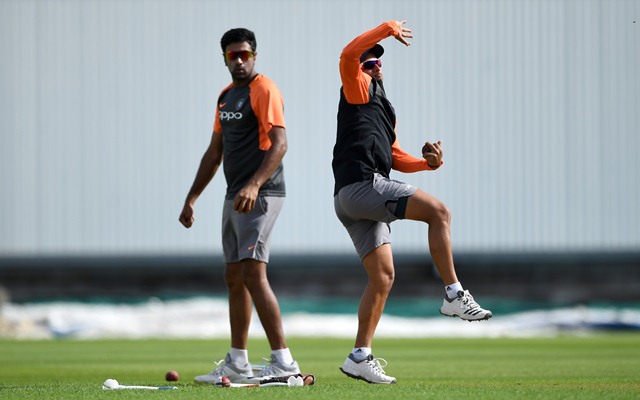 In the last eight years or so, Ravi Ashwin has easily been the best spinner in Test cricket and his statistics back him up. He has been picking up wickets for fun in the subcontinent and despite some failures outside Asia, the off-spinner is still rated very highly by a lot of experts.
Some youngsters coming through the ranks are have already taken over his place in the World Cup like Kuldeep Yadav and Yuzvendra Chahal. The 32-year-old has clearly taken this in the stride and is concentrating profusely on the longest format. He keeps providing his insights to these young leg-spinners to help them improve.
Ashwin believes that Kuldeep's real struggle will begin when the batsmen will start reading him better. Every bowler encounters this situation, which in many ways is a make or break phase of their lives. The offie believes that Kuldeep will get through as there is a good support system currently.
"Kuldeep has leg break, googly and ability to deceive batsmen," Ashwin was quoted as saying by Ahmedabad Mirror on Tuesday. "But challenge starts as batsmen will start reading him better. That's when he will need to adapt but we have a good support system in place," he added.
Not worried about what experts have to say
The Tamil Nadu cricketer has always been under immense scrutiny when he's not bowling well. But he feels he is matured enough to battle these issues and is not worried about the expert opinions, which keeps varying depending on how his form is. He also said that he keeps a benchmark for himself and tries to battle that before anything else.
"If you are successful, people will say it's right. If you are not successful, people will have an opinion. For the better part of my 150 wickets, experts kept on saying that I was trying variation when I knew I wasn't doing it. These are opinion created by people for which I have to give answer to. I don't have time for that anymore as I want to enjoy my game," he said.
"I am always battling benchmarks that I have created for myself. Unfortunately, people don't take that into account and I don't expect them to do it. That's never been an Indian way and I am not worried about it. I am still taking 5-6 wickets per Test and way more mature than what I was 25-27 months back," he added.
[interaction id="5bcf3a0b1777fa753f60902d"]