'Lagta hai tereko team mein rehne ka nahi hai' – Prithvi Shaw gets trolled on Twitter for hitting Rohit Sharma with an unintentional throw
Some fans joked that the young batsman is planning to get back his spot by injuring Rohit.
Updated - Jan 15, 2021 4:49 pm
51.4K Views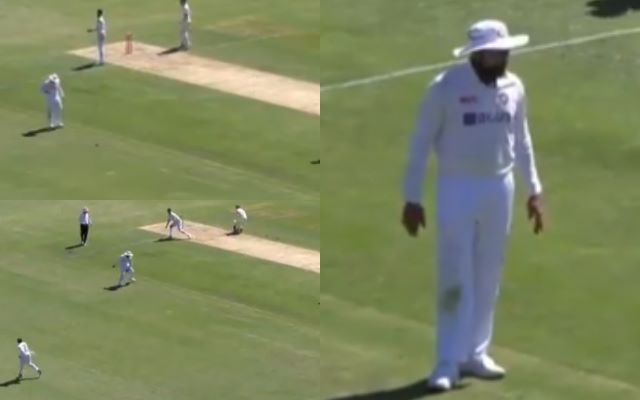 Prithvi Shaw has been at the receiving end in recent times. The young batsman from Mumbai has not been firing with the bat and has failed miserably in the IPL 2020 and the Aussie tour that followed. The fact that he keeps getting out in similar ways is something that puts a lot of cricket experts' heads to spin. 
However, it is just fascinating how the poor fellow can be a subject for the trollers even when he is not in the XI. A funny incident that happened on the field during India and Australia's fourth Test is what made the trollers give Shaw a little more hard time on social media.
The opening batsman was in the middle as a substitute fielder for Navdeep Saini, who left the field after complaining about some issues with his groin. During the run of play, Shaw was fielding inside the inner circle when a ball came to him. He ran swiftly, took the ball, and then threw it to the non-striker's end. 
Prithvi Shaw almost injures Rohit Sharma
However, while airborne the ball hit Rohit Sharma, who happened to be in the middle of the trajectory of the ball. The throw could have injured the experienced pro, which is the last thing India would want right now. The vice-captain didn't react much but gave a look to Shaw and said nothing. Cricket Australia uploaded a clip of the incident on Twitter.
Here is the video
⚠ Friendly fire ⚠

Live #AUSvIND: https://t.co/IzttOVtrUu pic.twitter.com/8naJ3ykMe7

— cricket.com.au (@cricketcomau) January 15, 2021
Twitter trolls Prithvi Shaw for his wild throw
However, the fans didn't take this incident as light as Rohit. A barrage of trolling came along for Shaw on Twitter. Some fans joked that the young batsman is planning to get back his spot by injuring Rohit.
The Mumbai batsman had played for Delhi Capitals in the IPL 2020 and failed to make an impression. He got bowled out from the ball which was coming back into him several times. The struggles didn't change when he arrived in Australia for the Tests. The flaw in his technique was picked as the social media made it a point to troll him. 
Here are some of the tweets
Great! If you were upset that Saini is also injured, now add Rohit too. WTH is Prithvi Shaw doing with that throw??? #AUSvIND #brisbanetest. https://t.co/mvNryreQwB

— Mister Moseley (@Crickfry) January 15, 2021
Prithvi Shaw, What is this behaviour?
The only way to get your opening spot back😂😂
Rohit Shaw #GabbaTest #INDvsAUS #brisbanetest pic.twitter.com/aSimVyDHGy

— Mohit Tiwari (@Mohit_tiwari10) January 15, 2021
Actually Prithvi Shaw was checking if Rohit Sharma is fit enough to face body line bowling from Aus

— gajender (@gajender00) January 15, 2021
Rohit ko prithvi shaw se khatra🤕🤕

— Nikhil (@_nikhil_gupta_) January 15, 2021
Selection team : Nah Shaw sux
Shaw : Yeah but what if you have no openers fit to play ?
Selection team : Rohit and Gill are fit.
Shaw : Not for long 😊 https://t.co/Ao2PwwShxH

— Yash Gosalia (@yashgosalia44) January 15, 2021
Prithvi shaw after hits rohit sharma…. pic.twitter.com/VQuZHgGXYr

— अश्लील Memer (@rahulsi40259193) January 15, 2021
Prithvi Shaw missed a throw and it hit Rohit Sharma.

Le Rohit Sharma :#INDvsAUSTest pic.twitter.com/eh61SUBySd

— no_love__ still_single (@LuvhrtzzA) January 15, 2021
This is genuinely funny. Is Prithvi Shaw trying to get his place back as an opener by pelting Rohit Sharma with the ball 😂. pic.twitter.com/QULhC4DbOt

— Ismail Mulla (@IsmailMulla) January 15, 2021
Rohit after getting hit by Prithivi Shaw:
Abe hum sab Mumbai lobby ke hey. Muje kyu mar raha hey.😅
Gill vaha par khada hey vusse maaro.😅#AUSvsIND #AUSvIND #brisbanetest

— KS (@KingK37747213) January 15, 2021
Rohit's gravitational force of attraction deviated trajectory of ball,Shaw is innocenct here!
😂😂😂😂

— Ajay Raw!🇮🇳 (@AjayJat38977215) January 15, 2021
Thoughts on Shaw throwing the ball directly at Rohit's palm . Very comical and tragic at the same time @1tip1hand

— 15Degrees (@desigiri82) January 15, 2021
Shaw aimed at Rohit's body today. Bull's eye😂, It's Clear b/w 2 competitors now🤣

— Hypocrite Not Anshuman (@AnshumaNot) January 15, 2021
Prtihvi Shaw be like : Rohit ye le injury aur open Karne de Mujhe.#INDvAUS #AUSvIND #AUSvsIND

— Arnab Goswmai (@arnab_goswmai) January 15, 2021
#GabbaTest
Prithvi shaw throw hits Rohit sharma

Meanwhile Rohit : pic.twitter.com/H4IWSEgH5O

— Rehaan 🔰 (@sarcastiqlonda) January 15, 2021
Prithvi shaw thinking :- How can I Enter in the team as a opener ? Chlo Rohit ko injured kar deta hu😒 pic.twitter.com/aIdnVZI33Z

— Thakor NIKUL (@Mbbsmaster) January 15, 2021
Prithvi Shaw hits rohit sharma with the ball.

Indian fans to prithvi : Lagta h tereko team m rhne ka nhi h . 😂😂 pic.twitter.com/HQixylDqvh

— Geetansh (@geetanshpandey2) January 15, 2021
You drop Prithvi Shaw? He'll injure the other opener to take the slot back.

— Srihari V (@tweetsrihari) January 15, 2021
Not in playing XI but still contributing for Australia, Prithvi Shaw _/_ pic.twitter.com/iTTLDEbwag

— R A T N I S H (@LoyalSachinFan) January 15, 2021
Prithvi shaw giving his best to do comeback in Indian playing 11 👑🔥#GabbaTestpic.twitter.com/0A96wU3Dtv

— Circuit 🏏 Expert (@Being_circuit) January 15, 2021