Lalit Modi's phone call makes Sanjiv Goenka change his mind?
Interestingly, Modi's brother-in-law owns more stake in the Rajasthan Royals side.
Updated - Dec 6, 2017 4:38 pm
2K Views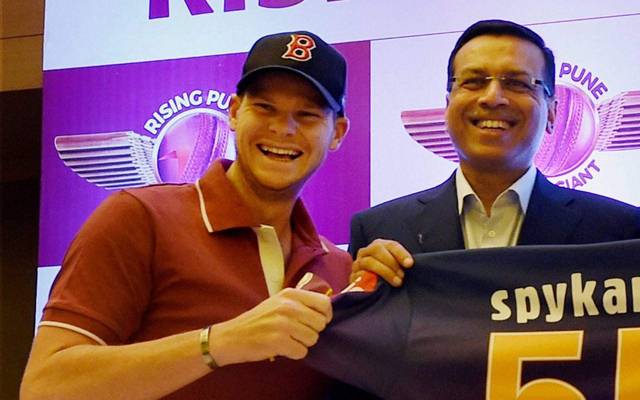 Rajasthan Royals and Chennai Super Kings are set to return in the 11th edition of the Indian Premier League as the two-year ban has been lifted. They were banned after the charges of spot-fixing and betting scandals came out during the 2013 season of the IPL. The two teams that replaced them were Gujarat Lions and Rising Pune Super Giants.
There were speculations that Rising Pune Super Giants owner Sanjiv Goenka has show some interest in buying the Rajasthan Royals side so that he can be in touch with the game and the IPL. Earlier during the 10th edition of the IPL, Goenka had faced the wrath of MS Dhoni fans when Smith was named as the skipper of the RPS side. Smith had taken the team to the finals where they lost to Mumbai Indians in a close encounter.
Goenka to co-own RR?
As per sources in TOI, Goenka was in touch with Rajasthan Royal's co-owner Manoj Badale so that they can come to terms and finalize the talk. After the IPL 2017 finals, Rajasthan promoters and Goenka were in constant touch over the transfer of ownership of the Rajasthan Royals side.
Later, Goenka had approached the BCCI claiming that he got a phone call from the former IPL boss Lalit Modi who wanted to talk about the deal with Goenka. The RPS owner spoke with the BCCI officials and said that if Modi involves in the deal, It could lead to a lot of complications.
Modi who is out of the country and the Enforcement Directorate has put him under the Wanted category as they had found some irregularities in his business dealings. Although he has been banned for life by the BCCI. The board officials confirmed while speaking to the TOI that Goenka was contacted by Modi.
Modi's brother-in-law co-owns RR
According to a top official of the BCCI, "The RPSG group did an excellent job with their team last year. Their management was top class and that is why their coming into IPL again this season was important. But they don't want to get into controversial deals handled by Modi. The group is still interested in buying an IPL team."
Interestingly, Modi's brother-in-law owns more stake in the Rajasthan Royals side than Manoj Badale and that must be the reason why Lalit Modi tried to interfere in the matter related to his brother-in-law's side.