Latest IPL 2020 Points table, Orange and purple cap holders after CSK vs RCB game
After KKR vs KXIP and CSK vs RCB match, Delhi Capitals are on the top of the points table.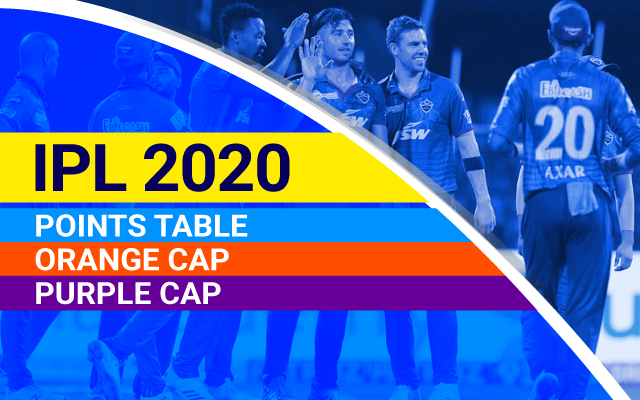 The 25th match of the Indian Premier League (IPL) went live from Dubai between Chennai Super Kings and Royal Challengers Bangalore. CSK needed two points under their belt badly but ended losing the contest yet again, by 37 runs. Showing up with the willow first, the RCB team managed to put a modest 169 on board where skipper Virat Kohli stole all the limelight. He played an unbeaten knock of 90 runs to lead his team home.
Kohli was named as the player of the match for his swashbuckling innings against CSK. Devdutt Padikkal added his contribution of 33 runs to get the team going. Deepak Chahar got back his rhythm and did a great job with the ball by conceding just 10 runs in three overs. He picked a wicket too during his spell. Shardul Thakur picked two wickets for the yellow army.
RCB bowling dominated the show
In order to chase the target, the openers of CSK failed entirely to bring anything good for the team. Ambati Rayudu's 42 off 40 and N Jagadeesan's 33 off 28 were some average scores from CSK's batting line up but fell short ahead of the required run rate. Chris Morris did a great job for Virat Kohli and his men by conceding just 19 runs in four overs along with naming three dismissals to his name.
Who has Orange and Purple cup?
After KKR vs KXIP and CSK vs RCB match, Delhi Capitals are on the top of the points table. Next in line are defending champions Mumbai Indians. Kolkata Knight Riders and Royal Challengers Bangalore are at 3rd and 4th place respectively.
KL Rahul continues to have the Orange cap with 387 runs in IPL 2020 till now. The second one in the race to win Orange Cap is another KXIP player, Mayank Agarwal with 337 runs. The 3rd and 4th spots are sealed by Faf du Plessis and Jonny Bairstow respectively. Kagiso Rabada owns the purple cap with 15 wickets under his belt so far in IPL 2020. Next in line is Jasprit Bumrah, with 11 wickets. Trent Boult and Mohammed Shami with 10 wickets each are also in the line to win the purple cap.
List of top run-scorers in IPL 2020 – Orange Cap Holder
| | | | | | | | | | | |
| --- | --- | --- | --- | --- | --- | --- | --- | --- | --- | --- |
| Sr No | Player | Team | Matches | Innings | Runs | Average | SR | 4s/6s | 100/50s | Best |
| 1 | KL Rahul | KXIP | 7 | 7 | 387 | 64.50 | 134.84 | 37/10 | 1/3 | 132* |
| 2 | M Agarwak | KXIP | 7 | 7 | 337 | 48.14 | 158.96 | 34/12 | 1/2 | 106 |
| 3 | Faf du Plessis | CSK | 7 | 7 | 307 | 61.40 | 147.59 | 29/8 | 0/3 | 87* |
| 4 | J Bairstow | SRH | 6 | 6 | 241 | 40.16 | 138.50 | 17/11 | 0/3 | 97 |
| 5 | D Warner | SRH | 6 | 6 | 227 | 37.83 | 124.72 | 19/6 | 0/2 | 60 |
| 6 | V Kohli | RCB | 6 | 6 | 223 | 55.75 | 128.90 | 13/7 | 0/2 | 90* |
| 7 | S Gill | KKR | 6 | 6 | 220 | 44 | 117.02 | 19/4 | 0/2 | 70* |
| 8 | N Pooran | KXIP | 7 | 7 | 212 | 35.33 | 176.66 | 13/16 | 0/1 | 77 |
| 9 | D Padikkal | RCB | 6 | 6 | 211 | 35.16 | 124.85 | 21/4 | 0/3 | 63 |
| 10 | R Sharma | MI | 6 | 6 | 211 | 35.16 | 145.51 | 15/14 | 0/2 | 80 |
List of most wicket-takers in IPL 2020 – Purple Cap Holder
| | | | | | | | |
| --- | --- | --- | --- | --- | --- | --- | --- |
| Sr No | Player | Team | Matches | Innings | Wickets | Average | Best |
| 1 | K Rabada | DC | 6 | 6 | 15 | 12.33 | 4/24 |
| 2 | J Bumrah | MI | 6 | 6 | 11 | 17.81 | 4/20 |
| 3 | T Boult | MI | 6 | 6 | 10 | 18.30 | 2/26 |
| 4 | M Shami | KXIP | 7 | 7 | 10 | 22.30 | 3/15 |
| 5 | Y Chahal | RCB | 6 | 6 | 9 | 19.88 | 3/18 |
| 6 | J Pattinson | MI | 6 | 6 | 9 | 19.88 | 2/19 |
| 7 | R Khan | SRH | 6 | 6 | 8 | 14.50 | 3/12 |
| 8 | J Archer | RR | 6 | 6 | 8 | 20.75 | 3/24 |
| 9 | Anrich Nortje | DC | 6 | 6 | 8 | 21.75 | 2/26 |
| 10 | R Bishnoi | KXIP | 7 | 7 | 8 | 26.50 | 3/29 |
Here's the IPL 2020 points table in detail:
| | | | | | | | |
| --- | --- | --- | --- | --- | --- | --- | --- |
| Position | Team | Matches | Won | Lost | NR | Points | NRR |
| 1 | DC | 6 | 5 | 1 | 0 | 10 | 1.26 |
| 2 | MI | 6 | 4 | 2 | 0 | 8 | 1.488 |
| 3 | SRH | 6 | 4 | 2 | 0 | 8 | +0.01 |
| 4 | RCB | 6 | 4 | 2 | 0 | 8 | -0.82 |
| 5 | SRH | 6 | 3 | 3 | 0 | 6 | +0.23 |
| 6 | CSK | 7 | 2 | 5 | 0 | 4 | -0.58 |
| 7 | RR | 6 | 2 | 4 | 0 | 4 | -1.07 |
| 8 | KXIP | 7 | 1 | 6 | 0 | 2 | -0.38 |