Latest IPL 2020 points table, Orange and Purple cap holders after KXIP vs CSK game
After MI vs SRH and CSK vs KXIP match, Mumbai Indians have jumped to the top of the points table.
Updated - Oct 6, 2020 2:20 pm
749 Views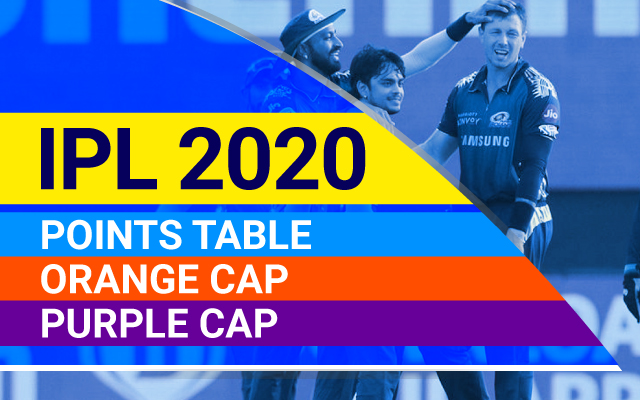 The 18th match of the Indian Premier League (IPL) saw the light of the day between Chennai Super Kings and Kings XI Punjab. CSK walked with all their heart to finish things in their favour in the match. The spectacular opening stand by Shane Watson (83* off 53) and Faf du Plessis (87* off 53) gave CSK the best gift in these times and fetched victory by massive 10 wickets.
The two batsmen remained extraordinary on the pitch of Dubai and stitched a robust partnership of 181 runs. Out of the two greats, Shane Watson was named as the player of the match. Batting first, KXIP posted a good 178/4 on board where skipper KL Rahul did the perfect job from his end by scoring 63 off 52. However, he didn't get too much support from any other batter this time.
It was CSK's day all the way
Cameos by Nicholas Pooran, Mayank Agarwal, and Mandeep Singh remained essential to get their team going. Deepak Chahar remained impressive with the ball as he conceded mere 17 runs from three overs. Shardul Thakur picked two wickets. None of the bowlers from Kings' side came up well with the ball as the duo of Watson, and Du Plessis smashed all of them ruthlessly.
Who has Orange and Purple Cap in IPL 2020?
After MI vs SRH and CSK vs KXIP match, Mumbai Indians have jumped to the top of the points table. The second spot is sealed by Delhi Capitals. Next in line are Royal Challengers Bangalore at 3rd place while Kolkata Knight Riders are at 4th place.
KL Rahul is the current proud owner of Orange Cap by having 302 runs in IPL 2020 so far. The second spot is sealed by Faf du Plessis after his latest match-winning knock against Punjab and has 282 runs in his account. The 3rd position is held by Mayank Agarwal and he is followed by Rohit Sharma at 4th position.
Yuzvendra Chahal, Kagiso Rabada, Mohammed Shami, and Trent Boult have eight wickets each to their credit, but Chahal keeps the purple cap with a better economy. Next in line are James Pattinson and Jasprit Bumrah, with seven dismissals each to their name.
List of top run-scorers in IPL 2020 – Orange Cap Holder
| | | | | | | | | | | |
| --- | --- | --- | --- | --- | --- | --- | --- | --- | --- | --- |
| Sr No | Player | Team | Matches | Innings | Runs | Average | SR | 4s/6s | 100/50s | Best |
| 1 | KL Rahul | KXIP | 5 | 5 | 302 | 75.50 | 141.78 | 31/10 | 1/2 | 132* |
| 2 | Faf du Plessis | CSK | 5 | 5 | 282 | 94 | 150 | 26/8 | 0/3 | 87* |
| 3 | M Agarwal | KXIP | 5 | 5 | 272 | 54.40 | 162.87 | 27/11 | 1/1 | 106 |
| 4 | Rohit Sharma | MI | 5 | 5 | 176 | 35.20 | 144.26 | 13/11 | 0/2 | 80 |
| 5 | D Warner | SRH | 5 | 5 | 175 | 35 | 123.23 | 14/5 | 0/1 | 60 |
| 6 | D Padikkal | RCB | 4 | 4 | 174 | 43.50 | 134.88 | 19/3 | 0/3 | 63 |
| 7 | S Samson | RR | 4 | 4 | 171 | 42.75 | 198.83 | 7/16 | 0/2 | 85 |
| 8 | S Iyer | DC | 4 | 4 | 170 | 56.66 | 150.44 | 10/9 | 0/1 | 88* |
| 9 | K Pollard | MI | 5 | 5 | 163 | 163 | 208.97 | 8/13 | 0/1 | 60* |
| 10 | Ishan Kishan | MI | 3 | 3 | 158 | 52.66 | 139.82 | 4/12 | 0/1 | 99 |
List of most wicket-takers in IPL 2020 – Purple Cap Holder
| | | | | | | | |
| --- | --- | --- | --- | --- | --- | --- | --- |
| Sr No | Player | Team | Matches | Innings | Wickets | Average | Best |
| 1 | Y Chahal | RCB | 4 | 4 | 8 | 14.37 | 3/18 |
| 2 | K Ravada | DC | 4 | 4 | 8 | 15.75 | 3/26 |
| 3 | M Shami | KXIP | 5 | 5 | 8 | 19.12 | 3/15 |
| 4 | T Boult | MI | 5 | 5 | 8 | 19.62 | 2/28 |
| 5 | J Pattinson | MI | 5 | 5 | 7 | 22.85 | 2/25 |
| 6 | J Bumrah | MI | 5 | 5 | 7 | 25.14 | 2/18 |
| 7 | R Chahar | MI | 5 | 5 | 6 | 22.50 | 2/26 |
| 8 | Sheldon Cottrell | KXIP | 5 | 5 | 6 | 23.83 | 2/17 |
| 9 | Piyush Chawla | CSK | 5 | 5 | 6 | 25.16 | 2/33 |
| 10 | Rashid Khan | SRH | 5 | 5 | 5 | 20.80 | 3/14 |
Here's the IPL 2020 points table in detail:
| | | | | | | | |
| --- | --- | --- | --- | --- | --- | --- | --- |
| Position | Team | Matches | Won | Lost | NR | Points | NRR |
| 1 | MI | 5 | 3 | 2 | 0 | 6 | 1.214 |
| 2 | DC | 4 | 3 | 1 | 0 | 6 | 0.588 |
| 3 | RCB | 4 | 3 | 1 | 0 | 6 | -0.954 |
| 4 | KKR | 4 | 2 | 2 | 0 | 4 | -0.121 |
| 5 | RR | 4 | 2 | 2 | 0 | 4 | -0.317 |
| 6 | CSK | 5 | 2 | 3 | 0 | 4 | -0.342 |
| 7 | SRH | 5 | 2 | 3 | 0 | 4 | -0.417 |
| 8 | KXIP | 5 | 1 | 4 | 0 | 2 | 0.178 |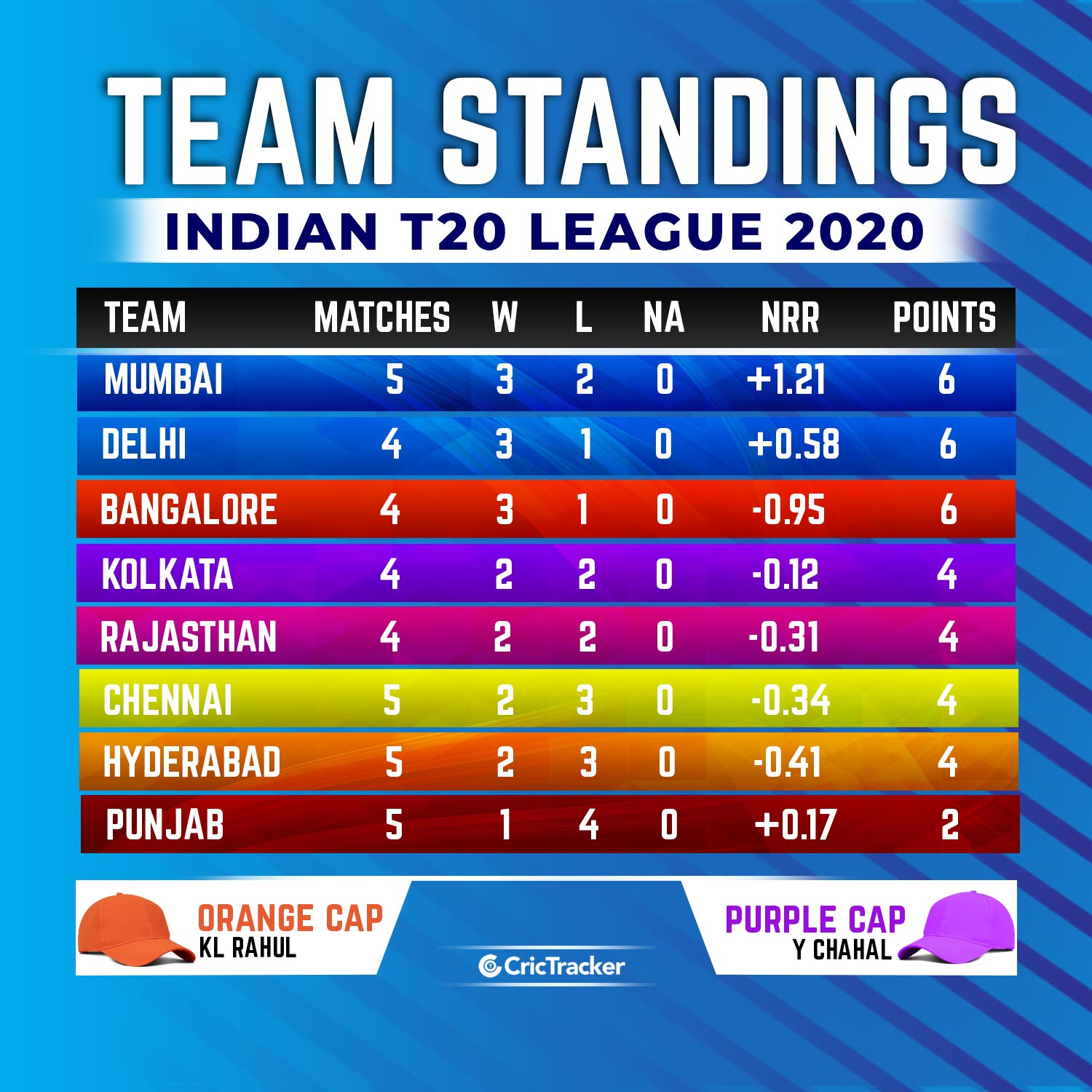 Follow us on Telegram