Latest IPL 2020 Points Table, Orange and Purple cap holders after KXIP vs KKR game
After KXIP vs KKR game, Mumbai Indians continue to seal the top position in the points table.
Updated - Oct 28, 2020 11:56 am
552 Views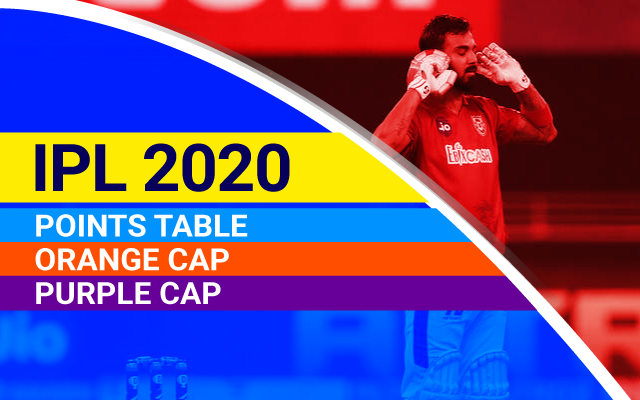 The 46th match of the Indian Premier League went live from Sharjah between Kolkata Knight Riders and Kings XI Punjab. KXIP continued their dominance as they thumped KKR by eight wickets. Punjab's victories on trot proved that they are looking serious about their playoffs business. Batting first, KKR posted ordinary 149/9 on the board where Shubman Gill smashed an impressive half-century (57 off 45) for the team. Eoin Morgan produced an essential 40 off his bat to get the team going.
Chris Gayle was named as the player of the match for bringing all the required thunder in Punjab's game. He smashed 51 off 29 to push the team over the line. Lockie Ferguson sparked the team's innings towards the end by adding 24 off 13. Young spinner Ravi Bishnoi displayed a splendid economy of 5.00 while naming two scalps on his name to help the team. Ace pacer, Mohammed Shami, named three dismissals under his belt.
Mandeep Singh was in pure class for KXIP
While hunting the target in Sharjah, skipper KL Rahul left the pitch after contributing 28 runs from his end. However, Mandeep Singh and Universe Boss Chris Gayle poured every inch of hard work to get two valuable points for the team. Singh added magnificent 66* off 56, and Gayle brought thunderous fifty for the team. Varun Chakravarthy and Lockie Ferguson got one wicket each for KKR.
Who has Orange and Purple Cap?
After KXIP vs KKR game, Mumbai Indians continue to seal the top position in the points table. Next in line are Delhi Capitals at 2nd spot. The next contenders in the points table are Royal Challengers Bangalore, while KXIP have jumped to the fourth slot. The fight for the final fourth slot goes on and on in the IPL 2020 season.
KL Rahul continues to have the Orange Cap with 595 runs in his bag. He is followed by Delhi's star batsman Shikhar Dhawan who has amassed 471 runs. 3rd and 4th slots are held by Virat Kohli and Faf du Plessis in the same race. Kagiso Rabada remains the proud owner of the purple cap with 23 wickets under his belt so far. Mohammed Shami is second in the race with 20-wickets on his name. Jofra Archer and Jasprit Bumrah have 17 wickets each to their name.
List of top run-scorers in IPL 2020 – Orange Cap Holder
| | | | | | | | | | | |
| --- | --- | --- | --- | --- | --- | --- | --- | --- | --- | --- |
| Sr No | Player | Team | Matches | Innings | Runs | Average | SR | 4s/6s | 100/50s | Best |
| 1 | KL Rahul | KXIP | 12 | 12 | 595 | 59.5 | 132.22 | 52/20 | 1/5 | 132* |
| 2 | S Dhawan | DC | 11 | 11 | 471 | 58.87 | 148.11 | 52/10 | 2/2 | 106* |
| 3 | V Kohli | RCB | 11 | 11 | 415 | 59.28 | 125 | 21/10 | 0/3 | 90* |
| 4 | Faf du Plessis | CSK | 12 | 12 | 401 | 40.10 | 140.70 | 38/12 | 0/4 | 87* |
| 5 | M Agarwal | KXIP | 10 | 10 | 398 | 39.80 | 155.46 | 39/15 | 1/2 | 106 |
| 6 | S Iyer | DC | 11 | 11 | 382 | 38.20 | 130.37 | 29/13 | 0/2 | 88* |
| 7 | Shubman Gill | KKR | 12 | 12 | 378 | 34.36 | 113.85 | 34/9 | 0/3 | 70* |
| 8 | Q de Kock | MI | 11 | 11 | 374 | 41.55 | 143.29 | 34/17 | 0/4 | 78* |
| 9 | David Warner | SRH | 11 | 11 | 370 | 37.00 | 127.58 | 31/10 | 0/2 | 60 |
| 10 | Jonny Bairstow | SRH | 11 | 11 | 345 | 31.36 | 126.83 | 31/13 | 0/3 | 97 |
List of most wicket-takers in IPL 2020 – Purple Cap Holder
| | | | | | | | |
| --- | --- | --- | --- | --- | --- | --- | --- |
| Sr No | Player | Team | Matches | Innings | Wickets | Average | Best |
| 1 | K Rabada | DC | 11 | 11 | 23 | 14.52 | 4/24 |
| 2 | M Shami | KXIP | 12 | 12 | 20 | 19.75 | 3/15 |
| 3 | J Archer | RR | 11 | 11 | 17 | 18.82 | 3/19 |
| 4 | J Bumrah | MI | 11 | 11 | 17 | 19.47 | 4/20 |
| 5 | Y Chahal | RCB | 11 | 11 | 16 | 18.50 | 3/18 |
| 6 | T Boult | MI | 11 | 11 | 16 | 22.31 | 4/18 |
| 7 | Rashid Khan | SRH | 11 | 11 | 14 | 16.64 | 3/12 |
| 8 | Anrich Nortje | DC | 10 | 10 | 14 | 21.85 | 3/33 |
| 9 | V Chakravarthy | KKR | 11 | 11 | 13 | 24.30 | 5/20 |
| 10 | R Chahar | MI | 11 | 11 | 13 | 22.69 | 2/18 |
Here's the IPL 2020 points table in detail:
| | | | | | | | |
| --- | --- | --- | --- | --- | --- | --- | --- |
| Position | Team | Matches | Won | Lost | NR | Points | NRR |
| 1 | MI | 11 | 7 | 4 | 0 | 14 | 1.25 |
| 2 | DC | 11 | 7 | 4 | 0 | 14 | 0.43 |
| 3 | RCB | 11 | 7 | 4 | 0 | 14 | 0.09 |
| 4 | KXIP | 12 | 6 | 6 | 0 | 12 | -0.04 |
| 5 | KKR | 12 | 6 | 6 | 0 | 12 | -0.47 |
| 6 | RR | 12 | 5 | 7 | 0 | 10 | -0.50 |
| 7 | SRH | 11 | 4 | 7 | 0 | 8 | 0.02 |
| 8 | CSK | 12 | 4 | 8 | 0 | 8 | -0.60 |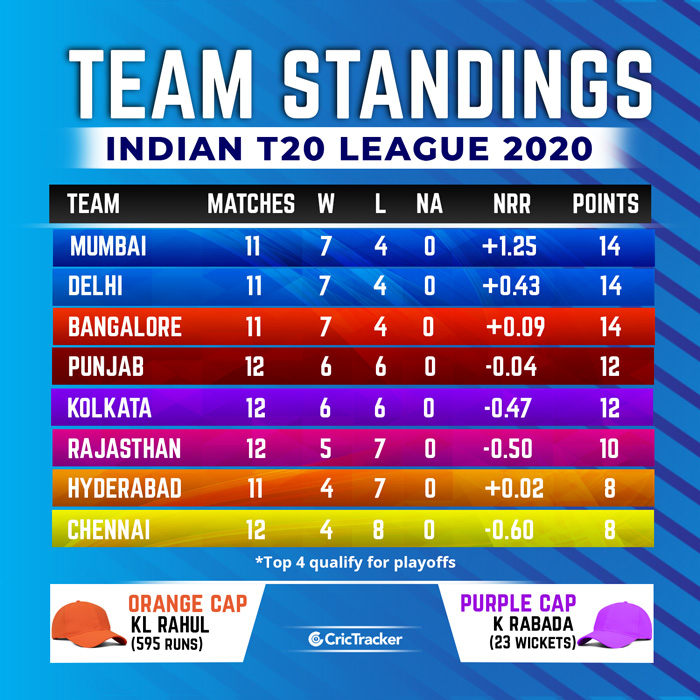 Follow us on Telegram