Latest IPL 2020 points table, Orange and Purple cap holders after MI vs KXIP game
After KKR vs SRH and MI vs KXIP face-off, DC sits at the top of the points table.
Updated - Oct 21, 2020 12:49 pm
530 Views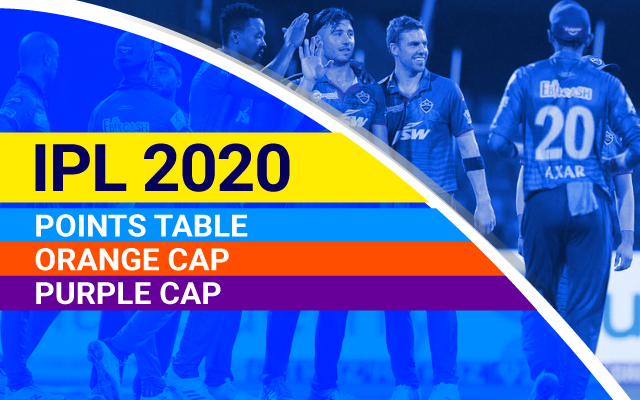 The 36th match of the Indian Premier League was played between Kings XI Punjab (KXIP) and Mumbai Indians (MI). The match night was no less than a dreamy affair for all the cricketing fans in the world. KXIP grabbed the match most thrillingly in the second Super Over of the contest. It was the second Super Over of the match and third for the day as KKR also clinched the match from SRH in the Super Over in the afternoon fixture.
KL Rahul was named as the player of the match for his breathtaking innings to take his team home. Talking about the match, MI came up with bat first to post 176 runs on the board. Skipper Rohit Sharma again remained dim with his bat while Quinton de Kock's prolific half-century (53 off 43) pushed Mumbai towards a fine score.
MI were struggling at 119/6 in the 17th over before the innings was accelerated by Kieron Pollard (34* off 12) and Coulter-Nile (24* off 12). Mohammed Shami and Arshdeep Singh picked two wickets each for Punjab.
KL Rahul- Messiah of KXIP
Chasing the big score, KL Rahul again became the flag bearer of the team's batting line up as he smashed 77 off 51. Nicholas Pooran and Chris Gayle added 24 runs each from their end. It was Mayank Agarwal who hit the boundary in the second Super Over of the clash to gift two points to his team. Jasprit Bumrah was stunning with the ball as he conceded just 24 runs to pick three wickets.
Who has Orange and Purple Cap?
After KKR vs SRH and MI vs KXIP face-off, DC sits at the top of the points table. The second in place is Mumbai Indians. The 3rd and 4th spots are sealed by Royal Challengers Bangalore and Kolkata Knight Riders.
KL Rahul remains the proud owner of the Orange Cap with huge 525 runs in his pocket. Next in line is Mayank Agarwal at the second position. The third and fourth positions in the race of Orange Cap are held by Faf du Plessis and Shikhar Dhawan, respectively. The Purple Cap is held by Kagiso Rabada, who has 19 wickets under his belt. Second in the race is Jasprit Bumrah with 18 wickets, and he is followed by Mohammed Shami, who has 14-wickets to his name so far.
List of top run-scorers in IPL 2020 – Orange Cap Holder
| | | | | | | | | | | |
| --- | --- | --- | --- | --- | --- | --- | --- | --- | --- | --- |
| Sr No | Player | Team | Matches | Innings | Runs | Average | SR | 4s/6s | 100/50s | Best |
| 1 | KL Rahul | KXIP | 9 | 9 | 525 | 75 | 135.65 | 45/18 | 1/5 | 132* |
| 2 | M Agarwal | KXIP | 9 | 9 | 393 | 43.66 | 159.10 | 39/15 | 1/2 | 106 |
| 3 | Faf du Plessis | CSK | 9 | 9 | 365 | 52.14 | 142.57 | 35/10 | 0/4 | 87* |
| 4 | S Dhawan | DC | 9 | 9 | 359 | 51.28 | 143.02 | 39/7 | 1/2 | 101* |
| 5 | V Kohli | RCB | 9 | 9 | 347 | 57.83 | 127.57 | 18/9 | 0/2 | 90* |
| 6 | D Warner | SRH | 9 | 9 | 331 | 41.37 | 124.43 | 27/8 | 0/2 | 60 |
| 7 | Q de Kock | MI | 9 | 9 | 322 | 40.25 | 146.36 | 29/14 | 0/4 | 78* |
| 8 | S Iyer | DC | 9 | 9 | 321 | 40.12 | 132.09 | 24/12 | 0/2 | 88* |
| 9 | J Bairstow | SRH | 9 | 9 | 316 | 35.11 | 128.97 | 26/12 | 0/3 | 97 |
| 10 | S Gill | KKR | 9 | 9 | 311 | 38.87 | 113.91 | 29/5 | 0/2 | 70* |
List of most wicket-takers in IPL 2020 – Purple Cap Holder
| | | | | | | | |
| --- | --- | --- | --- | --- | --- | --- | --- |
| Sr No | Player | Team | Matches | Innings | Wickets | Average | Best |
| 1 | K Rabada | DC | 9 | 9 | 19 | 14.42 | 4/24 |
| 2 | J Bumrah | RCB | 9 | 9 | 15 | 17.86 | 4/20 |
| 3 | M Shami | KXIP | 9 | 9 | 14 | 21.28 | 3/15 |
| 4 | Y Chahal | RCB | 9 | 9 | 13 | 20 | 3/18 |
| 5 | J Archer | RR | 9 | 9 | 12 | 20.66 | 3/19 |
| 6 | A Nortje | DC | 9 | 9 | 12 | 23.25 | 3/33 |
| 7 | T Boult | MI | 9 | 9 | 12 | 24.91 | 2/26 |
| 8 | Rashid Khan | SRH | 9 | 9 | 11 | 18.09 | 3/12 |
| 9 | R Chahar | MI | 9 | 9 | 11 | 21.54 | 2/18 |
| 10 | T Natarajan | SRH | 9 | 9 | 11 | 26.81 | 2/24 |
Here's the IPL 2020 points table in detail:
| | | | | | | | |
| --- | --- | --- | --- | --- | --- | --- | --- |
| Position | Team | Matches | Won | Lost | NR | Points | NRR |
| 1 | DC | 9 | 7 | 2 | 0 | 14 | 0.92 |
| 2 | MI | 9 | 6 | 3 | 0 | 12 | 1.20 |
| 3 | RCB | 9 | 6 | 3 | 0 | 12 | -0.09 |
| 4 | KKR | 9 | 5 | 4 | 0 | 10 | -0.60 |
| 5 | SRH | 9 | 3 | 6 | 0 | 6 | 0.008 |
| 6 | KXIP | 9 | 3 | 6 | 0 | 6 | -0.26 |
| 7 | CSK | 9 | 3 | 6 | 0 | 6 | -0.38 |
| 8 | RR | 9 | 3 | 6 | 0 | 6 | -0.77 |