Latest IPL 2020 points table, Orange and Purple cap holders after SRH vs DC game
After SRH vs DC game, Mumbai Indians continue to keep their top position in the points tally.
Updated - Oct 29, 2020 11:33 am
279 Views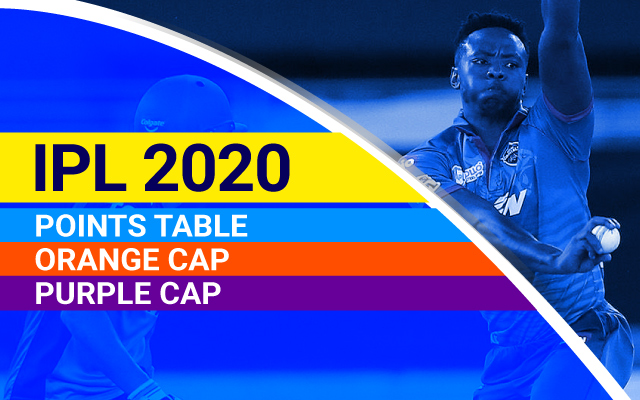 Match no. 47 of the Indian Premier League (IPL) was played between Sunrisers Hyderabad and Delhi Capitals. SRH whitewashed Delhi by 88 runs to keep their playoffs hopes alive. Batting first, SRH posted a huge 219/2 on the board where the opening and middle order turned quite dangerous for opponents. Wriddhiman Saha displayed his magnificent form as he smashed 87 off 45. SRH saw the best thing happening when their skipper David Warner got his lost touch back with the bat scoring 66 off 34.
Wrddhiman Saha was named as the player of the match to gift his team the much-needed victory. Manish Pandey ended their innings in the most terrific style by contributing 44 off 31 from his bat. All the bowlers of Delhi were hammered as SRH breached the 200-run mark. Anrich Nortje and Ravi Ashwin got one wicket each under their belt.
Rashid Khan remained the powerhouse of SRH again
Chasing the huge target, Delhi Capitals couldn't bear the pressure and started losing wickets in no time. Ajinkya Rahane's 26 off 19 and Rishabh Pant's 36 off 35 were the only bit of fine spots from Delhi's batting action. SRH's star spinner Rashid Khan looked in some different zone as he stunned everyone by unlocking his best figures of 3/7 in a spell of four overs. Sandeep Sharma and T Natarajan named two dismissals each to their credit while helping the team.
Who has Orange and Purple Cap?
After SRH vs DC game, Mumbai Indians continue to keep their top position in the points tally. Next in line are Royal Challengers Bangalore at 2nd spot. Delhi Capitals have slipped to the third position while KXIP have jumped to the fourth slot. The playoffs race is still on for seven teams in IPL 2020.
KL Rahul remains the proud owner of the Orange Cap, with 595 runs in his bag. He is followed by Delhi's star batsman Shikhar Dhawan who has amassed 471 runs. 3rd and 4th slots are held by David Warner and Virat Kohli in the same race. Kagiso Rabada keeps possession of the purple cap with 23 wickets under his belt so far. Mohammed Shami is second in the race with 20 wickets to his name. Jofra Archer, Jasprit Bumrah, and Rashid Khan have 17 wickets each to their name.
List of top run-scorers in IPL 2020 – Orange Cap Holder
| | | | | | | | | | | |
| --- | --- | --- | --- | --- | --- | --- | --- | --- | --- | --- |
| Sr No | Player | Team | Matches | Innings | Runs | Average | SR | 4s/6s | 100/50s | Best |
| 1 | KL Rahul | KXIP | 12 | 12 | 595 | 59.5 | 132.22 | 52/20 | 1/5 | 132* |
| 2 | S Dhawan | DC | 12 | 12 | 471 | 52.33 | 147.64 | 52/10 | 2/2 | 106* |
| 3 | D Warner | SRH | 12 | 12 | 436 | 39.63 | 134.56 | 39/12 | 0/3 | 66 |
| 4 | V Kohli | RCB | 11 | 11 | 415 | 59.28 | 125 | 21/10 | 0/3 | 90* |
| 5 | Faf du Plessis | CSK | 12 | 12 | 401 | 40.10 | 140.70 | 38/12 | 0/4 | 87* |
| 6 | M Agarwal | KXIP | 10 | 10 | 398 | 39.80 | 155.46 | 39/15 | 1/2 | 106 |
| 7 | S Iyer | DC | 12 | 12 | 389 | 35.36 | 127.54 | 34/9 | 0/2 | 88* |
| 8 | Shubman Gill | KKR | 12 | 12 | 378 | 34.36 | 113.85 | 34/9 | 0/3 | 70* |
| 9 | Q de Kock | MI | 11 | 11 | 374 | 41.55 | 143.29 | 34/17 | 0/4 | 78* |
| 10 | M Pandey | SRH | 12 | 12 | 354 | 35.40 | 126.88 | 26/16 | 0/3 | 83* |
List of most wicket-takers in IPL 2020 – Purple Cap Holder
| | | | | | | | |
| --- | --- | --- | --- | --- | --- | --- | --- |
| Sr No | Player | Team | Matches | Innings | Wickets | Average | Best |
| 1 | K Rabada | DC | 12 | 12 | 23 | 16.86 | 4/24 |
| 2 | M Shami | KXIP | 12 | 12 | 20 | 19.75 | 3/15 |
| 3 | R Khan | SRH | 12 | 12 | 17 | 14.11 | 3/7 |
| 4 | J Archer | RR | 11 | 11 | 17 | 18.82 | 3/19 |
| 5 | J Bumrah | MI | 11 | 11 | 17 | 19.47 | 4/20 |
| 6 | Y Chahal | RCB | 11 | 11 | 16 | 18.50 | 3/18 |
| 7 | T Boult | MI | 11 | 11 | 16 | 22.31 | 4/18 |
| 8 | Anrich Nortje | DC | 11 | 11 | 15 | 22.86 | 3/33 |
| 9 | R Chahar | MI | 11 | 11 | 13 | 22.69 | 2/18 |
| 10 | Sam Curran | CSK | 12 | 12 | 13 | 23.69 | 3/19 |
Here's the IPL 2020 points table in detail:
| | | | | | | | |
| --- | --- | --- | --- | --- | --- | --- | --- |
| Position | Team | Matches | Won | Lost | NR | Points | NRR |
| 1 | MI | 11 | 7 | 4 | 0 | 14 | 1.25 |
| 2 | RCB | 11 | 7 | 4 | 0 | 14 | 0.09 |
| 3 | DC | 12 | 7 | 5 | 0 | 14 | 0.03 |
| 4 | KXIP | 12 | 6 | 6 | 0 | 12 | -0.04 |
| 5 | KKR | 12 | 6 | 6 | 0 | 12 | -0.47 |
| 6 | RR | 12 | 5 | 7 | 0 | 10 | -0.50 |
| 7 | SRH | 11 | 4 | 7 | 0 | 8 | 0.02 |
| 8 | CSK | 12 | 4 | 8 | 0 | 8 | -0.60 |