Latest IPL 2020 points table, Orange Cap and Purple Cap holders after RR vs KXIP game
Indian Premier League Team 2020 standings, most run scorers and most wicket-takers leaderboard. Royals climbed to the second place in the points table.
Updated - Sep 28, 2020 7:17 pm
3.3K Views
Records were created and broken on Sunday when the Rajasthan Royals (RR) faced the Kings XI Punjab (KXIP) in Sharjah in the ongoing Indian Premier League (IPL). It all started with Mayank Agarwal slamming the second-fastest century by an Indian in the IPL with his 45-ball ton and ended with the game becoming the fourth-highest match aggregate ever in the history of the cash-rich league.
What transpired in between was beyond imagination for even the cricket geeks. Amidst all the action, Rahul Tewatia was the most discussed and cursed cricketer until the 18th over of the chase when he smashed Sheldon Cottrell for five sixes to turn the game on its head. All the negative comments coming through for him turned into immense praise and Tewatia scored 53 off just 31 balls to help the Royals chase the highest total ever in the IPL.
Who has Orange and Purple Cap?
After this win, the Royals have joined the Delhi Capitals (DC) at the top of the pile in the points table and they are the only two teams to stay unbeaten so far. Despite, winning only a game in three outings, the KXIP are at the third place thanks to their 97-run win against the RCB. But they will be ruing losing two close matches.
KXIP skipper KL Rahul is the proud owner of Orange Cap having amassed 222 runs at an average of 111 in three outings. His opening partner Mayank Agarwal is at the second spot only a run behind him after smashing 106 runs last night. Faf du Plessis is at the third place with 173 runs to his name and he is only CSK batsman who has looked in form at the moment.
As far as the purple cap is concerned, Mohammed Shami has it now after he picked three wickets against the Royals as he went past Kagiso Rabada. Shami now has seven wickets in three matches at an average of 11.71. Rabada has five scalps while Sam Curran and Sheldon Cottrell also have picked five wickets and are in the hunt still.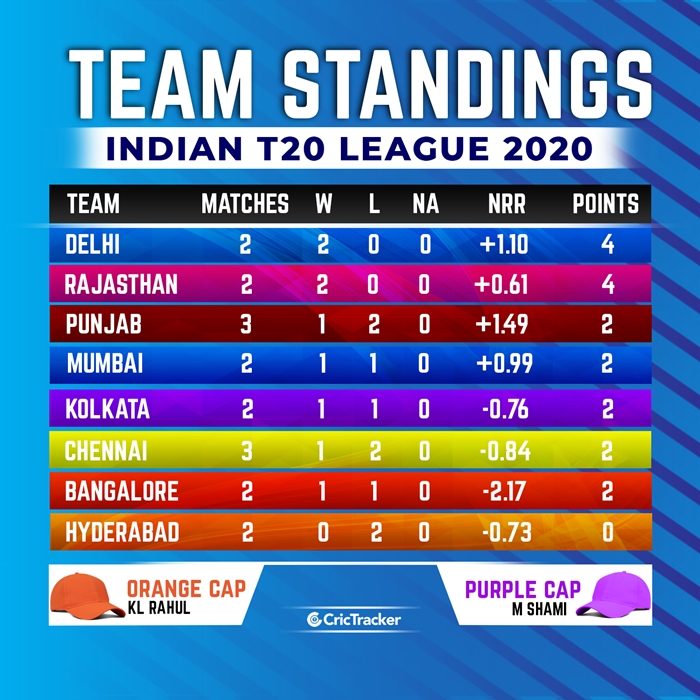 Here's the IPL 2020 points table in detail:
| | | | | | | | |
| --- | --- | --- | --- | --- | --- | --- | --- |
| Team | Position | Matches | Won | Lost | NR | Net RR | Points |
| DC | 1 | 2 | 2 | 0 | 0 | 1.1 | 4 |
| RR | 2 | 2 | 2 | 0 | 0 | 0.615 | 4 |
| KXIP | 3 | 3 | 1 | 2 | 0 | 1.498 | 2 |
| MI | 4 | 2 | 1 | 1 | 0 | 0.993 | 2 |
| KKR | 5 | 2 | 1 | 1 | 0 | -0.767 | 2 |
| CSK | 6 | 3 | 1 | 2 | 0 | -0.84 | 2 |
| RCB | 7 | 2 | 1 | 1 | 0 | -2.175 | 2 |
| SRH | 8 | 2 | 0 | 2 | 0 | -0.73 | 0 |
List of top run-scorers in IPL 2020 – Orange Cap Holder
| | | | | | | | | | | | | | |
| --- | --- | --- | --- | --- | --- | --- | --- | --- | --- | --- | --- | --- | --- |
| S. no | PLAYER | TEAM | MAT | INN | RUNS | AVG | SR | 4s | 6s | 100 | 50s | NO | HS |
| 1 | L. Rahul | Kings XI Punjab | 3 | 3 | 222 | 111 | 156.33 | 23 | 9 | 1 | 1 | 1 | 132* |
| 2 | M. Agarwal | Kings XI Punjab | 3 | 3 | 221 | 73.66 | 170 | 21 | 11 | 1 | 1 | 0 | 106 |
| 3 | F. d. Plessis | Chennai Super Kings | 3 | 3 | 173 | 86.5 | 149.13 | 11 | 7 | 0 | 2 | 1 | 72 |
| 4 | S. Samson | Rajasthan Royals | 2 | 2 | 159 | 79.5 | 214.86 | 5 | 16 | 0 | 2 | 0 | 85 |
| 5 | S. Smith | Rajasthan Royals | 2 | 2 | 119 | 59.5 | 160.81 | 11 | 6 | 0 | 2 | 0 | 69 |
| 6 | R. Sharma | Mumbai Indians | 2 | 2 | 92 | 46 | 143.75 | 5 | 6 | 0 | 1 | 0 | 80 |
| 7 | M. Pandey | Sunrisers Hyderabad | 2 | 2 | 85 | 42.5 | 119.71 | 6 | 3 | 0 | 1 | 0 | 51 |
| 8 | A. d. Villiers | Royal Challengers Bangalore | 2 | 2 | 79 | 39.5 | 164.58 | 8 | 3 | 0 | 1 | 0 | 51 |
| 9 | S. Gill | Kolkata Knight Riders | 2 | 2 | 77 | 77 | 105.47 | 6 | 2 | 0 | 1 | 1 | 70* |
| 10 | A. Rayudu | Chennai Super Kings | 1 | 1 | 71 | 71 | 147.91 | 6 | 3 | 0 | 1 | 0 | 71 |
List of most wicket-takers in IPL 2020 – Purple Cap Holder
| S. no | PLAYER | TEAM | MAT | INN | WKTs | OV | RUNS | 5WKTs | ECO |
| --- | --- | --- | --- | --- | --- | --- | --- | --- | --- |
| 1 | M. Shami | Kings XI Punjab | 3 | 3 | 7 | 11.0 | 82 | 0 | 7.45 |
| 2 | K. Rabada | Delhi Capitals | 2 | 2 | 5 | 8.0 | 54 | 0 | 6.75 |
| 3 | S. Curran | Chennai Super Kings | 3 | 3 | 5 | 12.0 | 88 | 0 | 7.33 |
| 4 | S. Cottrell | Kings XI Punjab | 3 | 3 | 5 | 10.0 | 93 | 0 | 9.30 |
| 5 | Y. Chahal | Royal Challengers Bangalore | 2 | 2 | 4 | 8.0 | 43 | 0 | 5.37 |
| 6 | R. Bishnoi | Kings XI Punjab | 3 | 3 | 4 | 12.0 | 88 | 0 | 7.33 |
| 7 | S. Dubey | Royal Challengers Bangalore | 2 | 2 | 4 | 6.0 | 48 | 0 | 8.00 |
| 8 | M. Ashwin | Kings XI Punjab | 2 | 2 | 4 | 4.3 | 37 | 0 | 8.22 |
| 9 | P. Chawla | Chennai Super Kings | 3 | 3 | 4 | 12.0 | 109 | 0 | 9.08 |
| 10 | L. Ngidi | Chennai Super Kings | 2 | 2 | 4 | 8.0 | 94 | 0 | 11.75 |