'Let's fight together against COVID-19' – Former and current cricketers urge fans after PM Narendra Modi locks India down for 21 days
Cricketers like Sachin Tendulkar, Irfan Pathan comes out in support of Indian Prime Minister.
Updated - Mar 25, 2020 8:56 am
805 Views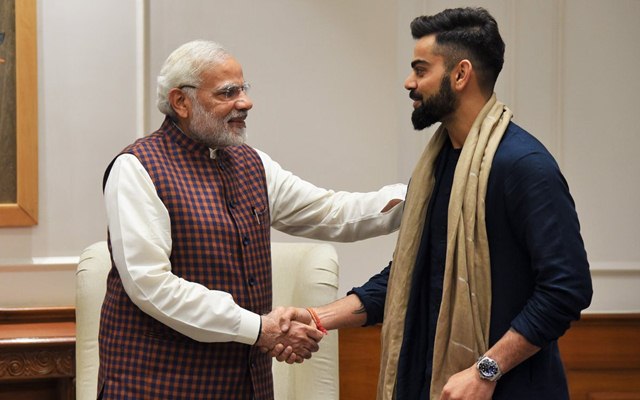 Follow us on Telegram
It's been more than a month and the situation due to Coronavirus outbreak has gone from bad to worse. The daily lives of human beings have come to a standstill and nothing can be done over the same. On Tuesday evening, India's Prime Minister, Narendra Modi addressed the country over the current condition and announced a complete lockdown for next 21 days. Later on, the cricketing fraternity came out and backed him for the same.
COVID-19 pandemic has taken several lives across the globe and the governments have taken some strong steps in order to combat the adverse effects of the killer virus until the doctors develop any sought of vaccination. On Tuesday, all the eyes were set on Narendra Modi, who was going to address the country for the second time in the last week.
Narendra Modi addresses India for the 2nd time in a week
Earlier, he had asked the citizens to take all the necessary precautions to lower down the probability of getting infected with Coronavirus. He had requested the people to come out and make sounds using utensils, hands or anything in order to show the support to all the heroes, who are out there and still working for the protection of every individual.
Now, the Indian PM has declared a three-week lockdown in the country. In his speech, he looked focussed on making a social distancing. As per him, it is the only way to put a full stop to the transmission of Coronavirus. Narendra Modi looked a bit concerned over the current conditions and requested everyone to just stay back at home for these 21 days.
The Indian PM feels that it is his responsibility to protect every single individual in the country. So, he also referred the current situation to a scene of Ramayana. He said that this lockdown is far stricter than the Janta Curfew. The citizens of the country should forget about stepping outside.
After the speech, many Indian cricketers took to their social media handles and praised the Indian Prime Minister for taking such a strong and great step. The majority of the players felt that it was a difficult thing to do but they also felt that this is the time to come together and fight.
Here are some of the tweets:
Simple things are often the hardest to do, because they require consistent discipline & determination.

Hon'ble PM @narendramodi ji has asked us to #StayHomeStaySafe for 21 days. This simple task can save millions of lives.

Let's all unite in this war against #COVID19.

— Sachin Tendulkar (@sachin_rt) March 24, 2020
Great step taken by our PM @narendramodi Ji. It was needed! Time flies and so will the 21 days. I urge each one of you play the role of a responsible citizen because together we can! So please कोई,रोड पर,ना निकले. Stay in and encourage your friends and families too! #COVID2019

— Ishant Sharma (@ImIshant) March 24, 2020
We have to act wisely for these 21 days to ensure the well-being of our entire nation. Let us all do our part, stay at home, stay safe and safeguard the health & future of our families & friends. We'll come out of this stronger. 💪🏼🇮🇳 #StayHomeIndia #JaiHind

— Jasprit Bumrah (@Jaspritbumrah93) March 24, 2020
What a bold and much needed step by our legendary PM @narendramodi World's single biggest lockdown. Let's all do the necessary and fight the #coronavirus #21daylockdown

— Rahul Chahar (@rdchahar1) March 24, 2020
Insaan ka sabse bada khauf MUSTAQBIL (future) hai.aaj mein jeena shuru karo khauf khud ba khud bhag jaaega… Don't spread panic,rather spread awareness about #coronavirus #CoronavirusLockdown #StayAtHomeSaveLives

— Irfan Pathan (@IrfanPathan) March 24, 2020
Our ancestors, legends, leaders have seen tougher times then these. Remember the sacrifices of freedom fighters, remember the pain of Sikh Gurus, remember the struggle of Savitri Bai Phule. Take inspiration from them, v definitely can adjust & get through this. #WeWillRiseAgain

— Unmukt Chand (@UnmuktChand9) March 24, 2020
Let's fight this together .. we will get over this #corona pic.twitter.com/OTH2iJbPMz

— Sourav Ganguly (@SGanguly99) March 24, 2020
संयम और धेर्य से मिलेगी जीत। मुश्किल वक़्त ज़रूर है लेकिन क्रिकेट और खेल हमें बताता है कि अगर ठान लें तो भाई पूरा कर सकते हैं। #StayAtHomeSaveLives #LockdownNow #LockdownQuery

— R P Singh रुद्र प्रताप सिंह (@rpsingh) March 24, 2020
These 21 days could be the most important days of our lives..as individuals and as a country.. so please be responsible citizens, sons, daughters, fathers, mothers, husbands, wives, brothers and sisters! Our only chance to stop this #Corona ! #staysafe #stayhome @narendramodi

— Harbhajan Turbanator (@harbhajan_singh) March 24, 2020
No mincing words. Absolute need of the hour. Leadership at its very best. The country will come out stronger than ever before all-round @PMOIndia @narendramodi #Covid19India #LockdownNow #StayAtHomeSaveLives https://t.co/pBBAJzn9EO

— Ravi Shastri (@RaviShastriOfc) March 24, 2020
All those who asked what can I do for my country…
This is the time to show your loyalty! Listen to our PM @narendramodi ji and STAY INDOORS!
If we get through the next 21 days, WE WIN!! #IndiaFightsCorona

— Gautam Gambhir (@GautamGambhir) March 24, 2020
Excellent address by the Honourable PM. The #lockdownindia and the threat had to be conveyed with passion, looking into the eyes of the nation & not just read out monotonously from a sheet of paper. Let's do it India! Let's beat this thing! 👍#NarendraModi

— Sanjay Manjrekar (@sanjaymanjrekar) March 24, 2020
3 weeks it is … let's stay indoors India. I repeat the consequences of irresponsible community behaviour over the next 3 weeks could cost us 2 decades. Well done @narendramodi ji. Now let's follow instructions rather than moaning and giving our own opinions. #coronavirusindia

— lets stay indoors India 🇮🇳 (@ashwinravi99) March 24, 2020
🇮🇳🇮🇳🇮🇳🇮🇳🇮🇳🇮🇳🇮🇳🇮🇳🇮🇳🇮🇳🇮🇳🇮🇳
🙏🏻🙏🏻🙏🏻🙏🏻🙏🏻🙏🏻🙏🏻🙏🏻🙏🏻🙏🏻🙏🏻🙏🏻 pic.twitter.com/e9MENc6FPp

— Kevin Pietersen🦏 (@KP24) March 24, 2020
Social distancing is extremely critical for each and everyone of us to follow for the next 21 days. Please stay at home & wash your hands regularly, and let's break the chain. Please don't panic about essentials, the central & state governments will ensure it#IndiaFightsCorona

— VVS Laxman (@VVSLaxman281) March 24, 2020
As our Honourable Prime Minister, Shri @NarendraModi ji just announced, the whole country is going into a lockdown starting midnight today for the next 21 days. My request will remain the same, PLEASE STAY AT HOME. 🙏🏼 #SocialDistancing is the only cure for Covid 19.

— Virat Kohli (@imVkohli) March 24, 2020
These 21 days are very important in the history of our nation & each one of us can play our part by just staying at our homes and maintaining distance from people. Please adhere to it strictly and we shall overcome this soon #CoronavirusLockdown

— Virender Sehwag (@virendersehwag) March 24, 2020
Please Understand the gravity of the situation. #IndiaFightsCorona #StayHomeStaySafe and stay healthy. As advised by our Honourable PM @narendramodi Ji Let us follow a complete lockdown. 🙏🏽

— Anil Kumble (@anilkumble1074) March 24, 2020
The addrss by r PM was a grt1. But we as citizens need to do r jobs. We nd strict n if need be vry strict action taken against whoever falters. Pls No mud slinging,no politics, for r existence, good wishes to all always. Come on india let's fight @CMOMaharashtra @AUThackeray

— Amol Muzumdar (@amolmuzumdar11) March 24, 2020
STAY HOME EVERYONE! 🙏
Let's Hit #COVID19 out of the park.#21DaysChallenge #WeGotThisIndia pic.twitter.com/9opfFTlxWv

— Washington Sundar (@Sundarwashi5) March 24, 2020
As advised by our honourable PM Shri @narendramodi ji I urge each and everyone to stay at home and do your part to help curb the pandemic 🙏🏻 #StayHome #StaySafe #IndiaFightsCorona

— cheteshwar pujara (@cheteshwar1) March 24, 2020
Fully support the government's decision to impose the #CoronavirusLockdown.

Stop the virus from scoring big. Be your own captain! Spread the field. Practice Social Distancing and remember our PM's advice 🙏🏼#JaanHaiTohJahanHai #StayAtHomeSaveLives pic.twitter.com/F7dpRNeZmO

— Mohammad Kaif (@MohammadKaif) March 24, 2020
Follow us on Google News