LPL 2020: Shahid Afridi and Mohammad Amir react on the controversy with Naveen-ul-Haq
The 28-year-old Amir supported the wise words by Pakistan's former captain by saying, "Yes lala u are 100% right"
Updated - Dec 1, 2020 7:53 pm
11.8K Views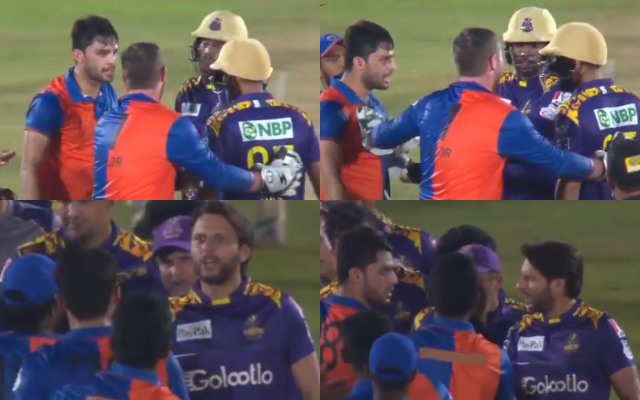 A controversy had rocked the 6th match of the ongoing 2020 edition of the Lanka Premier League (LPL) when Kandy Tuskers' Naveen-ul-Haq got involved in a heated argument with Galle Gladiators' Mohammad Amir towards the closing stage of the game followed by a spar between Naveen and Gladiators skipper Shahid Afridi.
Kandy Tuskers registered a comfortable victory against Gladiators as the latter failed to chase the target of 196 posted by Tuskers on the board and were restricted to 171 in their 20 overs. The last over of the night was bowled by Afghanistan's Naveen-ul-Haq while Pakistan's Mohammad Amir was there in the middle with the willow.
As soon as the 21-year-old Naveen bowled the final delivery, he and Amir exchanged a few words and looked visibly upset and agitated. Though the teammates of both the players tried to intervene and ease down the situation, both Amir and Naveen refused to back out. The situation again got heated when Galle Gladiators players came out on the field for a handshake.
Mohammad Amir extends his support to Shahid Afridi
Afghanistan's seamer, who hadn't cooled down from the previous encounter with Mohammad Amir got involved in a verbal spat with the opposition skipper Afridi. The veteran Pakistan all-rounder was probably trying to advise the youngster to control his anger and was taking the side of his teammate Amir but Afridi got charged up seeing the attitude of Naveen and was involved in a controversial spar with him.
This incident drew mixed reactions from the viewers on social media with many favouring the former Pakistan captain while some defending Afghanistan's young seamer. On December 1, Shahid Afridi and Mohammad Amir finally cleared their stance on the whole matter via their official Twitter handles.
Quoting the post of a leading news portal, Afridi wrote on Twitter that he respects the players of Afghanistan and shares good relations with them but the youngsters should know that respecting the opponents and not getting abusive with them is the basic rule of the game.
"My advise to the young player was simple, play the game and don't indulge in abusive talk. I have friends in Afghanistan team and we have very cordial relations. Respect for teammates and opponents is the basic spirit of the game." Afridi tweeted.
My advise to the young player was simple, play the game and don't indulge in abusive talk. I have friends in Afghanistan team and we have very cordial relations. Respect for teammates and opponents is the basic spirit of the game. https://t.co/LlVzsfHDEQ

— Shahid Afridi (@SAfridiOfficial) December 1, 2020
The 28-year-old Amir supported the wise words by Pakistan's former captain by saying, "Yes lala u are 100% right"
yes lala u are 100% right 😊 https://t.co/BDEBmAfYmk

— Mohammad Amir (@iamamirofficial) December 1, 2020