Man with the golden arm: Kedar Jadhav
Kedar Jadhav is by no means a skilful bowler but he knows how to squeeze batsmen for runs.
Updated - Sep 29, 2017 6:45 am
5.5K Views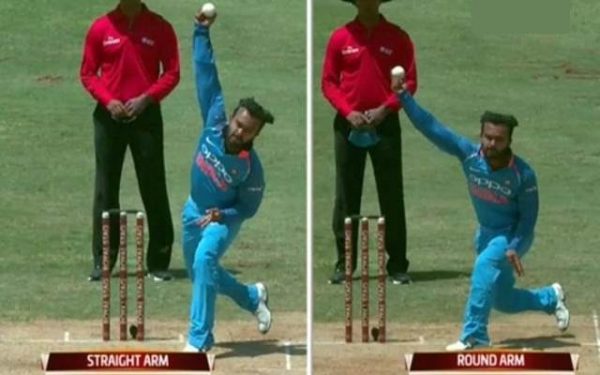 Follow us on Google News
If you address Kedar Jadhav as an off-spinner in front of the great Bishan Singh Bedi, he will be riled. Not only Mr. Bedi, but all spinners who have played cricket at some level for even just half a decade wouldn't like that. A spinner is essentially a bowler who spins the ball in the air and looks to defeat the batsman by variations in flight. But Kedar does none of these.
With not much of bowling behind him, it was MS Dhoni who punted on him during New Zealand's tour of India last year. Jadhav didn't have the right credentials, just a solitary wicket after 35.5 futile overs in 74 first-class games. Yet Dhoni saw something in his bowling that not many had spotted in his decade-long professional cricket career. He bowled for India for the first time in his 8th ODI, returning with figures of 2/6 in 3 overs playing against New Zealand. He collected 6 wickets at 12.16 and gave his runs at an economy rate of 4.05 during the series. The Kiwis didn't have a clue what Jadhav was doing.
Dissecting his style of bowling
So what does he exactly do? Firstly, he is a street-smart cricketer. He is not your everyday orthodox cricketer who goes by the textbook. He loves innovating and is extremely confident of his abilities. When Dhoni threw the ball to him, Jadhav made sure that he was bowling wicket to wicket. He is someone who undercuts the ball.
A traditional off-spinner would have his spinning fingers turning towards the direction of fine leg but Jadhav's spinning fingers start towards the batsman and end up in the direction of third man which denies him of any spin from the surface. His wrist is also not upright, unlike traditional finger spinners.
More often than not, batsmen have been getting out to Jadhav while looking to play for the turn. But Jadhav doesn't turn them. In fact, on occasions, he gets the ball to skid off the surface and sometimes straightening up. This happens when the ball lands on the seam due to Jadhav's undercutting release.
The 32-year old is not a gifted bowler at all ergo; he uses the crease for variations in pace and trajectory. He often delivers the ball well within the popping crease, at times even behind the stumps. This variation is usually tried by budding spinners in club cricket due to the lack of ammunition in their armory. Jadhav is no different, except that he is playing in international cricket. Turns out it distracts the rhythm of international batsmen too. Nobody is bigger than the game, as they say.
Jadhav's smart use of the crease
His use of the crease is not confined to just bowling it from behind the crease. He also uses the side crease to befuddle batsmen. He mixes it up by bowling close to the stumps and wide of the stumps to keep batsmen guessing. Apart from this, Jadhav, as a variation, bowls with a slingy action. The point of release is almost his shoulder level making an angle of 45 degrees. Coaches stress on youngsters to release the ball while keeping their bowling arm close to their ear but here is Jadhav following a different coaching manual, and it is bringing him the results.
His action, technically, is one of the worst seen in international cricket in the recent while. He has no follow-through whatsoever apart from his body being unaligned. He remains open chested, which again, doesn't allow him to turn the ball off the surface even on a dust bowl. When he bowls with a slingy action, he crouches a little and bends his front knee while delivering the ball. If he will turn up for a spinners camp, he will be asked to go home in the very first session. But, like Dhoni, he doesn't mind looking ugly or outlandish as long as he is getting the results.
Why the slingy action?
The purpose of his action is not to let the batsman work with any bounce at all. This is in stark contrast to bowlers, who want to extract extra bounce from the surface. Jadhav doesn't want much bounce, which makes it difficult for the batsmen to eke him away for runs. He bowls the hard length, something which Samuel Badree does, which makes it impossible for batsmen to get to the pitch of the ball even if they decide to use their feet, neither can they play comfortably on the back foot because of the lack of bounce.
Batsmen like Tamim Iqbal and Kane Williamson have tried to employ the sweep shot against him but failed to connect and because Jadhav keeps it wicket to wicket, they either were dismissed bowled or leg before the wicket. The Maharashtra lad is tough to get away with.
In the 5th ODI against the West Indies in Jamaica on Thursday, the right-arm bowler returned with 1/13 off 4 overs. He got the wicket of Jason Mohammad, bowling it with a slingy action from behind the wicket and Jason could only punch it back to the bowler for a simple return catch. This was a trademark Jadhav deliver. Low bounce, slingy action, delivered from behind the crease, a hard length and keeping it wicket to wicket.
Jadhav gives it a bit of air too
Whenever he tries to toss it up, he usually bowls a full length so that the batsman can't get underneath the ball. A prime example was Mushfiqur Rahim's wicket in the semi-final of the Champions Trophy. Bangladesh were building towards a substantial total before Jadhav's 2/22 stifled them in the middle overs. While Tamim Iqbal was cleaned up attempting a sweep, Mushfiqur hit a loopy full ball straight to short mid-wicket.
Credit must also go to MS Dhoni for recognizing Jadhav's unusual style of bowling. 11 wickets from 43.1 overs of bowling in 11 innings, has earned Jadhav an extended run in the Indian ODI XI. His batting, which oozes immense potential, would have been enough for a place in the side but bowling has given him some breathing space. But dare not call him an off-spinner. He is a slow bowler, who thinks like a batsman while bowling.
Follow us on Telegram