Marnus Labuschagne is a great thinker of the game, we'll definitely see him take the step up to captaincy: Tim Paine
Apart from Tim Paine, former Australia skipper Ricky Ponting has also backed Marnus Labuschagne to lead the team in the future.
Updated - Jun 14, 2021 2:54 pm
237 Views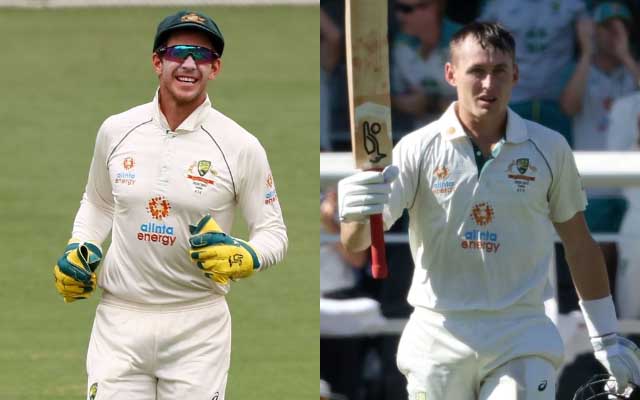 Follow us on Google News
Incumbent Australia Test skipper Tim Paine has backed Marnus Labuschagne to take over the captaincy of the team in the coming years. The elegant right-hand batter had a breakthrough 2019 season for Australia, in which he scored over 1000 runs. Batting at the pivotal position of number three, Labuschagne has been instrumental in getting Australia in at the top of rankings for a brief period.
If he was considered only a Test player, then he went on to prove his detractors wrong by seamlessly fitting into the ODI team as well. Labuschagne is compact at the crease and generally comes across as a cool and composed person. He also offers whatever possible help to his teammates and is smiling and keeping the team environment light by being upbeat.
Paine spoke to the media recently and appreciated these qualities of Labuschagne and backed him to be leader sooner rather than later.
"He's got some real natural leadership ability and if that's harnessed and helped, I think he'll be a great captain. He's got leadership in him, there's no doubt about that – the way he goes about it, the way he treats people, the way he works on his game, with some time (he) will become an excellent leader for this squad," Paine claimed.
Tim Paine feels Labuschagne can be a great leader in two to three years' time
The 26-year-old plays for Queensland, where Usman Khawaja takes on the leadership role, Paine was quick to add that Labuschagne is a keen learner of the game and is a great thinker of the game which must be fully utilized by Australia.
"I think he'd be a good (leader), Marnus is a great thinker of the game. He's a good team man, he's got so much enthusiasm for his team and the game. With Marnus it's about him evolving into leading more and being more of a leader. He's come into our group and been a really infectious, energetic guy which has been fantastic for our team, but I think in terms of our cricket team improving and Marnus evolving, I think in the next couple of years we'll definitely see him take the step up," Paine explained.
Apart from Paine, former legendary Australia cricketer Ricky Ponting has also backed Labuschagne to be a leader in the near future. Ponting feels that the 26-year-old has all the right qualities to be a successful skipper.
Follow us on Telegram