McCullum pleased with the way things are going for New Zealand ahead of the World Cup 2015
Updated - Feb 1, 2015 6:42 pm
52 Views
McCullum pleased with the way things are going for New Zealand ahead of the World Cup 2015: The New Zealand cricket team skipper Brendon McCullum looks pleased, satisfied and all lit up for the ICC Cricket World Cup 2015 they are co-hosting along with Australia. Though Australia too is enjoying a phase of success in all outfits, nothing seems to concern Brendon McCullum and his men once they are on the field. In the recent moths while we built up for the World Cup 2015, New Zealand have silently yet significantly spread more than an arm towards grabbing the trophy which has eluded them since inception.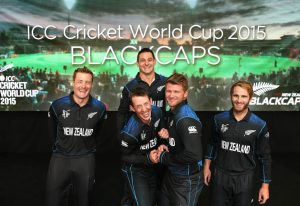 Follow us on Telegram
This time around though, banking on strong performances and if from, so called 'momentum' is something to go by New Zealand surely have high stake on them to win the crown. The Black Caps just after beating Asian Giants and another contenders (two time runner's up) Sri Lanka comprehensively 4-2 in the 7 ODI series; continued ramping form against another big name from Asia, Pakistan as they beat them by 7 wickets in the first match at Wellington.
The team is looking like a bunch of XI hungry cricketers, hungry for victory and not ready to settle for anything less than that, as they dominate their oppositions not only with the bat and the ball but with their ground fielding as well. On the way he looks at the progress of the bowlers McCullum said, "We found we were able to get the ball to swing and ask some questions so it was a good improvement in a pretty short space of time."
Batsmen including skipper McCullum are in great form, bowlers have been striking well, no reason for them to be concerned or run an extra mile in the last hour preparing for the ICC Cricket World Cup 2015.
It is one of those times when even if a few individuals in the team have not been playing up to reputation it doesn't matter in New Zealand's case them being Martin Guptil and Ross Taylor. But, McCullum looks the least concerned with them being a little off color as he said, "The boys have actually been hitting the ball. Guppy looks like he's not far away from a big score and I'm sure he'll take a lot out of this performance. Ross always finds ways to get runs. His batting against some pretty unusual bowling at times and the partnership with Grant was really meticulous."
The only little concern that could bother New Zealand was Kane Williamson's fitness as he missed the first ODI. But, clearing it out to nothing more than a precautionary measure the Black Cap's coach Mike Hesson said, "It was nothing major, but it was to a point where he was uncomfortable and we didn't want to risk it. He should slot back into the XI."
Follow us on Google News