The Melodious tune of Mohammad Shahzad
The Bengaluru crowd immediately took a liking to Mohammad Shahzad
Updated - Jun 14, 2018 5:24 pm
1.8K Views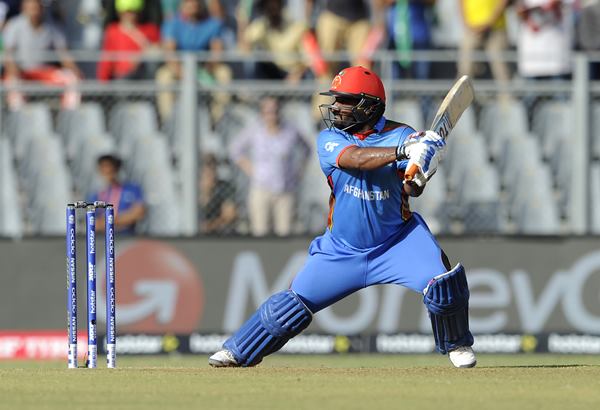 Asghar Stanikzai's mind is in battle mode. He is focused on the mission at hand. Perhaps he is aware of the fact that it's only the Australian team that has won it's debut Test match. He is also acutely aware of the sinister fact that the Indians took 25 matches to win their first too.
The Afghans don't crave attention. They are simply craving a win. A win that will do more than just wonders for a nation started of sporting action. Apart from the barbaric game of horse and sheep, a cult classic within the barren plains of the Kandahar.
Six years they have waited. And it has been worth every second of the wait. Yet, there isn't time for celebration. It's business. It's work. And nothing more for Nabi, Rashid, Mujeeb. And perhaps even Stanikzai. They are in battle mode and it is on.
Mohammad Shahzad isn't the happiest to find out that the Afghans will be bowling first. In 2016, gangs of analysts had made attempts at deciphering a method to his madness. Needless to say, they failed. And miserably at that.
Having surrendered the wicket keeper gloves to young Asfar Zazai, he takes his place a few inches from the latter. First slip is a serious position. It requires reflexes that not many possess. Least of all Shahzad. He makes a futile attempt to squat as all first slips do. In a few seconds he notices a few drops of sweat along his brow. He decides to continue before an eventual cramp relieved him and he stands normally.
For many, the occasion is a massive one. Something of great importance. For several others, it proves to be a religious one. A holy one. But it seems to have been lost in Shahzad. Test, ODI, T20 – it doesn't matter. He is going to play cricket as he has always done. Like a madman. Having grown up watching the likes of Dhoni and, in particular, Sehwag, the 30-year old braces himself for Test cricket. It is clear that he is a proponent of Sehwagology.
The crowd forgets Vijay and Rahul momentarily
It takes the dismissal of Shikhar Dhawan to begin sending hush waves across the ground. What follows is the quintessential kryptonite to Test cricket – the rebuilding process. Stanikzai senses the hush a d begins the much acclaimed spin operation. He brings in Mujeeb and Rashid. They begin bowling at KL Rahul and Murali Vijay. Both are cautious as they should be. The change in plan takes its toll as Shahzad is sent to the boundary. The Indian fans take to him almost immediately.
His 'Elwood Blue' demeanor and meatloaf resemblance makes him an instant hit. It was a surprise in itself that several Bangaloreans had turned up in their numbers to watch the game in the first place. It took some help from Twitter and of course, uncle Google to make sure they got the names right at the very least.
They had seen Shahzad earlier in the day. They had seen the Jim Belushi (of course in the 80s). They had seen him jumping and diving around now now they were going to see him at deep mid-wicket. Like a long-lost bunch of brothers, he runs towards them in open arms. And they begin the chant.
For the first time in the match, the focus shifts from Murali Vijay and KL Rahul to Shahzad. Unlike Stanikzai, he is actually beginning to enjoy himself. When the chants stop momentarily, he raised his arms once again and becomes the most popular man on the field. The Indian batting duo bring up the 200. It goes unnoticed thanks to a Mohammad Shahzad special. For the first time the entire match, a square cut from Rahul's blade finds its way to him. He not only runs to gather the ball, but also tosses it back to his adversary Zazai at the stumps.
There is widespread cheer. Similar to the cheer Gamal Abdel Nasser received when he was carried through the streets of Cairo. He runs back towards the J stand where his newfound fans are ecstatic. Now, each movement begins to illicit cheer coupled with the odd chant. He is having the time of his life. And all of a sudden, by some miracle, an Afghan flag appears. Out of nowhere.
Like the cricketers before him, he has managed to win over the opposition crowd. Not many have been able to do this. Merv Hughes for one did manage it before Ronnie Irani treated them to another workout. It's simply fascinating.
And moreover, as far as Mohammad Shahzad is concerned, this will be the melody if his life. Sure, the likes of Glenn Miller and Miles Davis came and went. But for a fan? Any fan? Absolute music to the ears – of the first order. Needless to say, he can be and will be a good pied Piper.
The way Mohammad Shahzad always manages to find the camera and break the fourth wall with his eyes… hilarious! 😂 #Afghanistan #INDvAFG #INDvsAFG @BCCI @ACBofficials @ESPNcricinfo

— Ankit (@iCrappyWriter) June 14, 2018
#INDvAFG Mohammad Shahzad beats the rain with the quickest sprint ever witnessed to the pavilion. He really was moving. Probably didn't have enough lunch.

— roshan thyagarajan (@RdT1969) June 14, 2018
#INDvAFG @imVkohli should consider Mohammad Shahzad's diet plan to improve his slip fielding.

— roshan thyagarajan (@RdT1969) June 14, 2018
yeah, Sanju Manju. "Mohammad Shahzad is quite the character" has been said about 5 times already.

— samreen (@_whatsinaname) June 14, 2018
For someone who may never take a YoYo test, forget about passing one, Mohammad Shahzad moves lightning fast over short distances. #INDvAFG

— Anand Vasu (@anandvasu) June 14, 2018
Mohammad Shahzad has just done Dwayne Leverock. Just that it's not come off the bat.#INDvAFG pic.twitter.com/d6lRz758nu

— Suneer (@suneerchowdhary) June 14, 2018
#Ripleys – Mohammad Shahzad dived and almost did a Leverock.

— Nikhil 🏏 (@CricCrazyNIKS) June 14, 2018
Stay updated on 'today's cricket news' with CricTracker.com.