Michael Clarke set to miss the first game against England: ICC Cricket World Cup 2015
Updated - Feb 12, 2015 11:13 am
20 Views
Michael Clarke set to miss the first game against England: ICC Cricket World Cup 2015: The ICC Cricket World Cup 2015 for most Australians was Michael Clarke's chance to win back the trophy at home which they conceded to India in the World Cup 2011. The team and Clarke himself looked hungry for the same until he sustained a hamstring injury which threatened not only the world cup dream but also his entire cricketing career. A surgery and thoroughly dedicated rehabilitation has helped Clarke make a miraculous comeback. Though eager to get back on the field Aussie coach Darren Lehman suggested that the team would wait for Clarke to be at his 100% and will not risk fielding him before their second game against England.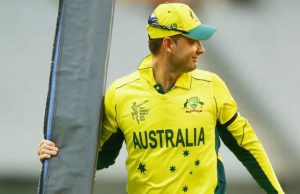 Follow us on Telegram
Clarke played a few club matches before joining the Australian team preparations for world cup and since recovering he played in the World Cup 2015 warm-up match against the UAE. He top scored for Australia with 64 and bowled a couple of overs as well. What was good to see was that at no point did he look unconvincing or uncomfortable which is a huge positive for the team.
Aussie coach Darren Lehman on Clarke's preparedness said, "Happy with the way he pulled up and really happy with his progress, "But we're going to stick with the plan and he'll play against Bangladesh. Really happy with the way it's gone, the way he batted, ran, fielded, bowled, he ticked all the boxes. A good solid week (ahead) and get prepared for Bangladesh."
Lehmann said Clarke himself is very eager to go out there, play and lead Australia in the World Cup 2015, but we want to ensure that we are not hurrying into it and he should be 100% before he makes it back to the team, "He's very keen to play but we've got to make sure that when he gets back he'll be ready to go, and he will be on Saturday (next) week, "We just had a chat. He's respectful of what we're trying to do, get him right. He's a quality player and a quality leader. Whilst we would have loved to have him available for this game, we're making sure he's 100% and ready to go for Bangladesh."
The coach was also questioned on the silence the Australian camp has maintained over the level of injury and time frame of recovery to the supposedly side strain that James Faulkner is nursing.
"He's batting comfortably now, so that's a good sign for us, "We're just dictated by the medical team at the moment with that. Hopefully he'll resume bowling very shortly. We'll wait and see on that one." He said.
Follow us on Google News