Michael Hussey differentiates the captaincy styles of Rohit Sharma, Ricky Ponting, MS Dhoni and Michael Clarke
The southpaw said that Dhoni's intuition for the sport is unmatched.
Updated - Jul 15, 2020 4:00 pm
580 Views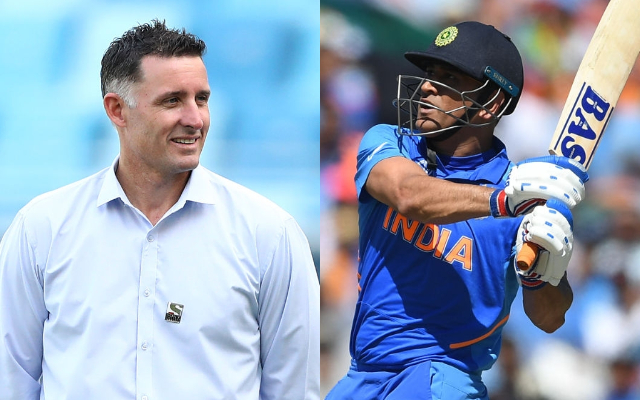 Michael Hussey, the former Australian batsman, has played under quite a few captains in his career. Among big names, even as he plied his trade with Ricky Ponting and Michael Clarke at the international cricket, MS Dhoni and Rohit Sharma were his skippers in the Indian Premier League (IPL). In the IPL, Hussey played for the Chennai Super Kings (CSK) and the Mumbai Indians (MI).
About Ponting, he said that the veteran captained the Aussies from the front and supported his teammates in tough times. Ponting won the 50-overs World Cup in 2003 and 2007 and took the team to the quarter-finals in the 2011 World Cup.
"They are all very different characters. Ricky Ponting was so competitive and led from the front and backed his players 100%. He wanted to win so badly and dragged the whole team along with him," Hussey was quoted as saying in a podcacst called Hostpot with Chetan Narula.
Dhoni has a great intuition, says Michael Hussey
Speaking on Clarke, Hussey said that he was a strategist. Clarke retired from the game in 2015 and also led Australia to glory in the 2015 World Cup, beating New Zealand in the final at the Melbourne Cricket Ground (MCG). "I would say Michael Clarke was very tactical and very good brain on the cricket field, knew when to bowl certain bowlers and things like that," he stated.
Hussey was also all praises for MS Dhoni, under whom he played in the CSK. Hussey is currently a batting coach with the Super Kings. The southpaw said that Dhoni's intuition for the sport is unmatched. "MSD… he has a great intuition for the game but he is also very calm and cool, backs his players enormously and shows a lot of faith in them," Hussey mentioned.
Hussey was also a part of the Mumbai franchise in the IPL where Rohit was his captain. He stated that Rohit knows the art of holding nerves under pressure. "Rohit was much the same. He is very calm under pressure and tactically very sound as well. All of them had this ability to take pressure off players and I think that was a good thing," he added.