Michael Clarke recalls the time when Shane Warne chose cigarettes over underwear and socks
He also revealed that Warne argued with the then coach John Buchanan on it.
Updated - Apr 21, 2020 5:01 pm
3K Views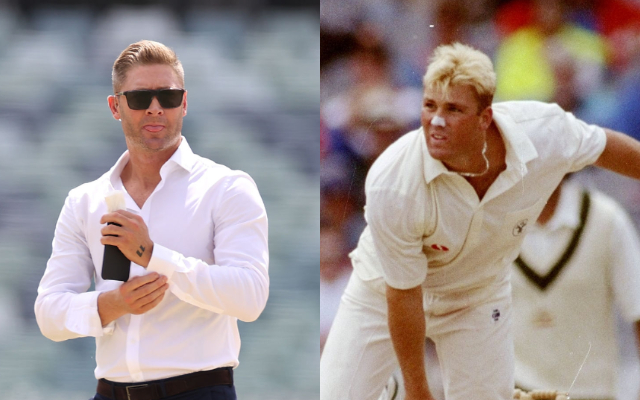 Shane Warne and controversies went hand in hand during his playing days. During his time with the Australian side, the former leg-spinner had all sorts of controversies. However, being a great spinner that he is, he continued to play cricket for Australia. The spinner is only one of the two bowlers to have picked up 1000 international wickets.
During a recent interview, his former teammate Micheal Clarke revealed another story of him being a stubborn person. He revealed that Warne loved smoking a lot and he in fact told the head coach that he won't be coming unless they allowed him to get his cigarettes.
Clarke recalls Warne's argument with coach
"For someone like Warnie who loved a smoke, he pretty much told them he is not coming unless he can bring his smokes. It was World War five," Clarke said during the interaction. The former Australian captain then recalled a story. Before the Ashes in 2006-07, Australia was supposed to attend a three-day training camp.
The players were told to carry only basic essentials like t-shirts, pants, socks, underwear, joggers and a cap. However, Shane Warne argued with the coach John Buchanan that he wanted to get a few packs of cigarettes as well. The coach then agreed but kept a condition that Warne had to drop one essential item to get one pack of smokes.
Clarke said that Warne simply threw away three pairs of underwears and three pairs of socks and put six packets of cigarettes instead of them. "Warnie flicked his three pairs of undies, flicked his three pairs of socks and put six-packs of darts in and off we went", Clarke added. Recalling the time, Michael Clarke said during the night there would be darkness but one could see Warnie smoking his cigarettes.
"In the middle of the bush, sleeping bag only, no cover, no shelter, on the ground and it was pitch black. All you could see was this orange light coming out of someone's sleeping bag and it was Warnie just sucking his dart back," he said.
The Ashes 2006-07 was going to be the last series of Warne. He went on to pick 22 wickets in that series and ended up being the second-highest wicket-taker for the Aussies. During this series, he also reached 700 Test wickets and was the first one to do so back then. He ended his career with 708 wickets, highest at the time. Muttiah Muralitharan, later on, went on to break his record.