Misbah vs Afridi – The Battle Continues
Pakistan Cricket has had many problems from the past and till date, there appears to arise a newer controversy everyday. The World Cup is just 4 months away and all the teams have already started to finalize their final XV but Pakistan remains the only country who is still uncertain of their commander-in-chief who will lead them in the marquee tournament.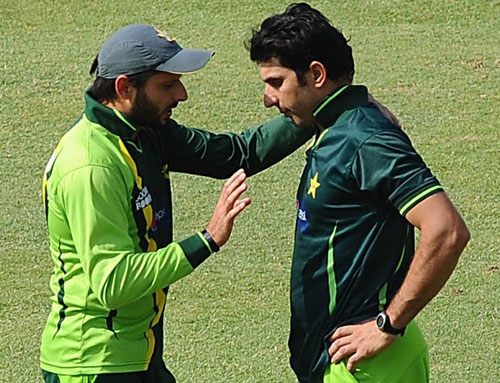 Follow us on Google News
Before the start of the WC 2011, Misbah-ul-Haq was rumored to place Shahid Afridi as Captain in lead up to the WC but this time Shahid Afridi has created a melodrama which gave media houses their 'masalay-daar khabar' to further demoralize a team yet to recover from the beatings Sri Lanka and Australia.
Here is what really happened in "Who Wants To Captain Pakistan in the WC?" show:
The Build-Up
August 18: Shaharyar Khan was unanimously elected Chairman PCB. He announced that Misbah-ul-Haq will remain Captain of the Pakistan ODI and Test team until WC in February-March 2015.
September 16: Shahid Afridi was selected to lead Pakistan in T20s until WT20 2016. Misbah-ul-Haq was retained as Captain of the ODI and Test team.
The Climax
October 11: Pakistan media reports about Misbah-ul-Haq opting to sit-out of the 3rd ODI vs Australia and Shahid Afridi expected to lead the team. Some Pakistani Media Houses also believed that Misbah-ul-Haq was forced to rest in an attempt to clear way for Shahid Afridi to lead Pakistan into the World Cup.
October 12: PCB issues a press release stating that Misbah-ul-Haq himself wanted to rest for the 3rd ODI.
"Misbah wanted to rest himself from the dead-rubber ODI match against Australia, and Shahid Afridi was a stand-in captain for this game only. For the remainder of the series, as appointed by the Chairman, Misbah remains the captain", said Manager/Chief Selector Moin Khan.
October 12 (Night): PCB chairman Shaharyar Khan said the decision to lead the one-day team rests on Misbah.
"I told him, we appointed you till the World Cup," Khan told media. "We were criticized for it and we will be now, even more, as he has not scored runs. But we remain totally firm that we have put our bandwagon behind him and you will lead.
"Clarity is that I or management have not influenced Misbah to step down, he has done it on his own, he is determined to return. I had a half hour chat with him. He says if I am back to form I would like to lead to the World Cup.
"If you yourself think your leadership will not deliver, then it is up to you. We will not push you out. This is the view of all three of us – Waqar Younis (coach) and Moin Khan (manager and chief selector)."
October 12 (After 3rd ODI): Shahid Afridi hints at a shot leading Pakistan in WC, when asked about the ODI captaincy, Afridi urged the board to ensure that the player leading the team would have some certainty about the role:
"I think whoever is captain – Misbah or me – we should know about it. If I am to captain in the World Cup, then I should know about it."
The Suspense
October 13: Pakistani Media make more drama of this nothing story.
October 14 (around 20:00): PCB rules out every possibility of Shahid Afridi to Captain Pakistan and issued a press release on behalf of Shahid Afridi in support of Misbah-ul-Haq as Captain till the World Cup 2015.
Shahid Afridi Quote:
"Let me state at the very outset, Misbah is the best choice as Pakistan captain for the ICC World Cup 2015. I have always backed him to the optimum whenever I have played under him, just as he had when I had the honour to captain the Pakistan team.
"I have already had the pride and honour to captain Pakistan several times. Trust me, it is no bed of roses, and all of us who have captained Pakistan, including Misbah, are fully aware of it. We get nothing more out of it than pride and honour; seldom do we get bouquets but more often brickbats.
"I have said this before, and I reiterate, that I shall continue to serve Pakistan Cricket and fully support Misbah to the best of my ability.
"This is my final statement on the issue".
Happy Ending
Note: The statements were copied as it is from the PCB press releases available at pcb.com.pk. CricTracker.com has no rights over the statements issued by the PCB.
Follow us on Telegram