More the cricket, more the women cricketers develop from the core: Smriti Mandhana [Interview]
Mandhana was present for the Red Bull Campus Cricket National Finals 2022 Women's game.
Get every cricket updates! Follow us on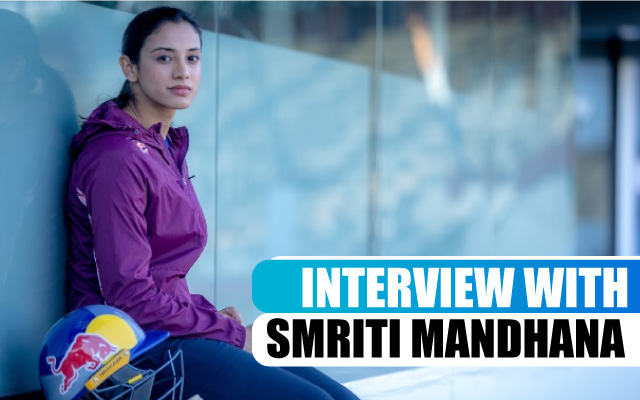 The Red Bull Campus Cricket National Finals initiative has been a blessing for the budding women cricketers all over India. RBCC provides a stage where the players can represent their college/university, and go on to play for their state teams by performing well at the event.
RBCC is a tournament curated for the university-level cricketers and has been going on for more than a decade now. The glorious event stepped into its 11th year in 2022 and for two years, women have also been made a part of the event to provide a push them and their cricket forward.
While there were just two teams in the women's edition last year, the tournament was expanded to four teams this season as it aims to increase the competition in the future. CricTracker got in touch with the Indian women's team vice-Captain and Red Bull athlete Smriti Mandhana as she opened up about various things, including the importance of RBCC in the growth and development of the women's game.
Excerpts:
How do you think RBCC has added wings to the young women cricketers' dreams?
When I heard the concept of RBCC, first, of course, it was for boys, I thought that it was a unique concept. It is an event that provides a platform for the young cricketers and motivates them to perform well to fulfill their dreams and playing some big games for their state and then the country. The women's edition started recently, and it expanded this year. It is a one-of-a-kind event and I wish other countries come up with such tournaments like RBCC for women cricketers, and that will happen soon. But everything starts from that one dream. The dream of achieving something big, and RBCC is bridging the gap and helping in fulfilling the dream, by motivating the cricketers to work harder and achieve their goals.
What do you think motivates the players who participate but do not get a chance to play?
I guess it is something that the players would need to inculcate in themselves. They should keep themselves motivated to work harder next year and make the cut if they don't get a chance to play in a particular year. The same applies to those who do not get to play the tournament with their team. They should keep one thing in mind – 'If I'm not selected this year, I'll work hard on myself and make a mark next year'. Getting selected or not, you can get something out of both.
One will need to refurbish their goal and that is what would back them throughout their journey. Then again it depends upon how the person perceives it, but I'm sure they take it as a motivation to get better. This is exactly what happened to me when I was growing up. I went to the senior level and saw the girls playing another level of cricket and felt 'Oh, they're way better than me and I need to work hard on myself and put up a competition'. So, that surely acts as a motivational factor.
Where do you see Women's Tests going?
The concept of Test has come into the scenario recently and we got to play two Tests last year, one against England and the other against Australia and both were away games. I love the concept of multi-format series, where the players get to experience all three formats back-to-back and get equal exposure to the game. Four days of Test cricket followed by T20Is and ODIs gives us the sense of proper professional cricket. It gives a whole other meaning to the bilateral series. Of course, we do have the ICC championships, but the multi-format series gives importance to every format and every single match that we play.
There is always pressure whenever you go out to play a multi-format series, and we experienced it twice last year. Even if you win the ODI series, you still have to handle the pressure of winning the games in the other formats. Women's Tests being added to an ODI and T20I tour enhances the game even more. Wearing the whites and going out to bat on the field, is an experience and I'm happy we could experience that twice last year I look forward to experiencing it a lot more in the near future.
Which format of the game holds more importance in developing a cricketer as a professional?
I think all the three formats are equally important because the more the cricket, the more the cricketers develop from the core. Every format holds its importance in the field and every format helps the cricketer to learn something different, which will add to their personal growth and development.
T20I format gives you a lot of power-hitting, to play the shots freely, ODI gives you the idea of how you should construct an innings and how do you go about it, and Test cricket helps us to understand the game better, and provides us with the composure. It gives an idea of how do we stay on the field for a long duration and hold our place in the game without losing our patience. I'm talking from a batter's point of view. I'm sure the bowlers will have different takeaways. We did not have many Tests matches being played earlier, but getting to experience that is just a different feeling.