MS Dhoni and Steve Waugh were the two perfect captains for Adam Gilchrist
I think Virat Kohli is the perfect ODI player at the moment: Gilly
Updated - Nov 4, 2017 11:33 am
7K Views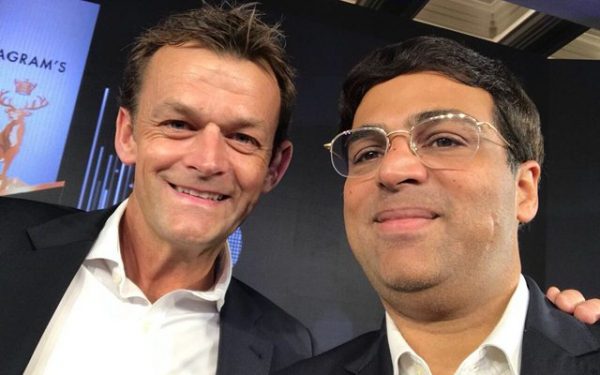 Follow us on Google News
Revolutionary wicket-keeper batsman who turned around the game of cricket through his aggression up front, Adam Gilchrist, in a recent interview claimed that former Indian captain MS Dhoni and Australian captain Steve Waugh were the two perfect captains according to him.
Renowned Cricket historian Boria Mazumdar questioned the World-Cup winning wicketkeeper a variety of question regarding prominent personalities in contemporary cricket. The interview also saw Indian Chess Grandmaster Vishwanathan Anand alongside Gilchrist.
"I will give two answers, one from having played underneath and I think Steve Waugh is right there and I perceive MS (Dhoni), one having not played underneath," replied Adam Gilchrist when asked who he would name as the perfect captain.
Gilchrist was full of good words for MS Dhoni, commending his calmness and technical adept when it comes to wicketkeeping. Being one of the powerhouses in World Cricket presently, Boria dropped a googly when he asked an Australian whether India is the centre of cricket. Churchie accepted the fact that India is the "focal point of the world" and revealed that it is indeed a "powerful position and needs to be managed well."
Kohli: the best ODI player for Gilly
"MS I feel, apart from being a wonderful batsman, wonderful wicket-keeper and a great leader, his greatest quality that I have observed is his calmness under pressure," added the 45-year old according to India Today.
"He is Captain Cool, his calmness under siege or even when things are going well. Such is the passion for cricket in this country that exuberance can spill out of control and you can lose track of things but his calmness in any moment, he is able to bring consistency in emotion and that is admirable," stated Gilly.
Furthermore, he named Virat Kohli as the best ODI player at the moment and went ahead with the likes of AB de Villiers and Kieron Pollard when it comes to T20 cricket.
"I think Virat Kohli (perfect ODI player) at the moment. He is unstoppable. AB de Villiers comes to mind (for a perfect T20 player) but I suppose you have to think more all-round so, a guy like Kieron Pollard is pretty really handy," concluded Adam Gilchrist.
Follow us on Telegram