MS Dhoni: The lion is old but is a lion nonetheless
At 40, he still has the guts and gas.
Updated - Oct 11, 2021 1:53 pm
457 Views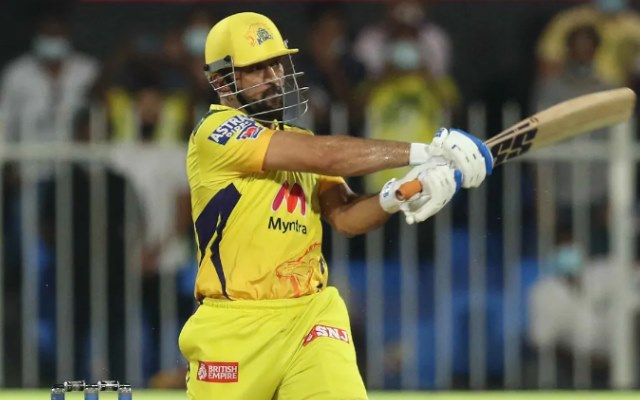 Follow us on Google News
How do you describe it? It's happened a gazillion times but it leaves you just as astonished, as ecstatic, as thrilled as it did the last time. And before that. And before that. And…
It's a crunch, crucial qualifier game. Only two out of eight have the privilege to have an extra shot at the entry in the final. That's a reward for their consistency, for topping the table in a fiercely competitive league.
Chennai Super Kings are asked bowl to first, they restrict Delhi Capitals to 172/5 and vroom in the chase so fast you thought it's their game to lose at the halfway mark. But it's the IPL. When do victories come easy in this league? Certainly not in a top-drawer clash like the one last night.
Iyer juggles but holds onto a brilliant catch at the deep midwicket rope to send back half-centurion Robin Uthappa off Tom Curran. The 110-run Gaikwad-Uthappa stand is broken but still nothing to worry about. More than seven and a half overs to go, 113/2, it's alright. Two balls later in the same over, Iyer holds onto another marvellous catch at long-on to send back Shardul Thakur for a golden duck.
In the next over, his rocket throw catches Ambati Rayudu short of his ground. The 113/1 changed to 119/4 in no time. Uthappa's dismissal, which was shunted off as 'don't worry, it's alright', now starts looking like was the trigger of a collapse. Gaikwad, the other half-centurion continues to march, stops the rut for a while with Moeen Ali, but holes out in the penultimate over.
The tension's building on the outside. What of the CSK dugout? Maybe not. They lost Uthappa, Rayudu, Thakur, Gaikwad but they still have Dhoni, Jadeja, Bravo, Chahar. Their batting doesn't end. At Gaikwad's exit, CSK were still 24 away from the target. The game that looked like CSK's to lose suddenly hung in the balance.
Would he come? Yes, he will. He did. Out walks Mahendra Singh Dhoni. Dhoni might not be the same Dhoni anymore. The long-haired bludgeoner is gone, the ruthless destructor who could make an inanimate object like a ball cry for mercy is gone too (or hasn't?). The ravages of time have left none. Not even Dhoni. But old habits die hard. Finishing things off in style is a habit. It's ingrained in his system. So, he walks out amid murmurs of 'why not Jadeja?', 'Bravo, maybe?'.
He hasn't had the best of seasons. The powers have waned a tad bit. He is up against Avesh Khan, an uncapped Indore talent who has dismissed him previously in the season. But do anything in life, never write off Dhoni.
Ominous start. Avesh starts with a slower one, Dhoni heaves hard but fails to connect whatsoever. Precious dot ball.
(The heart's beating so fast I could hear my beats. That's me sitting on my bed miles away from where the action is unfolding. And where the real action is unfolding? There's this f****** legend, standing unflustered. Like a monk. Stoic. Unruffled. Composed.)
Dhoni's been averaging in the early teens, his strike rate just a tad over 100 in the season. Do hell with the numbers. KABOOM! Shorter delivery, outside the off stump and – guess what – he rockets it over the deep midwicket fence, the longer part of the ground.
The final ball of the penultimate over, another slow one, slightly wide and another miss. Tom Curran, the best bowler on the day by skipper Rishabh Pant's admission post-match, is handed the ball in the final over to try and do what many did and failed: stop Dhoni.
The first ball, Moeen Ali picks the man at deep square leg but does well to cross and bring the man needed to be on strike on strike. Pressure. Pressure. Nope, not on him. On Curran.
This is the Dhoni territory.
Curran delivers marginally back of a length and smacked over extra for four. Don't bother chasing that. It's past the rope before you thought of chasing.
The next one, not a shot as convincing but an inside edge off a violent heave off the bat runs down to fine leg as Pant dives in vain. A wide follows, make it 4 needed in 3. And gadzooks! Slower, short, wide and pummeled ridiculously towards deep square. And CSK WIN. 9th final in 12 attempts.
This script has unfurled a many times but you still want to watch. You know the plot but you still want to watch. But what goes on in the mind of the doer? "Just watch the ball, hit the ball". That's what. That simple.
"It was emotionally great for us…. we know the pressure that he is under and the expectations that are on him every time he goes out, and once again, he came up trumps for us. It was emotional in the changing rooms…" CSK coach Stephen Fleming said in a virtual press meet.
Yes, Stephen. It was emotional not just in that dressing room but for everyone watching. He did it all his life. He did it again. Defied all odds, proved his detractors wrong. And just like that, finished another game in his inimitable style. The lion might be old but is a lion nonetheless.
Follow us on Telegram