MS Dhoni urges budding cricketers to avoid replicating the helicopter shot
He isn't too keen on youngsters replicating the shot.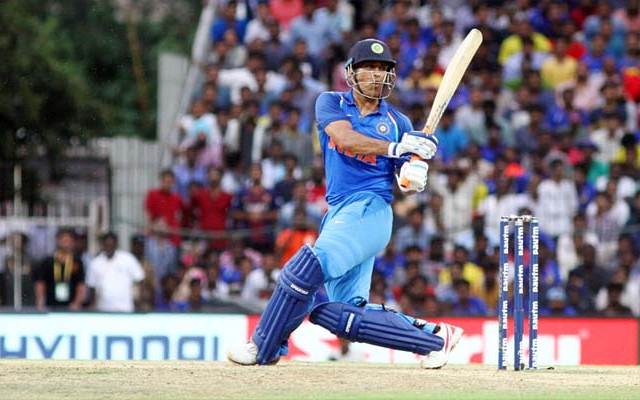 Follow us on Telegram
For a while now, there has been lots of criticism surrounding MS Dhoni's position in the T20I side. However, the calm and composed guy seems unbothered by all of it. Recently,  Dhoni inaugurated his first Global Cricket Academy in Dubai.
The facility named the MS Dhoni Cricket Academy (MSDCA) will have coaches from India to train the wards. The former Indian skipper on the occasion spoke about why the youngsters shouldn't try playing the helicopter shot, his response to the recent criticism he has faced and his motivation representing India.
The helicopter shot 
The helicopter shot has been a trademark in Dhoni's career. The response it has generated, every time we've seen him pull it off has been phenomenal. However, he isn't too keen on watching youngsters replicate it considering the difficulties and injury concerns.
He explained how it required tremendous effort to learn the art and may even cause an injury.
"The helicopter shot is something I learnt while playing tennis ball cricket on the roads of India. It is difficult. In tennis ball cricket even it's hit from the toe of the bat the ball still travels a lot but in normal cricket, it has to be the middle part of the bat, so it requires a lot of work. I don't want the youngsters to play helicopter shots because they could get injured"
Everybody doesn't get to play for the country
The 36-year-old has created an aura of his own when it comes to limited overs cricket. Whether it has been captaincy where he has won all the 3 major cricketing tournaments or his wicketkeeping where he has garnered the most number of stumpings. Or a 10,000-run tally that he has been closing onto, despite batting in the lower order for a majority of his career.
Dhoni has hardly left any stone unturned representing India. When asked what continued to motivate him to don the Indian jersey after having achieved so many laurels, he remarked that playing for the country was a significant aspect in providing him all the motivation.
"The biggest motivation is being a part of the Indian cricket team. You have seen cricketers who are not god-gifted, but even then, they have gone far. That's because of the passion. The coaches need to find that out. Everybody doesn't play for the country," the former skipper concluded.
Follow us on Google News