MS Dhoni's up the top, then Kumar Sangakkara and Brendon McCullum: Adam Gilchrist
The former Australian giant Adam Gilchrist termed Dhoni the best wicketkeeper among the list of some former greats.
Updated - Aug 6, 2020 4:50 pm
27.4K Views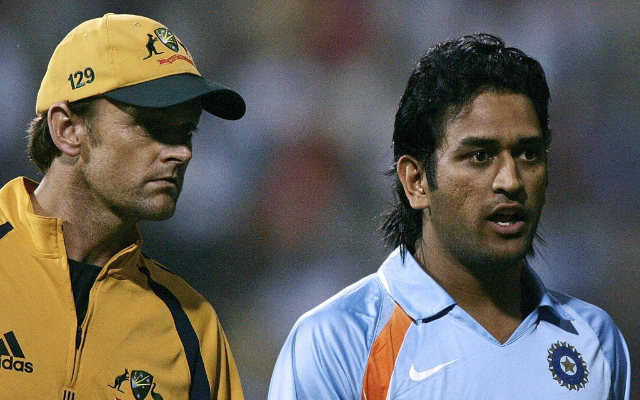 Follow us on Google News
MS Dhoni has been arguably the smartest player of all time as said by many. He has always been top-notch in every aspect of the game whenever he played. His records tell the complete story of how great this man has been. From a small-town boy to one of the greatest players for India, Dhoni has come a long way.
Mahi has always been a crowd favourite. He has also got great praise from former cricketers. The great man has been one of the few with most admirers and fewer haters. The recent example of this is former Australian wicketkeeper, Adam Gilchrist. The Australian legend hailed Dhoni immensely and termed him as the greatest wicketkeeper above the names of many former greats.
I have loved watching MS Dhoni's career develop: Adam Gilchrist
Gilchrist, in an interview, ranked Dhoni as best wicketkeeper ahead of some former greats like Kumar Sangakkara and Brendon McCullum. "Look it got to be Dhoni …my name is Gilly not silly I understand I'm talking to an Indian with a lot of Indian supporters so of course, Dhoni's up the top then Sangakkara and Brendon McCullum," he said as quoted by Times Now.
Gilly praised Mahi for the exceptional journey of his rise to fame and acknowledged the great man for handling himself well after he achieved big.
"I have loved watching his career develop. He came on the scene with this amazing 100 that just set everyone on loving him and following him and the style of cricket that he played. But his rise to fame and fortune and everything and the expectation in a country like India that is passionate about so many things, certainly cricket. I think the way he handled himself was extraordinary," the Australia veteran said.
He also applauded Dhoni for always remaining calm in the field. "His calmness on the field and the bit that I've observed and got to know him off the field it's extraordinary. There is a lot to be admired there. His lasting legacy and impact on Indian cricket and society in India will be long-lasting," said Gilchrist.
The former Australian wicketkeeper also put forth his words of praise for former South African wicketkeeper by mentioning him among the best. "Mark Boucher, unfortunately, a little bit short career due to an eye injury but was among the outstanding group of cricketers," he further said.
Follow us on Telegram